HELIX – No Rest For The Wicked [Rock Candy remaster]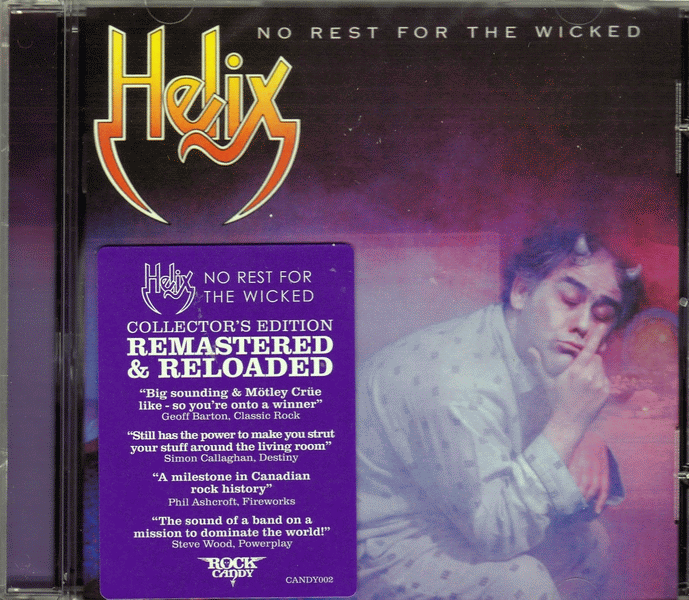 *
These were requested several times in some post comments: HELIX '80s most relevant albums 'Remastered & Reloaded' by Rock Candy Records.
One of the hardest working acts in Rock multi-hued history, Canadian five-piece Helix pretty much spent their major label years out on the road, showing that the tour-album-tour routine could indeed be made to work.
After a couple of strong albums, Helix got signed by major label Capitol. Finally the big break came, after nearly 10 years of hard work, with the excellent "No Rest For The Wicked".
The trick was re-branding Helix as a 'metal band' instead of a plain old bar rock band, and add them into the rising hard rock new wave with the likes of Quiet Riot.
An early video for "Heavy Metal Love" was filmed in T-shirts and jeans. It was only after they switched to leather clothing and a more 'metal image', did people start to take notice. "Heavy Metal Love" was re-filmed for a more MTV appeal, and Helix were more or less off to the races. They had a boost from CanCon rules, which meant the video went into rotation on MuchMusic.
"Heavy Metal Love", written in a crummy hotel room in Seaforth Ontario is an ode to Joan Jett; or rather a fantasy about Joan Jett. It remains as fun now as it was then.
Helix re-recorded the tune in 2006 for their Get Up EP, but it is this original version on "No Rest For The Wicked" produced by Tom Treumuth that has become timeless.
Indeed, it was chosen for the wedding scene in the Trailer Park Boys movie that same year. It's still a great groove, and a whole lot of fun.
Fun is a great word to describe Helix's music in general, and "No Rest For The Wicked" is perhaps their strongest effort, easier to sink your teeth into on just one listen.
The new heavier direction didn't alienate their old fans, but it did gain them plenty of new ones. It's more than just "Heavy Metal Love" — every track is great, every single one of 'em.
The solid title track still serves as Helix' show opener. Need some party rock? Look no further than "Let's All Do It Tonight". Listen to that one, and then try to forget the chorus.
If you like that kind of melodic hard rock, then you'll probably also dig "Don't Get Mad Get Even", the second single / video made for the album.
Need some sleazy hard rock? Then "Check Out the Love", before you do the "Dirty Dog". Both songs are killer grooves, with the latter suspended by a killer riff and Vollmer's shredded vocal cords. And let's not forget "White Lace and Black Leather". This is about as dirty as they get, and I love it.
On this album Helix started to write power ballads, and we have here the ballsy "Never Want To Lose You", one of my favorite tracks on the LP.
Need a boost of adrenaline? Then the doctor prescribes "Ain't No High Like Rock 'N' Roll". Kicking up the pace a few notches, it still retains that Helix knack for melody.
Helix's "No Rest For The Wicked" is an old favorite. Surely this was one of the best hard rock / sleazy rock releases to come out of Canada in its day. After all these years it still sounds great and the remastering here breathes new life into the old beast.
This isn't a rare record by any stretch, but this is the best package a Helix fan could wish for. It follows the Rock Candy pattern of a full booklet with extensive liner notes and extracts from old magazine articles and fresh unseen band pictures. Rock Candy's releases sound & look a million bucks and that is reason enough to make sure you have all their titles in your classics collection.
A Classic.
01 – Does A Fool Ever Learn
02 – Let's All Do It Tonight
03 – Heavy Metal Love
04 – Check Out The Love
05 – No Rest For The Wicked
06 – Don't Get Mad, Get Even
07 – Ain't No High Like Rock n' Roll
08 – Dirty Dog
09 – Never Want To Lose You
10 – White Lace & Black Leather
Brian Vollmer – vocals
Brent "The Doctor" Doerner – guitars
Paul Hackman – guitars
Mike Uzelac – bass
Greg "Fritz" Hinz – drums
BUY IT !
www.recordshopx.com/artist/helix/no_rest_for_the_wicked/#cd
.