STYX – Kilroy Was Here [Japanese remaster SHM-CD Limited Edition]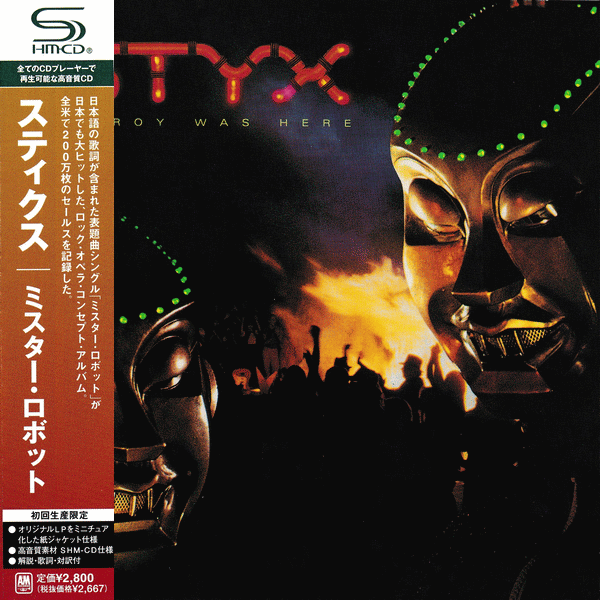 *
Continuing the Japanese nine-album cardboard sleeve (mini LP) reissue series of STYX on high quality SHM-CD, here's "Kilroy Was Here".
All these were released a couple years ago, but it was a Limited Edition and already turned out of print.
Styx leader Dennis DeYoung felt the only way for the group to top the No. 1 success of previous album Paradise Theater was to capture the band on film. To that end, he developed an ambitious concept that touched on themes of censorship, totalitarianism and the dangers of increasing technology.
"Kilroy Was Here" would star DeYoung as a rock star named Robert Orin Charles Kilroy (note that the initials spell 'ROCK') imprisoned in a future where rock and roll has been banned.
When DeYoung presented his idea to the group, it met with resistance. Concept albums had been commercially viable in the '70s, but were viewed as passe in the new decade. Kiss had only recently experienced an enormous downturn in their career from a concept album titled Music From 'The Elder' and Styx guitarists Tommy Shaw and James "JY" Young both feared another concept album after Paradise Theater would pigeonhole the band.
But as the author of most of Styx's most successful work, DeYoung was in a position to insist, and he went full steam ahead into the project with the rest of the band somewhat reluctantly in tow.
Photos on the back and the inner sleeve of the album are taken from a 10-minute movie featuring members of the group starring the story. The film was an integral part of the quintet's presentation of the album.
Despite the mixed reviews, "Kilroy Was Here" was a commercial success, with first single "Mr. Roboto" shooting to No. 3 in the Billboard chart, creating a new generation of Styx aficionados — but also alienating some of the group's existing fans.
The melody is catchy, and the '80s synth-pop grooves are snappy. The lyrics are pretentious and ridiculous, but when combined with Dennis DeYoung's ultra-dramatic vocal performance, they're so much fun to hear that you have trouble resisting the urge to sing along with it.
Laden with new-at-the-time effects and synths, it really was the next step after the synth touches and driving beat of Too Much Time On my Hands from their previous concept album, the blockbuster Paradise Theater.
Indeed, "Mr. Roboto" turned out to be one of the '80s most iconic pop tunes, and it's from Styx of all bands. Isn't that weird?
DeYoung also brought in "Don't Let It End", a melodic rock power ballad in the vein of previous hits like 'Babe' and 'The Best of Times'. Released as the album's second single, it went to No. 6 in the Top 40.
James Young portrayed Dr. Righteous in the story, and he wrote "Heavy Metal Poisoning" as a tongue-in-cheek cool rocker. JY's other contribution was "Double Life", a synth Rock&pop track quite unlike the hard-rocking guitarist's usual fare, demonstrating a previously untapped ability to write a catchy chorus.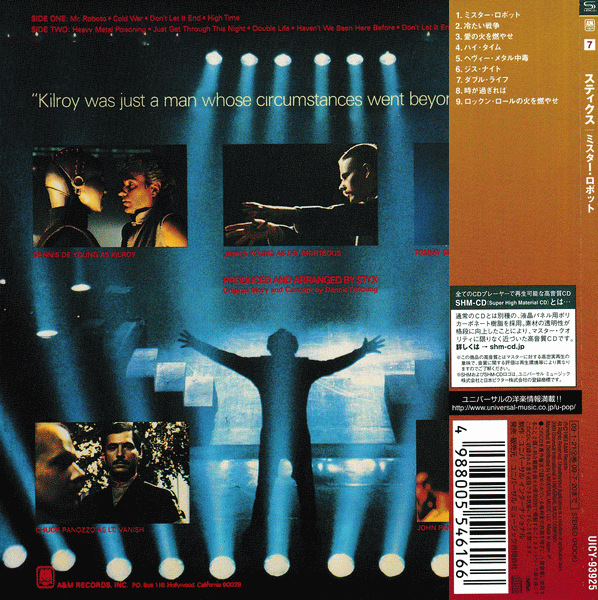 Perhaps when originally released it was not the time for a concept album, but now, more than thirty years after and seeing it in perspective, "Kilroy Was Here" is a very good album. It's not classic Styx, but it's a perfect showcase of first half of the '80s music.
These Japanese cardboard sleeve (mini LP) reissues of STYX on SHM-CD sound awesome. All are out of print, and worth the hunt for a remaining copy.
Highly Recommended.
Universal Japan ~ | SHM-CD | UICY-93925
01 – Mr. Roboto
02 – Cold War
03 – Don't Let It End
04 – High Time
05 – Heavy Metal Poisoning
06 – Just Get Through This Night
07 – Double Life
08 – Haven't We Been Here Before
09 – Don't Let It End (Reprise)
Dennis DeYoung – keyboards, vocals as Kilroy
Chuck Panozzo – bass, vocals as Lt. Vanish
John Panozzo – drums, vocals as Colonel Hyde
Tommy Shaw – guitar, vocals as Jonathan Chance
James Young – guitar, vocals as Dr. Righteous
Try Here:
www.cdjapan.co.jp/product/UICY-93925
.