CRAZY LIXX – Sound Of The Live Minority (2016)
Frontiers Music are releasing tomorrow CRAZY LIXX's first live album, "Sound Of The LIVE Minority", recorded at Bang Your Head Festival in Balingen, Germany in July 2015 and been mixed by Chris Laney who has previously been entrusted to mix live albums for Europe, Talisman and Crashdiet, among others.
On the one hand, this album is the perfect record to sum up four studio albums and more than a decade as a touring band in an hour plus documentation of energetic, live rock n' roll with the very best songs from their catalogue and most requested fan favorites.
On the other hand, it also marks the end of the band's most successful line-up, with guitarist Andreas Z Eriksson (now with British Hard Rockers Inglorious) as the lead guitar slinger. This live performance was his last show with the band.
Appropriately titled "Sound Of The LIVE Minority", which references their debut album title 'Sound of the Loud Majority', it's a great live retrospective. Essentially a greatest hits live album, this baby doesn't disappoint; the production and sound quality are excellent for a live recording.
All three of the bands' previous studio releases are represented here and the live renditions have a nice punch to them. If you're already a fan of Crazy Lixx then you already know and love these songs.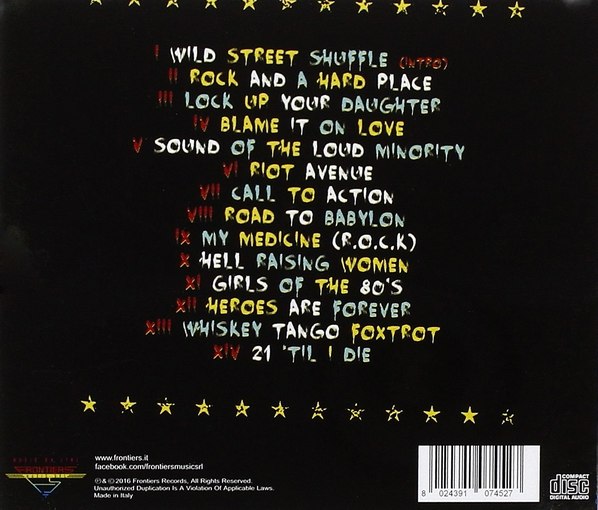 Get your fist pumping, because this performance gives you a chance to feel like you're at one of their shows.
For those not acquainted with Crazy Lixx, this is as good of a collection of great songs, that spans their career as you're likely to find and a great place to start if you're curious about their sound.
Crazy Lixx is already working in a new studio album. But, until then, "Sound Of The LIVE Minority" should hold you over and be a great addition to your collection.
01 – Wild Street Shuffle
02 – Rock and a Hard Place
03 – Lock up Your Daughter
04 – Blame It on Love
05 – Sound of the Loud Minority
06 – Riot Avenue
07 – Call to Action
08 – Road to Babylon
09 – My Medicine (R.O.C.K)
10 – Hell Raising Women
11 – Girls of the 80's
12 – Heroes Are Forever
13 – Whiskey Tango Foxtrot
14 – 21′ Til I Die
Danny Rexon (vocals)
Andreas Z Eriksson (guitar)
Jens Lundgren (guitar)
Joél Cirera (drums)
Jens Sjöholm (bass)
PRE ORDER:
www.amazon.de/Sound-Live-Minority-Crazy-Lixx/dp/B01ERKYDTM
.