FM – Indiscreet 30 (2016)
FM has been somewhat of both an unsung and legendary AOR / Melodic Rock band. Some thirty years ago, they released their first album Indiscreet, a classic for the genre. Flash forward in your Dorlean and we find FM re-recording that acclaimed first album in a modern fashion, titled "Indiscreet 30" released via Frontiers Music.
Additionally, the album comes with bonus material: a new song in 'Running On Empty', re-recording of several songs from EPs and singles, and finally, there's an acoustic version of 'That Girl'.
When FM announced that they had re-recorded his classic Indiscreet there was panic in some fans heads… If ain't broken, don't fix it.
Really, it's pretty strange that 30 years later a band wanted to re-record again all tracks from a disc considered legendary. In a way, FM had always wanted to give a more current sound to their classic songs as they felt the sound obtained originally now turned a bit outdated.
But sometimes you have to leave things as they are…
Fortunately this not the case with FM.
Overland & co. kept the '80s essence of these terrific songs improving, in many cases, the originals.
Most the new versions are punchier, kickin', arranged and performed in top form making at times forget the original versions either by the extra choruses / harmony vocals added or the bright production sound.
The bonus tracks are new versions from tracks originally appeared on EP's or in Japan only, so it's nice have them all in a single disc. There's also a very good new song in 'Running on Empty'.
However, the bonus material is more recent in tern of songwriting, and the style – more melodic rock oriented – feels a bit disjointed alongside the AOR waves of the Indiscreet songs.
Anyway, FM is an awesome band, and always is a pleasure listening to their music, doesn't matter the era.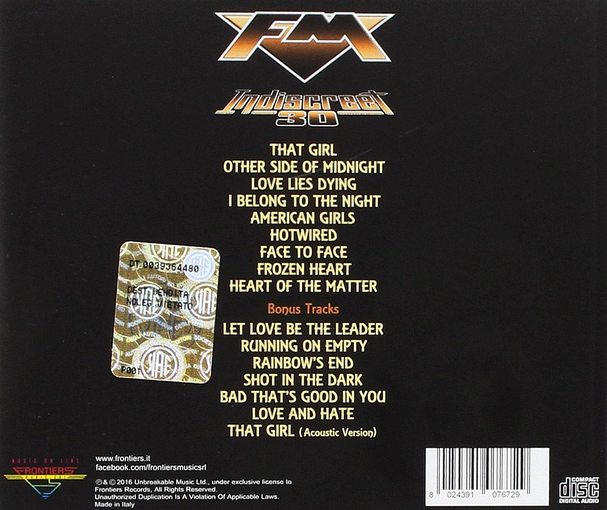 It was necessary a re-recording of Indiscreet? I don't know, but believe that most of the new versions on "Indiscreet 30" sound fabulous. The songs have been given the love, care and attention they deserve with a more modern production, and this new album sits perfectly as a companion piece to the original.
HIGHLY Recommended
01. That Girl
02. Other Side Of Midnight
03. Love Lies Dying
04. I Belong To The Night
05. American Girls
06. Hotwired
07. Face To Face
08. Frozen Heart
09. Heart Of The Matter
BONUS TRACKS:
10. Let Love Be The Leader
11. Running On Empty (new track)
12. Rainbow's End
13. Shot In The Dark
14. Bad That's Good In You
15. Love And Hate
16. That Girl (Acoustic Version)
Steve Overland – vocals, guitar
Merv Goldsworthy – bass, backing vocals
Pete Jupp – drums, backing vocals
Jem Davis – keyboards
Jim Kirkpatrick – lead guitar, backing vocals
PRE ORDER:
www.emp-online.com/art_343603/
.