PRIDE OF LIONS – Immortal [Japanese Edition +1] Out Of Print
One of you asked for PRIDE OF LIONS previous album "Immortal" in its Japanese Edition including a bonus track, as this Asian release has become out of print with remaining copies being sold at eBay for $155 and higher.
You are now remembering the classic Melodic Rock revolution of the '80s. A long lost age when Survivor, Foreigner and Journey ruled the Earth with their feel-good lyrics and rockin' yet melodious tunes.
With Jim Peterik at the helm, Pride Of Lions is the direct descendant of these iconic three bands in the new Century.
The first two tracks on "Immortal" are a powerful statement that AOR / Melodic Hard Rock will never die. While the first song (title track) is hooky, muscular and the riffs are actually pretty damn heavy, the second number 'Delusional' is a catchy, totally amazing commercial Melodic Rock / AOR tune.
And both tracks summarize why Pride Of Lions are the true carriers of the '80s flag in these genres: their music is extremely commercial and catchy but owns 'real rock' bite.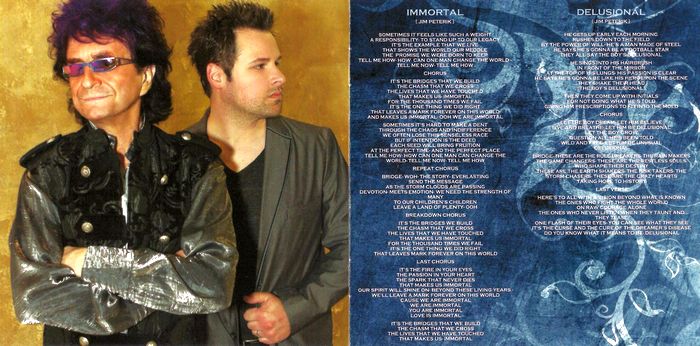 The combination of Toby Hitchcock's unique made-for-AOR vocals and Jim Peterik's continuously top-shelf songwriting has proven to be a killer special combo over three albums, and the same occurs in "Immortal".
As you would expect the material is once again very, very good and it amazes me how many pure AOR gems manage to come out of the writing pen of Peterik.
Revelling in his reputation as a master tunesmith, Peterik provides exquisite material for Hitchcock's four-octave vocal range. All tracks are pure gold, but just to mention highlights there should be the aforementioned 'Delusional' (a free lesson of how-to write an anthem), the incredible midtempo 'Sending My Love' and the terrific power ballad 'Everything That Money Can't Buy' in the best '80s Survivor fashion.
Special mention go for 'Vital Signs', a surging little beaut conceived yet unfinished as the title cut of Survivor's 1984 masterpiece of the same name.
Yeah, we finally hear this greeeat song that truly deserved to be listened by the masses.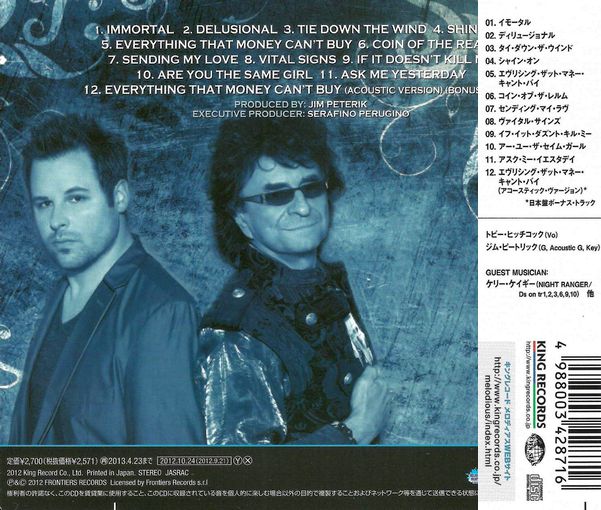 "Immortal" is simply one of the best Melodic Rock / AOR albums from the new Century and perhaps my favorite Pride Of Lions record.
It's a mature, skillfully composed & arranged album, perfectly balanced between '80s radio-ready AORish melodies and stadium fist-in-the-air melodic (sometimes hard) rockers.
KILLER
King Records Japan ~【KICP-1639】
P R I D E   O F   L I O N S 「イモータル」
01 – Immortal
02 – Delusional
03 – Tie Down The Wind
04 – Shine On
05 – Everything That Money Can't Buy
06 – Coin Of The Realm
07 – Sending My Love
08 – Vital Signs
09 – If It Doesn't Kill Me
10 – Are You The Same Girl
11 – Ask Me Yesterday
JAPANESE BONUS TRACK:
12 – Everything That Money Can't Buy (Acoustic)
Jim Peterik – vocals, guitar, keyboards, bass on 10
Toby Hitchcock – vocals
additional musicians:
Kelly Keagy (Night Ranger): drums on 1, 2, 5, 8, 9, 10
Ed Breckenfeld (Jimi Jamison Band): drums on 3, 4, 6, 7, 11
Bobby Lizik: bass on 1, 2, 5, 6, 8, 9
Klem Hayes: bass on 3, 4, 7, 11
Mike Aquino (Mecca) : additional lead guitar on 3, 5
OUT OF PRINT
www.cdjapan.co.jp/product/KICP-1639
Try for a copy here:
www.ebay.com/itm/PRIDE-OF-LIONS-Immortal-KICP-1639-CD-JAPAN-2012-NEW-/262947602094
.