AUTOGRAPH – Get Off Your Ass [Japan Edition +1] (2017)
"Get Off Your Ass" is the first official studio album of the new AUTOGRAPH to be released next October 6 but just appeared in Japan with a bonus track.
The new record with several years in the making is the first official studio LP from the revamped quartet, featuring original / founding members guitarist Steve Lynch and bassist Randy Rand, alongside new vocalist / rhythm guitarist Simon Daniels (ex Jailhouse) and drummer Marc Wieland.
"Get Off Your Ass" delivers timeless melodic hard rock (keyboards free) music, an updated, hard-edged sound for the band with sharp guitars and a bluesy feel which perfectly fits Simon Daniels' gravely but melodious vocals.
As openers go title track 'Get Off Your Ass' might just be the best song Autograph has recorded in the last 25 years. Its rocks with lots of melody.
More remarkable though is that this is an album that doesn't stop there in terms of quality.
This new Autograph album rocks harder than their Eighties outings, but still retaining that trademark melodic sound, none better perhaps than 'You Are Us, We Are You' and the spectacularly catchy AOR anthem 'I Lost my Mind in America' which would have given vintage Foreigner a run for their money.
Then 'All Emotions' sounds like Night Ranger, as well as the midtempo ballad 'All I Own', so, as you can see, it's not all about rock hard here.
'Meet Me Half Way' swings and rocks with the best of them before 'All Emotions' hits the ground running, sweeping you up in a sweet melodic chorus that offsets the grit of the verse, and 'Ready to Get Down' gets a new party started. These are indeed something special.
The album of course includes 'that song': 'Turn Up The Radio' and it is of course a roaring live rendition showcasing the great pipes of new vocalist Simon Daniels.
This Japanese edition includes an interesting bonus track: an acoustic rework on 'All I'm Gonna Take (acoustic)', a song originally appeared in the album Sign In Please (1984). It's a really cool version with a completely different approach, and works greatly.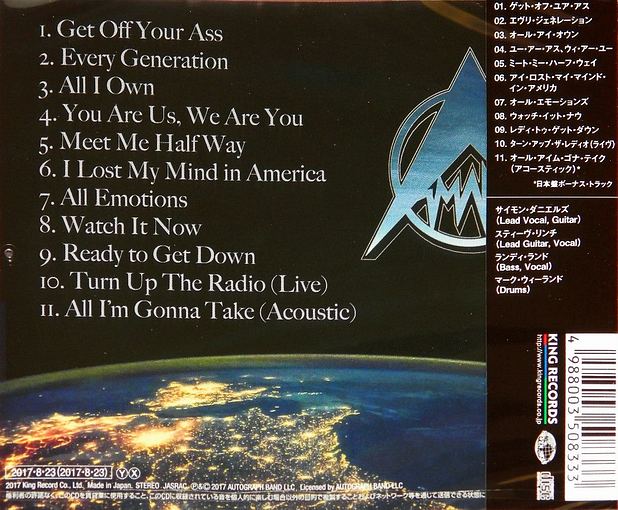 With "Get Off Your Ass" Autograph goes into a new territory, rocking, synth-free, but still with the expected melodic hooks.
It's a more mature Autograph, organic, in a direction pretty similar to the one taken by Night Ranger in this new Century.
Oh, and they still write darn good songs.
Highly Recommended
01 – Get Off Your Ass!
02 – Every Generation
03 – All I Own
04 – You Are Us, We Are You
05 – Meet Me Half Way
06 – I Lost My Mind In America
07 – All Emotions
08 – Watch It Now
09 – Ready To Get Down
10 – Turn Up The Radio (live)
11 – All I'm Gonna Take (acoustic) [Japan bonus track]
Steve Lynch – Lead Guitar / Vocals
Randy Rand – Bass / Vocals
Simon Daniels – Lead Vocals / Guitar
Marc Wieland – Drums
BUY IT !
www.cdjapan.co.jp/product/KICP-1859
.