TONY MacALPINE – Death Of Roses (2017)
Guitar instrumental albums are quite out of fashion, but from time to time we feature here some that well worth a listen. Such is the case with one of the best electric guitarists out there; TONY MACALPINE and his new disc released today titled "Death Of Roses".
"Death Of Roses" is Tony's first album in some time since his battle with cancer, and released in conjunction with his North American Tour. The 7-track album is the first in a projected 2-part release.
"Death Of Roses" continues Tony's on-going evolution with hook-laden melodies, breathtaking solos, complex rhythms and crushing 7 and 8-string guitar riffs, complemented by his own equally exceptional keyboards.
This is built atop a formidable rhythmic foundation laid down by Hungarian drum sensation Gergő Borlai​ (Scott Henderson, Gary Willis), and Pete Griffin on bass​ (Generation Axe​, Giraffe Tongue Orchestra​, Zappa Plays Zappa) who also played on Tony's previous album.
"With Death of Roses I really focused on composition and layering," says MacAlpine. "When I was sick and in treatment I found myself unable to play, and the chemo gave me tremors in my hands and arms. The seeds of this record were planted during my recovery, when I started building the compositions in my head.
Fortunately, with healing and practice my faculties returned with a vengeance, and I set about recording this album, and its forthcoming companion."
During his illness in late 2015, his fellow musicians banded together for "A Benefit for Tony MacAlpine" at the Wiltern Theater in Los Angeles, featuring performances from Steve Vai, Mike Portnoy, Billy Sheehan, Derek Sherinian, John 5, Zakk Wylde, Paul Gilbert, Nuno Bettencourt, Tom Morello, Richie Kotzen, and hosted by Eddie Trunk.
The show also combined with an auction featuring items donated from a who's who of rock royalty.
As with any true artist, Tony remains driven by the desire to discover new ways to express himself through the music. "I've been releasing music for the last 3 decades, and in light of my recovery from recent health issues, I feel re-energized. I have so much more to say as a musician, and I hope you'll join me for the ride."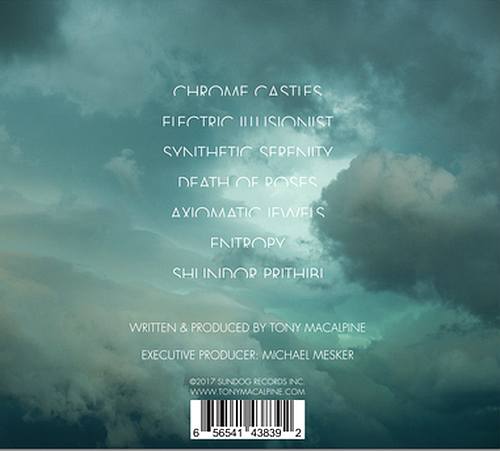 And indeed MacAlpine sounds better than ever on "Death Of Roses". I've been following this excellent guitarist career since the late '80s, and this is without a doubt one of his finest works.
Tony is also clever enough to release the album with only 7 tracks on it, avoiding the listener's boredom. The album flows easily and it's truly entertaining.
Impressive
1 – Chrome Castles
2 – Electric Illusionist
3 – Synthetic Serenity
4 – Death Of Roses
5 – Axiomatic Jewels
6 – Entropy
7 – Shundor Prithibi
Tony MacAlpine – guitars, keyboards
Gergő Borlai – drums, percussion
Pete Griffin – bass​
BUY IT !
tonymacalpine.spinshop.com/
.