VIVA – Dealers Of The Night [Axe Killer remaster]
Few weeks ago we featured here the two remastered albums by Paganini, the band formed by singer Marco Paganini after leaving German hard rockers VIVA around the mid-Eighties. So a new request arise for the 2 most renowned VIVA albums in remastered form.
French label Axe Killer was a pioneer of hard rock-related remastered reissues with access to original master tapes, something like Rock Candy Records is doing nowadays. So here it is their remaster of VIVA's "Dealers Of The Night", a much more melodic affair than the previous.
Mostly known for being the band founded in the late Seventies by keyboardist Barbara Schenker – the sister of Michael and Rudolf Schenker of Scorpions fame – VIVA, together with Accept and Trance, is considered one of the first 'real metal' bands in Germany.
After the previous hard 'n heavy LP "What The Hell Is Going On!", for this "Dealers Of The Night" the band opted for a much more melodic sound so in vogue since 1982, the orignal year of release.
Somewhere in between the traditional hard rock style of the era and the realms of AOR, "Dealers Of The Night" is quite keyboard driven. You know the sound: it was 1982.
'Ten Years Later' is one of my favorite tracks because of its arcade video game-like verses featuring some great keyboard licks, while 'Looking for an Answer' delivers some good pounding, atmospheric verses with a synth riff that is very similar to one that seems to be found sampled in a lot of albums to come after this one. You get the picture.
More rocking appears the consistent 'Take Me to the Doors', then we have a strong power-chord progression on 'Falling In Love'.
Marco Paganini is okay at what he does, goes for the more snarling attitude-filled angle than anything more high / low and technique reliant. He turns more melodic at the pre-chorus of all songs to create tension at the main choruses.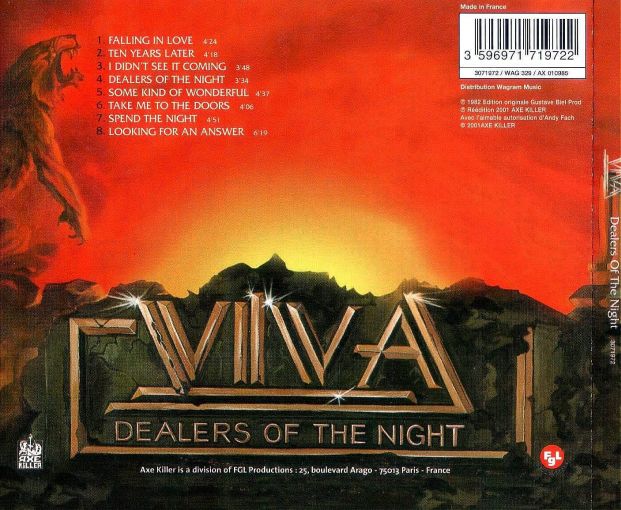 Despite its 'metal epic' cover art, VIVA's "Dealers Of The Night" is a melodic hard rock album taking the tag with the mind put in 1982: lots of keyboards and accessible guitar riffs.
The album needed a proper remaster, and this Axe Killer Records does the trick in spades. This is the kind of old fashioned remastering job avoiding brickwall / saturation replicating the original LP warm with a modern day clean up / dynamic range.
It was the first time for this album to be available on CD, now unfortunately out of print with remaing copies being sold for over € 200.
01 – Falling in love
02 – Ten years later
03 – I didn't see it coming
04 – Dealers of the night
05 – Some kind of wonderful
06 – Take me to the doors
07 – Spend the night
08 – Looking for an answer
Marco Paganini – Vocals
Barbara Schenker – Keyboards, Synthesizers
Andy (Waldo) Kawaldt – Bass
Andy Fach – Guitars
Ralph Murthy – Guitars
Martin Pietschak – Drums
BUY IT !
www.amazon.de/Dealers-Night-Viva-2002-01-15/dp/B01K8MYSH0
.