38 SPECIAL – Special Forces [Japan Ltd. mini LP / SHM-CD remastered] (2018) 0dayrox exclusive
Yeah, Japan did it again: all the best 38 SPECIAL albums finally have been remastered, a 2017 fresh treatment using the original US analog master tapes and pressed on high quality SHM-CD. It's all done in wonderful cardboard sleeve mini LP replica, which also faithfully replicates the OBI design of the Japanese first pressing LP.
And now we have here in exclusive "Special Forces", another stupendous rocking album from 38 Special.
Released in 1982, "Special Forces" was 38 Special's entry to mainstream.
The album includes one of the best songs from their career and their first Top 10 hit; 'Caught Up in You', a hook-filled, smoothly sung radio rock gem that gets its energy from the grace and power of its chorus.
Yeah, the song is co-written by Survivor's Jim Peterik, who also co-wrote 3 song in total, 2 of them ending at the Billboard Hot 100 singles chart as well.
But the hooks and the well-proportioned rhythms don't stop there. "You Keep Runnin' Away" (also co-penned by Peterik) gave the album its second charted single, which peaked at number 38, and the borderline boogie rock dash of "Rough Housin'" is among Special Forces' best cuts.
Wisely, 38 Special kept the musical recipe similar to its last couple of releases, with the only striking difference coming from an even greater ability to design a memorable and punchy lead single.
However… the AOR sensibility started to arise in this album, and that's why I like this band so much.
The remaining Pererik track 'Chain Lightnin' is one of my favorites ever from the band. Think a mix of Survivor circa Eye Of The Tiger and the first Night Ranger album. Yeah, it's that good!
Later, "Breakin' Loose" fit in comfortably with the rest of the tracks, offering up a hearty dose of the group's early Southern rock taste, but again, with an AORish atmosphere.
'Take 'Em Out' sounds like a lost REO Speedwagon song – and still is classic 38 Special but with this 'new' 1982 commercial touch.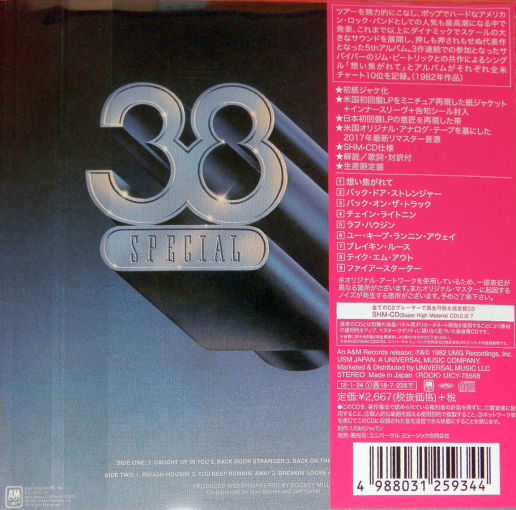 Darn, "Special Forces" brings back some memories… but above all, it's killer rocking album with that classic 1982-83 American sound.
As said before, we have here top class Southern rock tinged melodic rockers mixed with Survivor circa Eye Of The Tiger and Night Ranger's Dawn Patrol. Killer stuff if you ask me.
38 SPECIAL music isn't easy to remaster even with modern technology, because the band's harmonics are absolutely 'analog' and the digital treatment may destroy part of the charm.
This fresh 2017 remaster on SHM-CD is fa-bu-lous.
HIGHLY RECOMMENDED
You've seen it first here, at 0dayrox
Universal Japan ~ UICY-78568 【LTD SHM-CD】
3 8 S P E C I A L 「 REISSUE SERIES 」
01 – Caught Up In You
02 – Back Door Stranger
03 – Back On The Track
04 – Chain Lightnin'
05 – Rough-Housin'
06 – You Keep Running Away
07 – Breakin' Loose
08 – Take 'Em Out
09 – Firestarter
Donnie Van Zant – vocals
Don Barnes – guitar, vocals, backing vocals
Larry Junstrom – bass
Steve Brookins, Jack Grondin – drums
Steve McRay – keyboards
Jimmy Barnes – harmonica, harp
Jeff Carlisi – guitar, steel guitar
Terry Emery – percussion, piano
Carol Bristow, Lu Moss – vocals, backing vocals
BUY IT !
www.cdjapan.co.jp/product/UICY-78568
.