ZENO – Zeno [Japan Edition Remastered +5]
This is a very special post here; musician Zeno Roth, younger brother of Scorpions founder Uli Jon Roth, passed away at age 61 few weeks ago after battling years of illness. His band, ZENO, released a bunch of wonderful albums between the Eighties / Nineties, and this is our homage here with his most celebrated LP – and for us one the best '80s albums in general – debut "Zeno" in its Japanese remastered reissue plus 5 bonus tracks.
Indeed, for me, "Zeno" is one of the most impressive debuts from the '80s. It has it all: AOR melodies, Melodic Rock catchiness, and Hard Rock punch. Think Boston, Queen and Scorpions rolled into one, but Zeno had his own, unique identity and sound.
Although "Zeno" was not a hit LP by any means, the album's back story reveals that the music industry expected great things from Zeno Roth. Zeno were the subject of a bidding war among labels, and in the end Zeno wound up receiving one of the biggest contracts ever for a brand new band.
But the story gets convoluted, with Zeno taking longer than expected to record and going over budget in the process. Well, it paid its dividends, believe me.
The production on "Zeno" is pin-perfect. It's obvious that meticulous attention was paid to capturing a full, rich sound on this record (more than likely the reason Zeno was over-budget).
Roth's guitar work is exceptional, and his compositions seem to mirror his own reputation as a spiritual and philosophical guy. The vocals are done by Michael Flexig, a man who sings in an impossibly high register and has the pipes to give credence to these celestial and uber-melodic pieces.
The original "Zeno" album consists of ten proper songs – and one brief, incredibly good instrumental titled 'Sunset'. All tracks are excellent, different, unique, exceptional.
'Emergency' is pure '80s AOR with its fantastic choruses, then exquisite cuts like 'Heart On The Wing', 'A Little More Love' (penned by bassist U. Winsomie Ritgen), the dreamy 'Don't tell the Wind' and 'Circles Of Dawn' always bring a cheerful smile to my otherwise hideously ugly mug.
As bonus, we have the non-album track 'Don't count me Out' and early versions from some of the best songs of the album.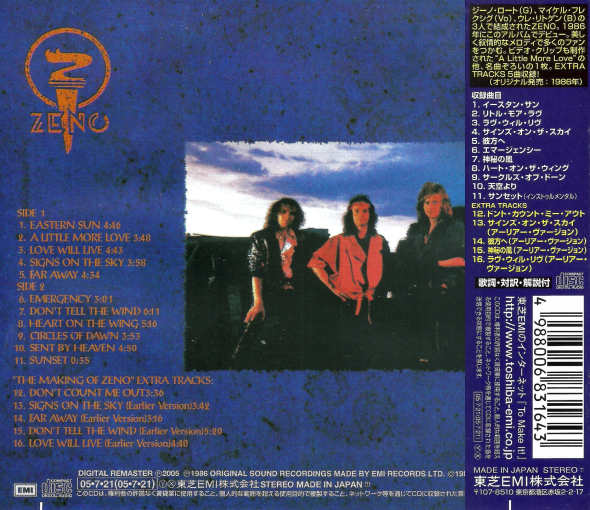 Uplifting melodic hard rock is the motto in "Zeno" with emphasis on spirituality and pictorial lyrical themes which more than establishes the potential of the three basic members.
For that matter you can expect super melodic guitar leads and stylish chords, Ritgen's trademark bass playing and Flexing's immense choruses; still as a sign of times, Michael sings incredibly high on the majority of the album therefore not making full use of his incredible range (which he uncovers on the follow up Zeno albums).
This is a little masterpiece of an album that after all these years still visits my CD player regularly. R.I.P. Zeno Roth, and thanks for your incredible music.
A MUST HAVE
01 – Eastern sun
02 – A little more love
03 – Love will live
04 – Signs on the sky
05 – Far away
06 – Emergency
07 – Don't tell the wind
08 – Heart on the wing
09 – Circles of dawn
10 – Sent by Heaven
11 – Sunset
BONUS TRACKS (the making of 'Zeno'):
12 – Don't count me out
13 – Signs on the sky [Earlier version]
14 – Far away [Earlier version]
15 – Don't tell the wind [Earlier version]
16 – Love will live [Earlier version]
Michael Flexig – vocals, backing vocals
Zeno Roth – guitar, backing vocals
Ule Winsomie Ritgen – bass, backing vocals
Don Airey – keyboards
Carl Marsh – synths, keyboards
Chuck Burgi, Rudy Kae – drums
Stuart Elliott – percussion, drums
Chris Thompson, Martin Jay, John Quist, David Austin – backing vocals
Out Of Print:
www.cdjapan.co.jp/product/TOCP-67704
.