CANNATA – Watching The World [remastered] (2018)
Jeff CANNATA is re-releasing his back catalog, and one above all that deserve special attention is this masterpiece titled "Watching The World", with a terrific remastered sound.
With classic albums such as ArcAngel's self-titled debut and the great follower 'Images Of Forever' (the first under the CANNATA banner), Jeff will forever have his true and devoted fans.
Almost five years after 'Images Of Forever' – which he spent composing and producing for others – another wonderful piece of supreme music appeared from the Jeff Cannata factory: this "Watching The World".
"Watching The World" is highly melodic, fully AOR oriented, and despite of being originally released in 1993, the sound & style is unmistakably '80s. Just listen to opener "When It's Love".
"The Hunter" is primo AOR of the highest order with its awesome midtempo pace and lush keyboards, some kind of mix between Dare and Drive She Said.
At places, the sound bring to mind Yes 'Big Generator' era (a great, underrated album) like on title track, or Asia in 'Through the Night'.
But don't be fooled, the album rocks as well as on the magnificent 'Take Me Over' – think House Of Lords first album – while the delicate ballad 'Let It Be' is full on atmospheres thanks to Cannata's keys / synths and smooth vocals.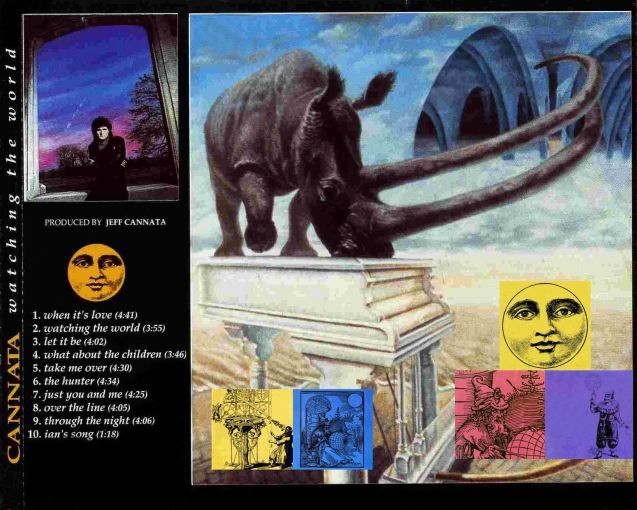 Pompous AOR, melodic rock, plus light intelligent proggy touches are the motto of Cannata's "Watching The World", a majestic album you need to discover.
And if you already own this little gem, then wait to listen to this pristine remastering.
In my book, and if you ask me, A MUST HAVE
You've seen it first here, at 0dayrox
01 – When It's Love
02 – Watching the World
03 – Let It Be
04 – What About the Children
05 – Take Me Over
06 – The Hunter
07 – Just You and Me
08 – Over the Line
09 – Through the Night
10 – Ian's Song
Jeff Batter: piano, synthesizers
Jay Johnson: guitar
Scott Zito: guitar
Mark Proto: guitar
Jimi Bell: guitar
David Coe: acoustic guitar
Scott Spray: bass
Jeff Cannata: lead and backing vocals, keyboards, guitar, bass, drums
BUY IT !
arcangelcannatamusic.bandcamp.com/album/watching-the-world
.