MASS – Voices In The Night [RetroActive digitally remastered reissue +1] (2018)
Capitalizing the release of the new MASS album, RetroActive Records has reissued the digitally remastered version of the band's 1989 "Voices In The Night", perhaps their most successful LP produced by Stryper's Michael Sweet.
Hailing from Boston, Mass formed in the very early Eighties. Originally signed to A&M the band experienced a lot of contractual problems and their first album was eventually shelved. Mass itself released a four track EP simply titled "Mass" in 1984, before the first official album "New Birth" was released on RCA in 1985. No luck over their either as RCA decided not to give them any support.
Enigma Records decided to pick up their contract and Mass recorded another EP in 88′ (Take You Home), before we're 'up-to-date' with this very album.
I guess the style and sound of "Voices In The Night" always will be compared to Stryper, since their vocalist Michael Sweet produced the album, provided background vocals, and more as you'll soon find out.
But Sweet was able enough to exploit Mass' members potential, soaring vocals arrangements and classy guitar work. The result was a stellar slice of late '80s melodic hard rock with an edge.
"Voices In The Night" is a triple threat of hard rockin' riffs, feel good melodies and elevated vibes. Yes, I do feel good listening to this album and it only seems to become elevated with each passing song.
This record blend nicely in with the likes of TNT's 'Tell No Tales', Steelheart, the harder side of Slaughter and of course, Stryper. Mass sold their share of records back in the '80s and even made it on the rotation of a video music network that used to be cool, known as MTV.
The vocals of Louis St. August are tailor-made for arenas on this album… and still are in 2018. Where Vince Neil of Mötley Crüe has a pissed-off flair vocally and Tom Keifer of Cinderella always bestows a bluesy vibe with his voice, Louis St. August displays that assured, energetic and commanding vocal style.
Louis gives the songs on "Voices In The Night" that elevated atmosphere; it's his tones, range and notes he hits that dictates the highs you can obviously hear and actually feel.
On songs such as the title track and 'Nine Tonight', the tempo is high, the rhythm section grooves, while the guitar of Gene D'Itria crunches out melodic licks and head banging' riffs. In essence, that can easily sum up this entire album. One song that Gene flat-out shreds on is 'Staying Alive', edgy yet catchy.
The chorus in these songs are not just harmonious, they are undeniably sing-along. 'Reach For The Sky' is one song that never fails to have me pumping my fist into the air. Louis makes it sound so easy as he sings 'Carry Your Heart', he more than likely was born with that confidence factor.
Carry Your Heart is an edgier song, with a psyche-you-out guitar solo that beckons me to play some vintage air guitar. 'Miles Away' can be pointed out as an anthem on this album, one that can supercharge your hard rock senses into indestructible mode, with its music alone.
The ballad 'Chance For Love' is realistically one of the finest of its kind, spanning Hard Rock to Hair Metal, from the mid to late '80s. It's the perfect example that when done with an acute awareness of not going overboard on the sappy meter, a band can achieve excellence with some rockin' tenderness.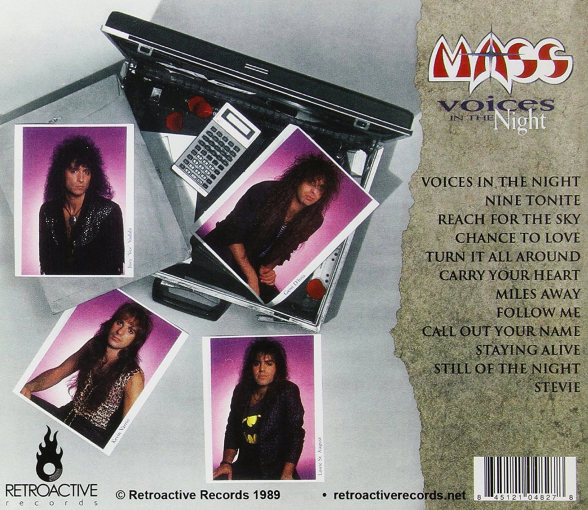 "Voices In The Night" is one of the strongest US hard rock albums from the late '80s. Seasoned Mass fans already know this, yet new recruits to this band should be informed the following: "Voices In The Night" is an album to be revisited, enjoyed, and rocked out loud.
The album originally contained 10 tracks, but this remastered reissue comes with 'Still Of The Night' (original Japan Bonus Track) and the previously unreleased 'Stevie'.
I actually went back to visit my original CD release just to hear the improvements made with this remaster, and I have to say the sound obtained is jut superb.
If you think you have heard "Voices In The Night" before, think again. This remaster have vastly improved the original press and made this album brand new once again.
Highly Recommended
You've seen it first here, at 0dayrox
01 – Voices In The Night
02 – Nine Tonight
03 – Reach For The Sky
04 – Chance To Love
05 – Turn It All Around
06 – Carry Your Heart
07 – Miles Away
08 – Follow Me
09 – Call Out Your Name
10 – Staying Alive
11 – Still Of The Night (original Japan Bonus Track)
12 – Stevie (Bonus Track)
Louie St. August vocals
Gene D'Itria guitars
Kevin Varrio bass
Joey Vadala drums
Michael Sweet producer, backing vocals
BUY IT !
www.aorheaven.com/index.php/englisch_b/mass-voices-in-the-night-digitally-remastered.html
.