ROBIN SCHELL – The Macchiato (2018)
ROBIN SCHELL is an experienced British musician / songwriter having worked with various bands / projects both in UK and America and this year decided to release his first solo album titled "The Macchiato".
The music in "The Macchiato" is absolutely '80s flavored, ranging from rock&pop, light proggy AOR to melodic rock.
Schell CV includes recording session / songwriting contributions with the likes of Leon Russell, Dave Kerzner, The Jetsons, and not surprisingly, Vince DiCola (The Transformers movie / Stan Bush) among others.
He was part as well of LA based bands such as proggies Blue-Shift which released one album, melodic rock project Midnight Under Glass, and power pop group The Marshmellows in the late Nineties, on all performing lead vocals, keyboards and sharing songwriting.
In "The Macchiato", Schell composes all the music, which is largely based on his arsenal of keyboards, including piano, vintage (analog) and electronic modern synths.
He's helped by electric guitar musicians and drummers, plus some pre-recorded material from the likes of Simon Phillips (Toto) and Omar Hakim (Dire Straits) among others.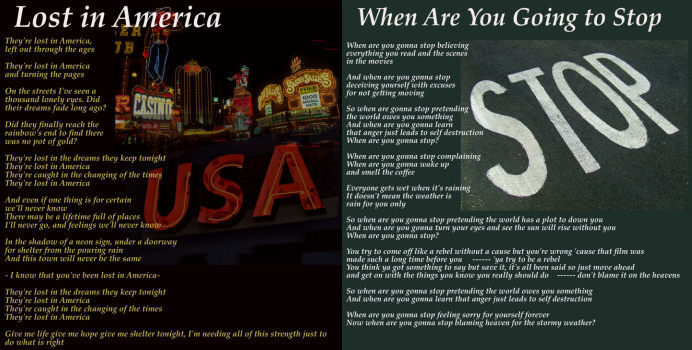 Robin wants that "The Macchiato" to be listened to as an old fashioned LP: the album is presented in two 'Sides', with all tracks per side chained.
'Side 1' is definitely melodic rock / poppy oriented with a mid-Eighties radio-ready feel. Songs like 'Lost In America', the melodic 'When Are You Going To Stop' or 'In City Windows' bring to mind solos artists from the Eighties, when they were known as 'recording artist'.
Then last rack 'Fairweather Friend' has a lite proggy atmosphere, poppy as well bringing to mind ELO.
Schell 's vocals are very sweet, at places he sounds like a female vocalist, and alongside his classy keyboards on this 'Side 1' the guitars are used to carry the rhythm of the songs.
'Side 1' is slightly different, and showcases another Schell 'side'.
All over here, the music and style recall Roby Valentine. Just listen to 'Boxing Kangaroo': the vocal arrangements, keyboards / piano and instrumentation are reminiscent to the Dutch's self titled debut.
'At War With You' includes some vintage organs and multi-track layers of harmonies, while 'Made For Each Other' adds a some early '80s studio-like trickery.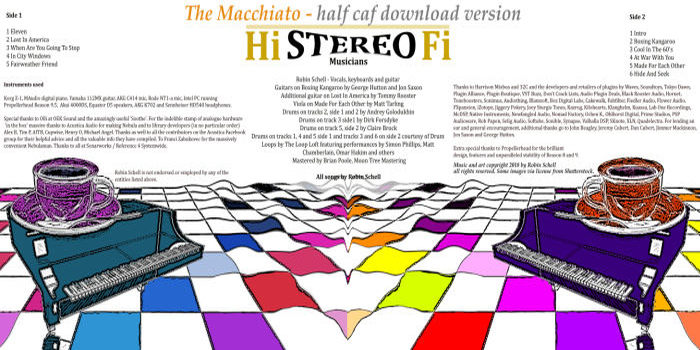 "The Macchiato" is a very personal album, away from any current music trend and purely inspired by the classic '80s melodies.
It's quite varied, poppy, melodic, lite proggy at places but always 'facile' to the ears. Some songs easily could have been included into many Eighties movie soundtracks.
If you love keyboard driven melodious tunes, the '80s sound, Vince DiCola, Robby Valentine / Valensia, etc, this is for you.
Lovely stuff.
Side One:
01. Eleven
02. Lost In America
03. When Are You Going To Stop
04. In City Windows
05. Fairweather Friend
Side Two:
06. Intro
07. Boxing Kangaroo
08. Cool In The 60's
09. At War With You
10. Made For Each Other
Bonus Track:
11. Hide And Seek
George Hutton, John Saxon, Tommy Rooster: guitars
Andrey Golodukhin, Dirk Forsdyke, Claire Brock: drums
Simon Phillips, Omar Hakim: drum loops
Robin Schell: vocals, guitar, bass, keyboards, synths, programming
BUY IT !
robinschell.bandcamp.com/album/the-macchiato
.