YES – Fly From Here : Return Trip (2018)
In celebration of 50 years of YES music, the band have released a re-worked version of 2011's Fly From Here, now featuring lead vocals and substantial remixing by Trevor Horn, some re-recorded parts, the original Japanese bonus track, and a previously unreleased one, plus the sleeve design features the painting by Roger Dean originally used on the inside of the 2011 edition.
Re-titled "Fly From Here : Return Trip", this is a completely 'new' album to my ears, and a very good one.
If you don't know the story, Fly From Here was an album that came out of Steve Howe, Chris Squire, Alan White, Benoit David and, to an extent, Oliver Wakeman, the then touring line up of Yes, starting to make a new album, collaborating with producer and former band member Trevor Horn.
The process resulted in Wakeman moving on from the band to be replaced by Geoff Downes, who was a member at the same time as Horn.
Wakeman was dismissed at Horn's insistence so that Geoff Downes, his former Buggles mate, who co-wrote the majority of the songs on the album with Horn, be brought back for the recording (Downes has tenaciously held on to the keyboard seat in Yes ever since).
After the death of bassist Chris Squire and following some live appearances with Yes on a UK tour, Trevor Horn decided to re-record the vocals on this album, singing them himself, involved various band members to add additional overdubs and added in a new song.
Essentially, all of Benoit David's lead, harmony and backing vocals have been removed from the songs and replaced by the voice of Trevor Horn.
"Fly From Here : Return Trip" sounds much more 'classic Yes'. A bit more decay on the drum reverb here, somewhat deader strings but punchier tone on the bass over there, and myriad small instrumental additions, subtractions, and adjusted backing vocals levels give "Fly From Here-Return Trip" a darker tone and intriguing change to the sonic space; on the whole, Horn's remixing makes it sound as though the band have all moved in closer together to play, but in a larger, stiller room.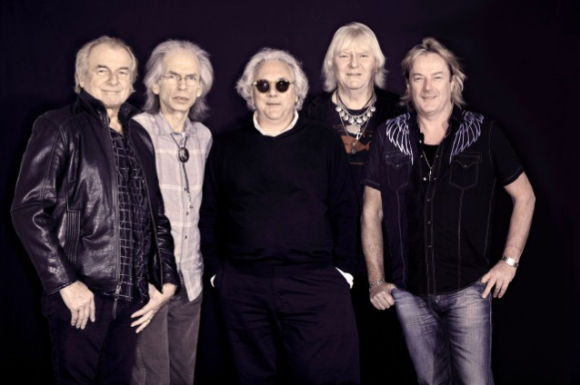 I loved the original Fly From Here album, a fine album by its own.
But this "Fly From Here : Return Trip" new version… It's spectacular. Horn didn't just add his vocals, he remixed the entire album with some startling differences to the original.
His voice is strong and naturally suits the material while his harmonies with the late Chris Squire mesh much better than Benoit David's original vocals. Horn also re-wrote several of the lyrics which contribute, along with the new mix to making this album sound fresh.
A couple of bonuses on this release include the extended version of Steve Howe's 'Hour Of Need' which previously only appeared as a bonus track on the Japanese release of Fly From Here, and another previously unreleased Howe song, 'Don't Take No For An Answer'.
"Fly From Here – Return Trip" is a must for Yes and prog rock fans, and might be worth seeking out by the casual listener, especially as the original album is now out of print.
It's a great listen, and a glimpse at a would never / might have been Yes line up, and a great one at that.
"Fly From Here – Return Trip" is exclusively available at Yes' shop, no digital download, only CD / LP physical formats.
Highly Recommended
01 – Fly From Here – Overture
02 – Fly From Here Pt. I – We Can Fly
03 – Fly From Here Pt. II – Sad Night At The Airfield
04 – Fly From Here Pt. III – Madman At The Screen
05 – Fly From Here Pt. IV – Bumpy Ride
06 – Fly From Here Pt. V – We Can Fly (Reprise)
07 – The Man You Always Wanted Me To Be
08 – Life On A Film Set
09 – Hour Of Need (Full-length version) [Japan bonus track]
10 – Solitaire
11 – Don't Take No For An Answer (Previously Unreleased)
12 – Into The Storm
Trevor Horn: Vocals
Steve Howe: Guitars
Chris Squire: Bass
Geoff Downes: Keyboards
Alan White: Drums
BUY IT !
yesthedramalineup.pmstores.co/
.