38 SPECIAL – 38 Special [Japan Limited Edition / SHM-CD remastered] (2018)
Japanese music market did it again: all the best 38 SPECIAL albums finally have been remastered, a fresh sonic treatment using the original US analog master tapes and pressed on high quality SHM-CD. It's all done in wonderful cardboard sleeve mini LP replica, which also faithfully replicates the OBI design of the Japanese first pressing LP.
And now we have here in exclusive 38 Special's debut with major label A&M; "38 Special".
This first release from 38 Special highlights the band in its original Southern Rock style before they became more of an arena rock band, where Donnie Van Zandt handles most of the lead vocals (unlike later material with Don Barnes taking more presence).
The band here sounds quite similar to Lynyrd Skynyrd, not strange as Donnie is Skynyrd's singer Ronnie Van Zant younger brother. Also, the dual lead guitars of Barnes and Jeff Carlisi are reminiscent of the same guitar attack Allen Collins and Gary Rossington of Skynyrd utilized.
However, 38 Special adaptation of the Southern rock formula is more commercial and melodic than Skynyrd's approach — in fact, "38 Special", in my humble opinion, is technically a better album than any of Skynyrd's studio recordings of the era.
The instrumentation is tighter and much less frenetic, with melodious arrangements and polished vocal harmonies.
Among the highlights there's the rocking "Long Time Gone" and the catchy "Gypsy Belle". However, around the edges of the fast rockers and in the nicely harmonized easy ballads of the album there is a surprising and most welcome flair for laidback countryish elements to the riffing.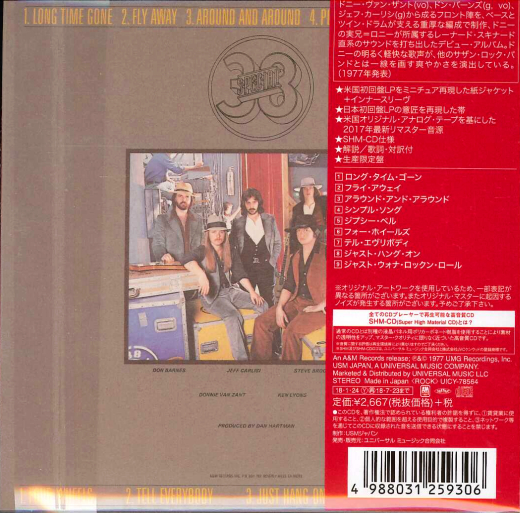 As happens with all these fresh 2018 Japanese remasters on SHM-CD from the 38 Special series, the sound quality is simply outstanding. Everything is crisp, pristine clear, not distorted, with a perfect dynamic range.
Specially in this first album of the band – considering the age of the recording – the results obtained with the remastering job are truly remarkable.
Highly Recommended
You've seen it first here, at 0dayrox
Universal Japan ~ UICY-78564 【LTD SHM-CD】
3 8 S P E C I A L 「 REISSUE SERIES 」
01 – Long Time Gone
02 – Fly Away
03 – Around And Around
04 – Olay A Simple Song
05 – Gypsy Belle
06 – Four Wheels
07 – Tell Everybody
08 – Just Hang On
09 – I Just Wanna Rock & Roll
Donnie Van Zant – lead and background vocals
Don Barnes – guitar, lead vocals, background vocals
Jeff Carlisi – dobro, guitar, steel guitar
Larry Junstrom – bass guitar
Jack Grondin – drums, percussion
Steve Brookins – percussion, drums
additional personnel:
Lani Groves – background vocals
Carl Hall – background vocals
Joslyn Brown – background vocals
Terry Emery – percussion, piano
Dan Hartman – piano, background vocals
Kenny Lyons – bass guitar
BUYIT !
www.cdjapan.co.jp/product/UICY-78564
.