38 SPECIAL – Rockin' Into The Night [Japan Limited Edition / SHM-CD remastered] (2018)
Japanese music market did it again: all the best 38 SPECIAL albums finally have been remastered, a fresh sonic treatment using the original US analog master tapes and pressed on high quality SHM-CD. It's all done in wonderful cardboard sleeve mini LP replica, which also faithfully replicates the OBI design of the Japanese first pressing LP.
And now we have here in exclusive another one; "Rockin' Into The Night", 38 Special's third – and indeed rockin' album – where the band started to incorporate some arena rock elements into its sound.
And this is pretty clear since the beginning of the album, with title track 'Rockin' Into The Night', a song written by Jim Peterik, Gary Smith and Frank Sullivan – three Survivor members and originally intended for their next album, but it was given to 38 Special and became the band's first big hit.
This success marked the first of many songs Jim Peterik would write for and with the band, and he even play 'Rockin' Into The Night' today with his live band.
By this third album, 38 Special discovered how to fuse fun-lovin' Southern rock with a formula that would bring the band commercial attention.
"Stone Cold Believer" rocks a little harder with its gear-shifting guitar riff, a song for the arenas. But the evidence that .38 Special was progressing extends beyond the first two cuts.
Tracks such as 'Take Me Through the Night,' 'The Love That I've Lost,' and 'Turn It On' are sturdy, middle-of-the-road rockers, and they proved that Van Zant was indeed capable of giving the band's material enough vocal gusto to eventually break through.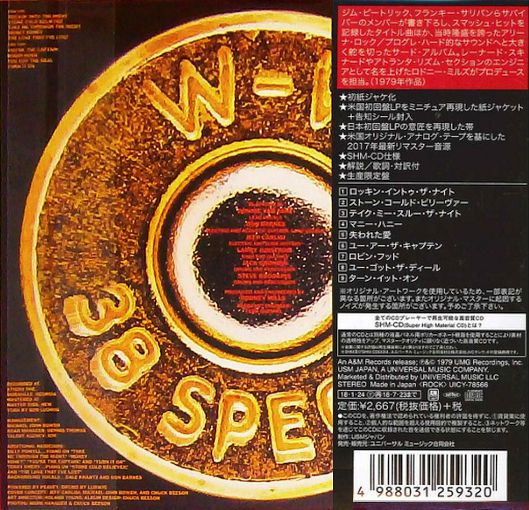 As happens with all these fresh 2018 Japanese remasters (the only available at the moment) on SHM-CD from the 38 Special series, the sound quality is simply outstanding.
Everything is crisp, pristine clear, not distorted, with a perfect dynamic range.
HIGHLY Recommended
You've seen it first here, at 0dayrox
Universal Japan ~ UICY-78566 【LTD SHM-CD】
3 8 S P E C I A L 「 REISSUE SERIES 」
01 – Rockin' Into The Night
02 – Stone Cold Believer
03 – Take Me Through The Night
04 – Money Honey
05 – The Love That I've Lost
06 – You're The Captain
07 – Robin Hood
08 – You Got The Deal
09 – Turn It On
Donnie Van Zant – lead and background vocals
Don Barnes – guitar, lead and background vocals
Jeff Carlisi – electric guitar, slide guitar
Larry Junstrom – bass, guitar
Steve Brookins – drums
Terry Emery, Billy Powell – piano
Jack Grondin – percussion
Dale Krantz – background vocals
BUY IT !
www.cdjapan.co.jp/product/UICY-78566
.