STEVE PERRY – Street Talk [Japan Blu-spec CD2 remastered +5]
It's official; the great STEVE PERRY is back. The vocalist announced yesterday via newly created Twitter, Facebook and Instagram accounts the message: "I know it's been a long time comin'."
Perry will return with a studio album titled 'Traces' on Oct. 5, according to a new Amazon listing / pre order. This would be the former Journey singer's first new solo project since 1994's For the Love of Strange Medicine.
Let's celebrate it with his very good solo albums, remastered with bonus tracks. Here's the first, "Street Talk", in its Japanese Blu-spec CD2 format.
After the back-to-back-to-back Top 10 triumphs of 1980's 'Departure,' 1981's 'Escape,' and 1983's 'Frontiers,' the members of Journey were on top of the world — and ready to experiment with solo projects. The most high-profile hit of the bunch was "Street Talk", released by singer Steve Perry in April of 1984.
"Street Talk" ended up being like his first album in more ways than one — it also found him reuniting with a member of Alien Project, his pre-Journey band in the '70s. With different personnel, naturally, came a different sound — and with Krampf on board, Perry returned organically to his musical roots.
Perry's first solo effort was definitely something quite different and much more rock/pop-oriented than his previous works with Journey, however Steve's voice is so soulful and magical that at one point you don't really care about the music.
Just like Jimi Jamison from Survivor sings on their album "Vital Signs" – "it's the singer, not the song".
The record's quick birth stood in stark contrast to the painstaking process of finishing Journey's albums, but those fast-paced sessions didn't hurt "Street Talk" on the charts, where it quickly went platinum and spun off the Top Five hit 'Oh Sherrie' along with three more Top 40 singles: 'Foolish Heart,' 'She's Mine,' and 'Strung Out.'
Perry hits hard right from the beginning – the second you hear those warm synthesizer chords and him pouring his soul out with "You should've been gone, knowing how I made you feel", you can't but be hooked. The explosive hurricane, titled "Oh Sherrie" is by far his greatest success – the track reached #3 on the Billboard Hot 100 and #1 on Billboard's Rock chart. It highlights Steve's vocal power like no other song, it's catchy, lyrically-pleasing and on top of that there's a personal story there – as we all know "Oh Sherrie" was written for his then-girlfriend Sherrie Swafford.
The strength of the single somehow overshadowed the rest of the album, which in my personal opinion contains a lot of uplifting rockers and beautiful soulful tunes.
For instance, the gentle "Foolish Heart" which peaked at #18 on the charts, perfectly represents the vocal and music quality of the album. My personal favorite "She's Mine" is another romantic, mid-tempo rocker, featuring a lot of screaming soul from Steve.
"You Should be Happy" is another personal treasure-track from the record – the lyrics are wonderful and there's a special vibe coming out of this song.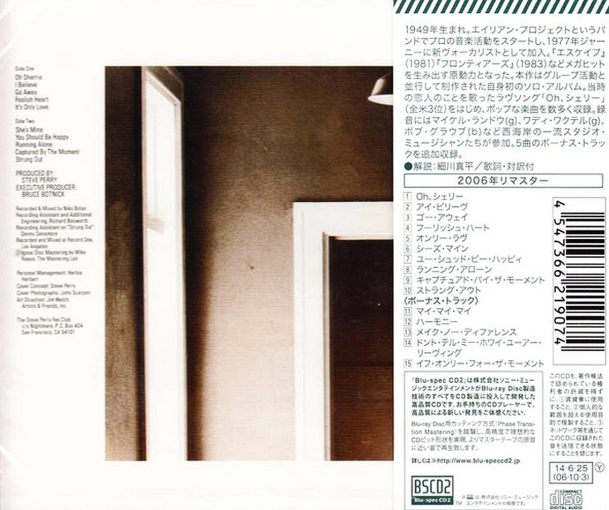 Obviously, Steve had a lot of fun writing, recording and producing this album. I could feel how important it was for him to do and try "his own thing", separately from Journey. He literally put his heart and soul into the making of "Street Talk".
We all know he can definitely hit a note or two, however with this album he also proved that The Voice himself can write timeless songs and produce with skill.
This remastered reissue includes 5 juicy bonus tracks, and the Blu-spec CD2 sounds fantastic.
Highly Recommended
01 – Oh Sherrie
02 – I Believe
03 – Go Away
04 – Foolish Heart
05 – It's Only Love
06 – She's Mine
07 – You Should Be Happy
08 – Running Alone
09 – Captured By The Moment
10 – Strung Out
BONUS TRACKS:
11 – My My My
12 – Harmony
13 – Makes No Difference
14 – Don't Tell Me Why You're Leavin'
15 – If Only For The Moment

Tracks 11 – 13 are Alien Project demo recordings
Track 14 is the b-side to Oh Sherrie
Track 15 is from the USA for Africa album "We Are the World"
Steve Perry – vocals
Michael Landau, Waddy Wachtel, Craig Hull, Billy Steele – guitar
Craig Krampf, Larrie Londin – drums, percussion
Randy Goodrum – drum programming
Steve Douglas – saxophone
Bob Glaub, Chuck Domanico, Kevin McCormick, Bryan Garofalo – bass
Bill Cuomo, Randy Goodrum – keyboards, piano
Steve Goldstein, Sterling Smith, Duane Hitchings, Robert Greenridge – keyboards
BUY IT !
www.cdjapan.co.jp/product/SICP-30638
.