ASIA – Asia [Limited Platinum SHM-CD Universal Japan] Out Of Print
Super group ASIA most famous and celebrated recording, their self-titled debut "Asia", was reissued in Japan not so long ago in a special edition pressed on a Platinum SHM-CD disc. The sound quality of this remaster from this high quality SHM-CD is simply incredible.
When Asia was formed in 1981, the notice made waves as with the line-up including members from different top progressive rock bands, namely John Wetton (former bassist / vocalist of such bands as King Crimson, Family, and UK), Steve Howe (guitarist of Yes), Geoff Downes (keyboardist of Yes and The Buggles) and drummer Carl Palmer (of Emerson, Lake & Palmer) we were in the presence of a Super Group indeed.
This marriage of four players with impressive pedigrees proved to be the success story of 1982 when Asia's debut lodged itself at the top of the U.S. album charts for two months.
The album spawned a massive number four single in "Heat of the Moment", a follow-up Top 20 hit in the sweeping "Only Time Will Tell", and a handful of other tracks that received heavy radio play despite going against the grain of the new wave styling of the day.
Produced by Mike Stone, Asia's strengths were the powerful vocals of John Wetton, the nimble, classically tinged guitar work of Steve Howe, Geoffrey Downes' majestic keyboard playing, and anchoring the band, Carl Palmer's propulsive drumming.
The lyrics are overwrought at moments, but there's no denying the epic grandeur of the music, which provided some much-needed muscle to radio at the time, and did so with style.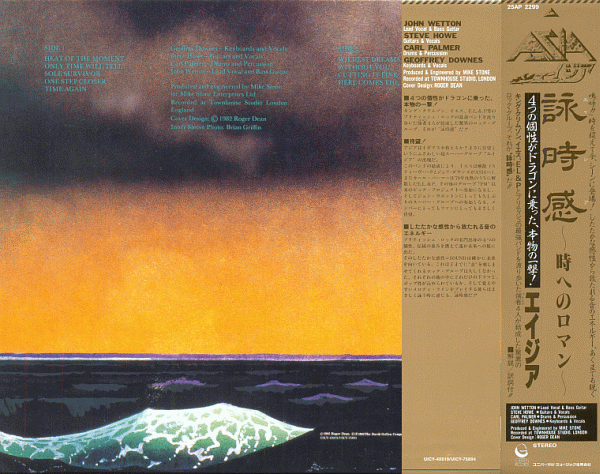 This new remaster is great in my opinion, because avoid the typical overdone compression, and the sound flows really natural from the speakers. This Platinum SHM-CD should been the standard format for reissues. Unfortunately only special releases like this one use it.
And this "Asia [Limited Platinum SHM-CD]" became out of print soon.
A Must Have Classic
Universal Japan ~ 【UICY-40019】
「 LIMITED EDITION SHM-CD 」
01 – Heat Of The Moment
02 – Only Time Will Tell
03 – Sole Survivor
04 – One Step Closer
05 – Time Again
06 – Wildest Dreams
07 – Without You
08 – Cutting It Fine
09 – Here Comes The Feeling
John Wetton – Bass, Lead Vocals
Steve Howe – Guitars, Vocals
Geoff Downes – Keyboards, Vocals
Carl Palmer – Drums, Percussion
OUT OF PRINT
www.cdjapan.co.jp/product/UICY-40019
.