DALLAS – Dallas [Japan and UK Version] (2018)
"DALLAS" is the self-titled debut CD of Bryan Dallas (real name Bryan Hiner), a talented young American musician which composes all of the music, perform the vocals, play all instruments and record / produce the whole thing at his own studio.
He has released by himself an EP some time ago and some demos under the Von Hiner moniker, but now finally we have DALLAS full length album.
The Japanese edition includes 4 exclusive tracks, the UK 3 exclusives, while both share another bonus.
DALLAS resurrects here the super-slick, catchy anthems of the late '80s when a zillion Def Leppard clones emerged trying to cop Mutt Lange's songwriting and production technique. And indeed the first thing that impress you is the excellent production / sound.
"Rock N Roll Never Dies" is the opening tune and both lyrically and musically it gives the finger to anyone who considers classy Melodic Rock / AOR his favorite musical genre.
Mister Dallas was clearly raised on a diet of classic Bon Jovi, Def Leppard, Blue Tears, Danger Danger with some Paul Laine thrown in combined with touches of Firehouse and Baton Rouge and a healthy dose of Reckless Love.
The main ingredients are definitely vintage but like Reckless Love the addition of a few modern elements brings the whole affair into the 21st century. Check out the tailor made for the dance floor "Rip It Up" for a perfect example of the latter.
Besides handling the lead vocals and a wide range of instruments on the album as well as writing all the songs, Bryan is also an experienced knob twiddler and took care of producing his first effort with Isaac Bulliver as co-producer.
The ridiculously catchy "Bring The Light" and the awesome midtempo "Miles Away" (not a Winger cover) deliver more primo AOR waves.
"Rock You Like A Bomb" has an irresistible beat, chunky riff and huge sing-a-long chorus, Michael Learns To Rock meets Bon Jovi-styled is heard in power ballad "Close My Eyes" which seems recorded 1987, while threre's strong Leppard influences on the layered midtempo rocker "Lay It All On The Line" and the truly addictive "Open Your Heart".
Strap yourself into a time machine and set the date for thirty years ago and let your ears be transported into the era of so many of the classic AOR albums we now hold so dear.
Then be mesmerised at the reconstruction of the type of material that raised the spirits back then, accomplished so effectively by Bryan Dallas. There's a lot of hype about this album doing the rounds at the moment, and it's well deserved.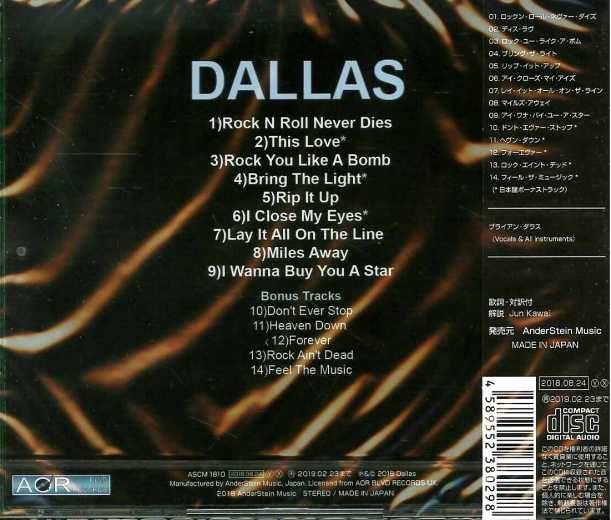 Bryan Dallas is just another proof – we have presented many here at the blog – that with talent and some skills, you can create really well produced songs by your own. The guy is also a talented songwriter, and seems his dad '80s LP collection made some good effect on him.
Some say that he's the future of AOR / melodic rock but only time will tell if he's able to live up to this bold prediction. One thing is for sure; "Dallas" delivers an awesome collection of classy pure '80s sounding tunes.
HIGHLY Recommended
01 – Rock N Roll Never Dies
02 – This Love
03 – Rock You Like A Bomb
04 – Bring The Light
05 – Rip It Up
06 – Close My Eyes
07 – Lay It All On The Line
08 – Miles Away
09 – I Wanna Buy You A Star
10 – Open Your Heart [UK Bonus Track]
11 – Over Now [UK Bonus Track]
12 – Don't Ever Stop [UK & Japan Bonus Track]
13 – Miles Away (Neon Blue Mix) [UK Bonus Track]
14 – Heaven Down [Japan Bonus Track]
15 – Forever [Japan Bonus Track]
16 – Rock Ain't Dead [Japan Bonus Track]
17 – Feel The Music [Japan Bonus Track]
Extra:
18 – The Rebel Night (demo) [Extra Track]
Bryan Dallas . vocals, all instruments
Zac Curtis – drums on 2, 4, 6
BUY IT !
www.amazon.co.uk/Dallas/dp/B07H62PHMF
www.anstemusic.com/product/5242
.