EVANESCENCE – Synthesis Live [Japan Edition SHM-CD] (2018)
Universal Music Japan just released a new EVANESCENCE in-concert title, "Synthesis Live", on Blu-ray + SHM-CD. Recorded late last autumn during the band's critically-acclaimed Synthesis tour, the concert span Evanescence's 20-year history to date, reinvented with a full orchestra over a deep electronic landscape.
Seated at the piano, Amy Lee opens the set with a single note that builds into the instrumental 'Overture', leading into the 'Never Go Back' and then 'Bring Me To Life', the anthem that lead many people to discover Evanescence.
Elsewhere, the 16-track live concert features impassioned performances of widely-acclaimed songs from the band's catalogue including 'My Immortal', 'Lithium' and 'Lost In Paradise'.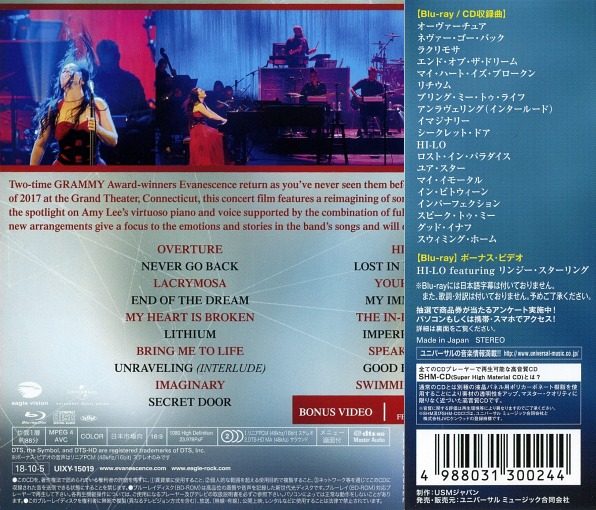 Amy Lee firmly re-establishes herself as one of rock's pre-eminent vocalists, exhibiting an impressive range that still packs a wallop, this time cutting through a full orchestra.
It's an impressive performance, worth to check out even for those who don't dig too much this style / genre.
Universal Music Japan ~ 【UIXY-15019】
【SHM-CD】
01 – Overture / Never Go Back
02 – Lacrymosa
03 – End of the Dream
04 – My Heart is Broken
05 – Lithium
06 – Bring Me To Life
07 – Unravelling (Interlude) / Imaginary
08 – Secret Door
09 – Hi-Lo
10 – Lost in Paradise
11 – Your Star
12 – My Immortal
13 – The Inbetween (Piano Solo) / Imperfection
14 – Speak to Me
15 – Good Enough
16 – Swimming Home
Amy Lee – lead vocals, keyboards, harp
Tim McCord – bass guitar
Will Hunt – drums
Troy McLawhorn – lead guitar
Jen Majura – rhythm guitar, backing vocals
Susie Seiter – orchestra conductor
BUY IT !
www.cdjapan.co.jp/product/UIXY-15019
.