FIFTH ANGEL – The Third Secret (2018)
FIFTH ANGEL recently put the finishing touches on their first new album in almost 30 years, "The Third Secret", which will be released on October 26th. The album features the incredible talents of guitarist and lead vocalist Kendall Bechtel, bassist John Macko and drummer / backing vocalist Ken Mary.
Perhaps one of the most legendary outfits to come out of Seattle, USA, alongside giants like Queensrÿche or Metal Church, Fifth Angel took the scene by storm with their awesome homonym debut album in 1986, shortly after releasing another gem in 'Time Will Tell' (1989) – both remastered 2018 and to be featured on this website soon.
They were the next big thing, though, former vocalist Ted Pilot, Ed Archer (guitars) and Ken Mary (drums) decided to call it quits, only to reform in 2010 to headline one of the greatest festivals in the world to me, the iconic Keep It True Festival.
Warmed by their reception and sparkled by another sold-out crowd at Keep It True 2017, Mary, John Macko (bass) and Kendall Bechtel (guitars, vocals) teamed-up in the studio to release their highly anticipated third album, 'The Third Secret'.
The surprise of their comeback turned to shock when I heard "The Third Secret". It is absolutely superb, but so good were they in the dim and distant, that I don't know why I doubted them. You'd say it was rolling back the years, but it's not really. Across the 10 songs it is classic and classy US metal all the way. Eras do not matter in that context.
Two of the original members are here. Drummer Ken Mary – who is best known, perhaps for his time with Alice Cooper and House Of Lords – and bassist John Macko. Singer Ted Pilot isn't in the biz anymore (working as an endodontist) but they've replaced him with Kendall Bechtel (guitarist on their second record) and this album sees them a trio, with lead guitar contributions by Ed Archer.
Bechtel is in astonishing form throughout the LP – actually in many ways is his album – he propels the songs and where he takes them is always compelling.
"Stars Are Falling" ushers itself in on the back of some machine gun drumming, but it is a feature of this that there is always a crunch and chorus.
The brilliant "We Will Rise" is an example of what US metal can be in this modern age but never ever seems to be. Put simply there are no kids in skinny jeans screaming and grunting at you here, just great songs expertly played.
"Queen Of Thieves" is bombastic, while "Dust To Dust" has an almost sleazy hard rock air and any song that starts with a solo has to rule. "Can You Hear Me" has a stadium shaking – and at one point Fifth Angel looked set for that – soaring thing going on, but "This Is War" is more hard rock, and even though the '80s Ozzy-like "Fatima" in other hands would be some labyrinthine epic, here it is less than three minutes.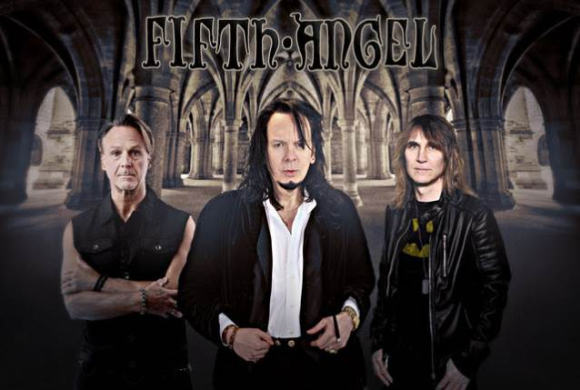 The title track is tucked away towards the end, but is better than that, its bass groove builds to something special, and it ends with a pair that get their fists in the air and party like its 1989 – and both "Shame On You" and the even more denim and leather clad "Hearts Of Stone" rocket along like the last 30 years – or that other movement from Seattle that ruined music for a while (sorry but it's true) – hadn't happened.
It's probably more a comment on the fact I am getting old than anything else, but great, true classic melodic metal albums have been scarce recently.
With "The Third Secret" Fifth Angel had no right to make one this good. But there we are, they did, and let's not keep it a 'secret'.
If you miss Ronnie James Dio first 3 albums, you better grab this killer record right now.
HIGHLY Recommended
01 – Stars Are Falling
02 – We Will Rise
03 – Queen of Thieves
04 – Dust to Dust
05 – Can You Hear Me
06 – This Is War
07 – Fatima
08 – The Third Secret
09 – Shame on You
10 – Hearts of Stone
Kendall Bechtel – Vocals, Guitars
Ken Mary (House Of Lords) – Drums, Backing Vocals
John Macko – Bass
Ed Archer – Guitars
PRE ORDER:
www.amazon.co.uk/Third-Secret-Fifth-Angel/dp/B07GW2WDM4