KINGDOM COME – Twilight Cruiser [Black Label Edition / Lenny Wolf remaster]
After the post here featuring KINGDOM COME's Japanese reissue of their album Hands Of Time, one of you asked for their album "Twilight Cruiser", but in its "Black Label Edition". Originally released in 1995, founder Lenny Wolf remixed / remastered the album in 2004 with his 'vision' of how the album should have been, re-releasing it as "Twilight Cruiser / Black Label Edition" with a different artwork as well.
"Twilight Cruiser" is a very melodic, somewhat melancholy album. The Zeppelin-esque sound is still there, but it's tempered by a much more emotional and personal approach.
That's not to say there isn't some heavy riffs and hard rock punch on here. Songs like "Law of Emotions", "Hope is On Fire" and "Gonna Change" have a contemporary edge to it.
However, the basis of the album is melody, melody and more melody.
The title track "Twilight Cruiser" may well be one of the band's best songs, ever. I wonder if this song had been released as a single in 1989 if it wouldn't have been a huge hit. It's a keyboard-heavy song with an infectious hook and a sound that reminds me of Honeymoon Suite.
This song is worth the price of admission alone.
"Janine" is a melancholy blues based ballad-esque song that also sports a ton of melody as well as whale-sized hook. Markus Deml is the lead guitarist on this album and plays with plenty of feel, especially on this track. As usual, Lenny Wolf's vocals are pristine, soulful.
Other highlight to me is the emotional "Rather Be on My Own", where Wolf shows why he is much more than a mere Robert Plant clone.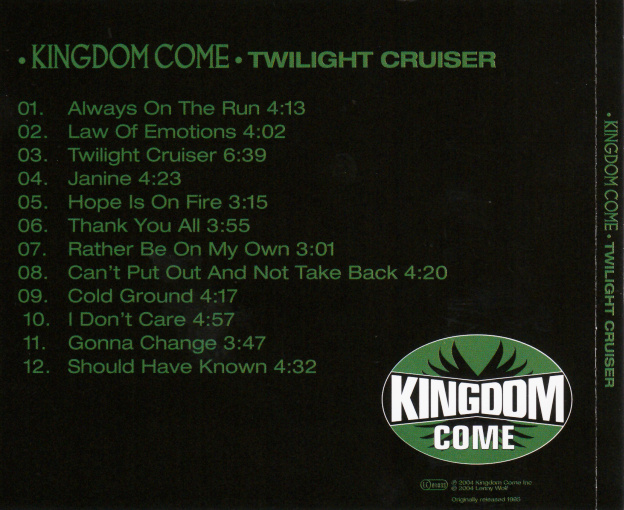 I know many of you never heard any single song from "Twilight Cruiser". Do it now. It's a terrific album with superb songwriting that takes some time to grow in you, but when it does, you'll return to it forever.
This Lenny's own remix / remaster sounds pretty much the same like the original in terms of feeling, but much, much better in dynamics.
A really underrated and quite unknown Kingdom Come album, and one of their best.
Highly Recommended
You've seen it first here, at 0dayrox
01 – Always On The Run
02 – Law Of Emotions
03 – Twilight Cruiser
04 – Janine
05 – Hope Is On Fire
06 – Thank You All
07 – Rather Be On My Own
08 – Can't Put Out And Not Take Back
09 – Cold Ground
10 – I Don't Care
11 – Gonna Change
12 – Should Have Known
Lenny Wolf – vocals, rhythm guitar
Markus Deml – lead and rhythm guitar
Bernd Fintzen – keyboards
Oliver Kiessner – bass, rhythm guitar
Kai Fricke – drums
BUY IT !
www.lennywolf.com/shop/shopcds.html
.