PLAY ROUGH – Play Rough [Previously Unreleased] (2018)
American rockers PLAY ROUGH's songs recorded from 1986 to 1992 are seeing the light of day for the first time via a self-titled album "Play Rough" released through specialized label FnA Records today.
Play Rough, who got their name from the b-side of a Night Ranger tune, formed in 1986, alongside bands like Poison, Cinderella, and Warrant. Their career would take them all across the Midwest with an eventual long-time stay over in Memphis (home of bands like Tora Tora, Roxy Blue, Lord Tracy, and Every Mother's Nightmare). Play Rough became regulars at the infamous Stage Stop in Memphis.
Growing up in Ohio, the Hartzell brothers, were hit early on with the rock-n-roll bug at the tender age of 8. They were immediately mesmerized and captivated by bands like Kansas, Meat Loaf, Journey, Boston, Alice Cooper, Steve Miller, AC/DC, Queen, Aerosmith, and KISS.
Eventually, thanks to their mom and dad buying them an electric guitar, a drum kit, and a keyboard, the brothers began learning their craft as their influences moved to heavier bands like Iron Maiden, Judas Priest, Black Sabbath, and Rush. Only in their pre-teen years, the brothers had already begun writing original music and making up fictitious band names and over the top live shows.
Once they met a drummer and bass player, these dreams became a reality by playing basement parties and High School dances which then led to bar gigs (Phil was just 14) and eventually to battle of the bands contests and festivals around the state.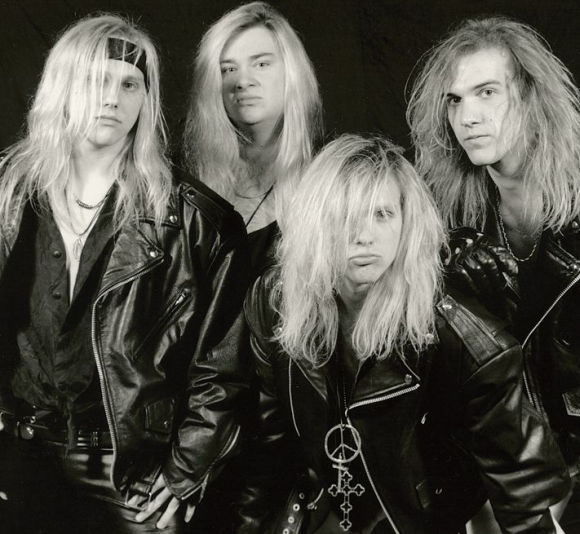 Their sound was starting to take on a LA glam sound and their look followed. As their local and regional following grew, the band signed with a talent agency out of Minneapolis. With a deal in place, Play Rough hit the road for the next 2 years straight.
They travelled with a sound engineer, lighting director, and road crew…and this was starting to feel like the full package in action.
The band wants you to know: "This CD showcases the music of Play Rough from its very inception in 1986 all the way up to our relocation to Memphis in the year 1992. It captures a young and immature bunch of kids literally getting our feet wet that improved and matured as we set out across the country painting the landscape black and neon pink!!"
Play Rough's music go from the hair metal of the first recordings to glam metal to melodic hard rock with that classy early '90s sound. Their self-titled album released features 16 very well written and recorded songs taped through the years, most of them with quite good sound quality.
With song titles like "Hot, Sleazy, and Cheap", "Sex Sells", "Tame The Night", and "Too Hot To Handle" and dressing in tacky, bright glam rock clothes – one can get an idea of what the band sounds and looks like.
Highly Recommended
01 – Hot, Sleazy, and Cheap
02 – In The Summer Heat
03 – Playing Games
04 – Hollywood Boys
05 – SecondHand Toy
06 – She's Feelin' Hungry
07 – Sex Sells
08 – Time
09 – Get Me Under
10 – Bursting With Color
11 – On We Sail
12 – Tame The Night
13 – Too Hot To Handle
14 – Think Pink
15 – Wild Times
16 – I Don't Give
Rawleigh Hartzell – Vocals
Phil Hartzell – Guitars
Kenny Miller – Bass
Jimmy Fulp – Drums
BUY IT !
fnarecords.net/index.php/play-rough.html
.