ROBBEN FORD – Purple House (2018)
"Purple House" is the title of the new ROBBEN FORD album released today, one of the most innovative and influential contemporary premier electric guitarists, vocalist and songwriter with a celebrated career that has spanned almost five decades.
The five-time Grammy nominee achieved worldwide fame for both, being a solo artist and for his collaborations with a diverse musical who's who that includes Miles Davis, George Harrison, Rick Springfield, Kenny Loggins, KISS and many more.
A blues, jazz, fusion and rock virtuoso – he even released an AORish album in the '80s – Ford is some kind of a musical chameleon, and we are presenting "Purple House" because it's one of his most rocking and soulful album from the last twenty years.
Ford says; "I'm always pushing myself with each record. I haven't made one record that sounded like the one before it and this was going to be no different. "Purple House" was a great opportunity to try something really different," Ford says.
Indeed, the effort is a bit of a different flavor for the guitar master, leaning more on the songwriting aspect with an emphasis on production. Yes, "Purple House" is slick classic rock, with a bright, accessible sound.
Catchy hooks, melodic riffs, and adventurous forms make it an album that will stick with you. This is commercial yet meaty blues-based timeless rock, akin Joe Bonamassa or Gary Moore.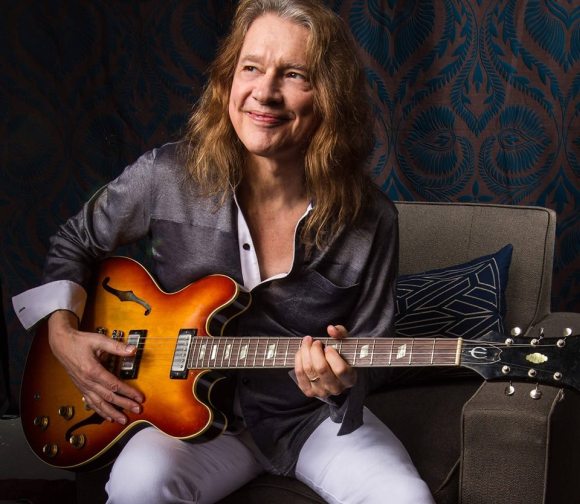 There's a joyful snappy opener in the heavy funky "Tangle With Ya" where the updated production can be heard, full, rounded, or in the immediately following dust-dry "What I Haven't Done".
Ford also proves that a good bluesy ballad works with acoustic guitar (the atmospheric "Empty Handed") or midtempo electric "Wild Honey" with some Jeff Healey on it.
It's on songs like "Bound For Glory" where you can appreciate the catchy and easy to the ears material here, very melodic and with a monster guitar tone.
"Cotton Candy" has lots of groove, while classic rocker "Somebody's Fool" features really good lead vocals by Travis McCready and great guitar work.
Only nine tracks leaving me hungry for more, but all in top quality.
If you never heard Robben Ford, you are missing something important in contemporary Rock. The man has played with everyone, has an impressive solo career and transited all musical styles.
This is the kind of albums which pass unnoticed under the truckload of daily releases – that's why 0dayrox is here – and certainly deserve to be listened to.
"Purple House" will please everyone, there's no way you dislike this excellent piece of classic rock updated 2018.
Superb
01. Tangle With Ya
02. What I Haven't Done
03. Empty Handed
04. Bound For Glory
05. Break In The Chain
06. Wild Honey
07. Cotton Candy
08. Somebody's Fool
09. Willing To Wait
Robben Ford – Guitar, Lead Vocals, Keyboards
Jim Cox – Organ, Piano
Ryan Madora – Bass
Toss Panos, Herman Matthews – Drums
Wes Little – Drums, Percussion
Shemekia Copeland – Vocal duet on "Break In The Chain"
Travis McCready – Vocal duet on "Somebody's Fool"
Drew Smithers – guest Guitar solo on "Willing To Wait"
BUY IT !
www.amazon.co.uk/Purple-House-Robben-Ford/dp/B07GRRGWDH
.