AXIS – It's A Circus World [Rock Candy Remaster] (2018)
Reissued / Remastered few weeks ago by Rock Candy Records, here's the one and only album by AXIS "It's A Circus World", the band formed by renowned drummer Vinny Appice alongside guitar hero Danny Johnson and bassist Jay Davis.
As a classic power trio, based in Los Angeles, featuring guitarist Danny Johnson (formerly of Steppenwolf), bassist Jay Davis and hard hitting drummer Vinny Appice, both comi çng from Rick Derringer Band, Axis stood out head and shoulders among the classic hard rock acts from the la Seventies.
Produced by iconic British Andy Johns and recorded at the Record Plant NYC, "It's A Circus World" packs an enormous punch, conjuring up comparisons to other seasoned rockers from the era such Montrose, Mountain, Ted Nugent and, natch, Derringer.
Despite of being released via major label RCA, it is, it has to be said, a mystery as to why they flew beneath the radar, failing to make any commercial impact whatsoever.
If you are a fan of late Seventies tough, meaty, lean and mean hard rock then there is much to appreciate here; with tracks such as 'Brown Eyes', 'Juggler' and the twisted 'Busted Love'.
In fact, regarding this genre, there is not one weak cut on the record, which in itself is a tremendous achievement.
It was a fact not lost on Tony Iommi, who played the record to Ronnie James Dio before recruiting Vinny Appice to join the rejuvenated Black Sabbath.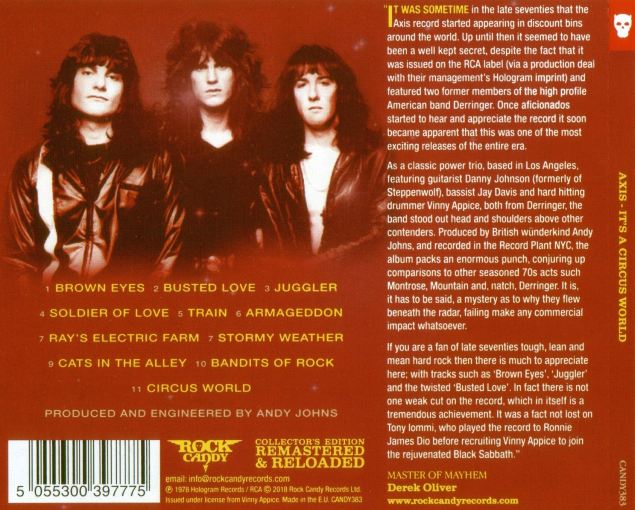 There's a fully remastered audio by Rock Candy retaining the recording ambience, the usual full color booklet including a 4,000 word essay, enhanced artwork, new photos and a new interview with Vinny Appice.
Highly Recommended
01 – Brown Eyes
02 – Busted Love
03 – Juggler
04 – Soldier of Love
05 – Train
06 – Armageddon
07 – Rays Electric Farm
08 – Stormy Weather
09 – Cats In the Alley
10 – Bandits of Rock
11 – Circus World
Guitar, Vocals – Danny Johnson
Bass Guitar, Vocals – Jay Davis
Drums, Backing Vocals – Vinny Appice
BUY IT !
www.amazon.co.uk/Its-Circus-World-Axis/dp/B07CPMYRKW
.