DEVIL'S HAND – Mike Slamer Andrew Freeman [Japan Edition +1] (2018)
No, despite its name, DEVIL'S HAND is not a metal band, but the awesome new and exciting melodic hard rock project consisting in Last In Line's vocalist Andrew Freeman and famous producer / guitarist / composer Mike Slamer in his comeback to the scene. Their debut album will be released in December via Frontiers Music, and tomorrow in Japan including an exclusive bonus song, non-album track worth the purchase.
Basically a vehicle for a collaboration between AOR / Melodic Hard Rock God Mike Slamer and Last In Line throatsmith Andrew Freeman, there was a chance that Devil's Hand might just become another of 'those' Frontiers albums, with two biggish names throwing some mud at a wall to see if anything sticks.
However these men are both among the best at what they do, and on this self-titled debut they demonstrate just that.
Opener 'We Come Alive' is a simple yet catchy melodic rocker, a getting-to-know-you kinda thing that just sets the tone sonically before handing the stage to that song that started it all, 'Falling In'.
This is prime Mike Slamer, slickly produced AOR a la Streets (the band he formed with Steve Walsh after Walsh quit Kansas for the first time back in the Eighties), full of prime guitar work and a soaring chorus that really allows Freeman to stamp his authority on proceedings.
It's a big contender for my song of the year, really taking the listener back to the days when Radio (at least in the US) was ruled by this kind of melodic hard rock.
'One More Time' is bluesier, and Freeman delivers a blustering vocal to match the swagger of the guitar playing. A great song, adding variation to the album.
Next track 'Another Way to Fly' features that Slamer trademark guitar sound, and thus again takes the listener back to the glory days of Streets. It's actually got a a little progressive touch, perhaps a hangover from Slamer's City Boy days, perhaps not. But I could imagine prog supergroup GTR pumping this track out in the mid Eighties for sure.
'Drive Away' is a real showcase for Slamer's bombastic style with layers of guitars, whilst next track 'Justified' is perhaps the most surprising on the album. A delicate, acoustic-guitar led balladic piece, Freeman trades his stock hard rock bellow for a more sensitive mode of delivery, the result being a lush piece of music. It sticks out from the rest of the material like a sore thumb, yes, but it's an undoubted success.
'Rise Above it All' is solid, riffy and possessed of a strong chorus – which Freeman sings the proverbial out of – but isn't quite as stellar as the tracks that surround it, but the title track, which opens with a vague nod to Whole Lotta Rosie before morphing into another classy, big-balled heavy AOR anthem, succeeds on every level. Freeman puts in another first-rate performance as well.
However he aces even this on next track 'Unified'; building slowly – building, in fact, like something off of the Last In Line album – before exploding into another quite superb chorus, it's many facets allow by turn Freeman the space to prove that he's a master hard rock vocalist. Add to this the utterly bombastic guitar arsenal supplied by Slamer and you've got, to these ears at least, the perfect mix of hard rock brilliance.
This track is worth the price of admission on it's own, and then some.
Next track 'Heartbeat Away' (not a cover of the Outside Edge track of the same name) is a piece of brooding melodic rock which superb chorus attract the attention it deserves at first listen. It's another spine-tingling piece of inspired songwriting, the work of seasoned professionals working at exalted heights that most will only dream of.
'Push Comes to Shove' is a relatively fast-paced rocker, a guitar driven punchy tune which riff reminds me of a Hurricane song.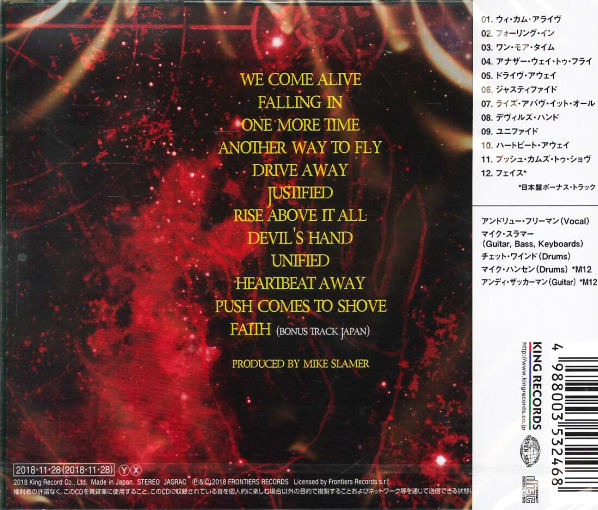 Bonus track 'Faith' worth the purchase of this Japanese Edition, just only to hear Slamer inventive guitar playing, absolutely different from what is heard in the other tracks. Musically is also quite different, a broken rocker with an early '90s feel all over. Listen to this one with headphones to appreciate Slamer's playing and skills as mixer / producer.
Mike Slamer is one of the greatest in Melodic Hard Rock / AOR history; Streets, Steelhouse Lane, Seventh Key, solo albums and countless songwriting credits for the best.
"Devil's Hand" cements his mastery, and it's a MANDATORY PURCHASE
01. We Come Alive
02. Falling In
03. One More Time
04. Another Way To Fly
05. Drive Away
06. Justified
07. Rise Above It All
08. Devils Hand
09. Unified
10. Heartbeat Away
11. Push Comes To Shove
JAPAN BONUS TRACK;
12. Faith
Andrew Freeman (Last In Line) – Lead Vocals
Mike Slamer – Guitars, bass, keyboards
Chet Wynd – Drums
BUY IT !
www.cdjapan.co.jp/product/KICP-1959
.