GIBRALTAR – I'm The One [remastered reissue] (2018)
Thirty years plus in the making, the super-rare album "I'm The One" by American melodic hard rock band GIBRALTAR finally gets a well deserved official release from Heaven & Hell Records. There was a previous reissue but not featuring this, the original artwork, and a not so good remastering.
Originally from Fayetteville, North Carolina, Gibraltar was formed in 1980 by high schoolmates Frank Fournier on Bass, Eric Page on Guitars, Jerry Everly on Drums, David Garcia on Keyboards, and vocalist Roy Cathy, later known as Rory Cathey getting major recognition as frontman for Cold Sweat (their excellent album to be featured here soon in its fresh remastered form).
Gibraltar worked, and they worked hard. They took every gig that was offered to them, whether it be a club show, a keg party, the county fair (Fort Bragg), or even someone's garage. Word started to spread and spread it did.
The fan base was growing rapidly with every new gig and the name Gibraltar was becoming well known among the early Gen Xer's who were hungry for a new sound that would eventually define an era.
As Gibraltar's notoriety grew, the next logical step was to enter the studio and lay down some tracks. The band cut no corners and paid to have high-quality recordings (usually unheard of for an unsigned local band).
Well-written songs along with a decent budget garnered a radio-friendly single that the fans requested on a nightly basis. Local radio stations like WQSM and Q98 held "Rock Fights" on Friday nights where Gibraltar would routinely beat out not just the local competition but national acts as well.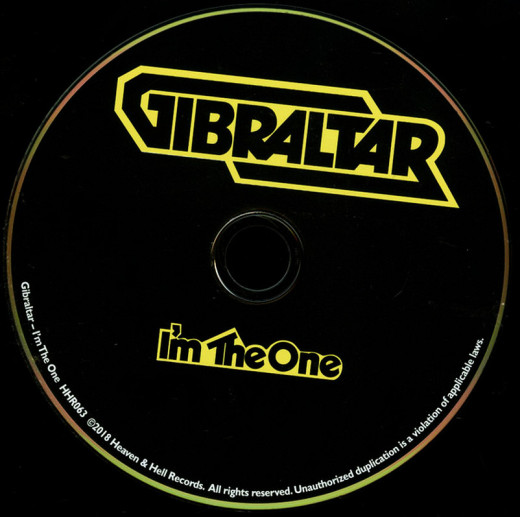 "I'm The One" was released by themselves in 1987, and while tours came and went for Gibraltar, the years passed by without ever securing that major label record deal. Pressed in limited quantities, the album became one of most sough after, best melodic hard rock / AOR indie records to ever shamefully go unnoticed by the greater masses.
Musically, "I'm The One" – full of big guitar hooks, catchy songs, and stunning vocals, had it caught the right momentum, this could've leapt from cult classic to big hit.
Riding the perfect edge between polished '80s US Hard Rock with heavy melodic AOR overtones, Gibraltar offers a bunch of strong tunes that would've rivaled a lot of other stuff out around that time.
From the Survivor-ish keyboard-laden "She Wrote the Book," the harder-edged "Full Speed," and the lovely ballad "Real" demonstrate that the band were capable of handling all musical emotions equally.
Roy was only getting started with what he would demonstrate vocally later on, but still showed that he was, even early on, an amazing singer, while the excellent guitar work of Eric Page mixed perfectly with the keyboards of David Garcia.
For a young band out of Fayetteville NC, they were other showing next level brilliance with stunning performances and powerful, hit-worthy songs.
This is going to be one of my favorite reissues of the year, limited to 500 units. "I'm The One" is a true 'cult classic', and deservedly to, for years impossible to find.
There's so much to love about this Gibraltar one and only album, I can't see why any fan of classy melodic hard rock shouldn't be chomping at the bit to own this little indie gem.
It's got everything that made that decade the best for rock music.
HIGHLY Recommended
You've seen it first here, at 0dayrox
01 – I'm the One
02 – She Wrote the Book
03 – You Better Know
04 – Not the First
05 – Nights on Fire
06 – Real
07 – Full Speed
08 – Let Go
09 – PS
Roy Cathey – Lead Vocals
Eric Page – Guitars
Frank Fournier – Bass
Jerry Everly – Drums
David Garcia – Keyboards
BUY IT !
sonicagerecords.com/_shop/index.php?route=product/product&product_id=27105
.