ICON – Right Between The Eyes [Wounded Bird Records remaster]
Some weeks ago we featured here the first two ICON albums in its remastered form, now as requested, more music by this really good American melodic hard rock band hailing from Phoenix, Arizona. "Right Between The Eyes" is Icon's last album, released in 1989 and mixes the rocking attack of their debut with the polish from their second, updated to the sound production of the late '80s.
This Wounded Bird Records remastered release (not easy to find) is the version to have of this pretty killer, underrated melodic hard rock album.
Dropped by Capitol Records whom where experiencing many troubles in the second half of the Eighties, Icon recorded and released their third album by themselves ('More Perfect Union').
By 1988, Megaforce Worldwide / Atlantic Records were interested in the band but asked for a return to their early, US metallic style. Icon's chief guitarist Dan Wexler was thinking to take that direction for the band as well, so they got a deal.
With a glossy production according to times and an edgy melodic hard rock delivery, "Right Between The Eyes" was recorded early in 1989 and released in August the same year.
Overall, the songs on the album run for some kind of a mix between Alice Cooper's style at the end of the '80s (Trash and Hey Stoopid albums) – so it's no surprise to hear him providing guest vocals on two tracks – a bit of the AORish side of Whitesnake (1987 album), and some Hurricane.
Pure late '80s stuff, sporting one of those iconic cover artworks from the era.
This album showcases the talents of Wexler's genius as guitarist, one of the most underrated axe-man from the '80s. His awesome tone and thick, imaginative chords always reminded me of Randy Rhoads, perhaps more melodious but distinctive as well.
The songs on "Right Between The Eyes" are catchy and commercial, yet meaty and powerful.
Opener 'Right between the Eyes' kills with its hard rocking punch, 'Two for the Road' follows with Cooper as guest in a duet for just another ballsy tune, then 'Taking my Breath Away' has a more mid-paced rhythm with some of the aforementioned Whitesnake / Hurricane influences.
Now it's in the mid-part of the album where "Right Between The Eyes" delivers the highlights, although all songs are very good in my opinion.
'A Far Cry' is one of my favorite Icon songs, a true 1989's US melodic hard rock monster, next 'In your Eyes' is the perfect blend of melodic hard / AOR with superb musicianship and vocal harmonies, and then 'Holy Man's War' completes the trifecta with wild riffs, bouncy rhythms and Alice Cooper appearing at the mid-part providing one of his classic 'horror' characters.
These 3 songs worth this album alone.
But quality doesn't end there.
'Bad Times' rocks simply but effectively, 'Double Life' bring to mind Icon's first album with sharp riffs, same with 'Running Under Fire' and its indeed, fireworks stomp.
'Forever Young' is the semi-ballad / midtempo song on the CD (a completely re-work from previous album 'More Perfect Union' song), another fav of mine with its melodic rock foundation.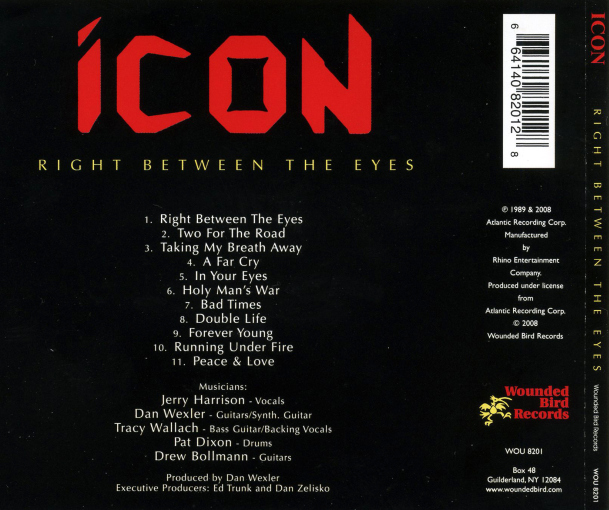 While for this album Icon toured America and UK with, among others, Ace Frehley, Electric Angels or King's X, and the video for the first single "Taking My Breath Away" was played on MTV's Headbangers Ball both Europe and in the US on heavy rotation, unfortunately "Right Between The Eyes" was eclipsed by the load of excellent releases appeared in 1989 in the same musical style.
This is another terrific Icon album that really deserve a place in in your '80s melodic hard rock collection, remastered by Wounded Bird with a pristine output.
HIGHLY Recommended
01 – Right Between The Eyes
02 – Two For The Road
03 – Taking My Breath Away
04 – A Far Cry
05 – In Your Eyes
06 – Holy Man's War
07 – Bad Times
08 – Double Life
09 – Forever Young
10 – Running Under Fire
11 – Peace & Love
Jerry Harrison – vocals
Dan Wexler – all guitars, guitar synthesizer
Drew Bollmann – guitars (credited, not actually playing)
Tracy Wallach – bass, vocal harmonies
Pat Dixon – drums
additional musicians:
Alice Cooper – guest vocals on 2 and 6
Kevin Stroller – keyboards
Mark Prentice – keyboards on 9
BUY IT !
www.amazon.com/Right-Between-Eyes-Icon/dp/B000Z66R42
.