LEATHERWOLF – Leatherwolf II [Remastered by the band +1 / rare] *Exclusive*
The first 3 LEATHERWOLF albums are among the best '80s US metal / edgy hard rock had to offer. One of you asked if these have been remastered, and the answer, after some investigation, is 'yes'. The only remastered versions were done by the band themselves, sold via their own label Leatherwolf Records during the last decade, and available in limited quantities, now out of print.
Their 1987's second effort also titled "Leatherwolf" – known as "Leatherwolf II" – rocks with style.
"Leatherwolf II" is the band's first album on major label Island Records. Leatherwolf released two consecutive self-titled albums. This one, which features the band on the cover, is the second of the two, and was originally released in 1987.
Unlike a lot of California-based hair metal bands, Leatherwolf actually qualified as a real US metal band. They put a melodic, polished L.A. style on the traditional sound of the genre.
Think a mix of Crimson Glory and Armored Saint, with the commercial appeal of Dokken or Skid Row.
Keeping parts of their metallic roots and adding equal amounts of elaborated instrumentation and Hard Rock songwriting sensibilities, they crafted what would be an excellent yet often forgotten album.
On "Leatherwolf II" the band perfected their unique sound: a triple axe attack – yes, there's 3 guitar players here – handled by Carey Howe, Jeff Gayer and also lead vocalist Michael Olivieri.
Vocally, Olivieri owns a great register with a glam metal approach to it, but he nails enough notes to make sure you know that he can belt it out with the best of the metal crowd.
The songs are hard hitting, but are also quite melodic. There's a great mid-80s sense of energy and drama on this album that I totally dig. Listing standout tracks is almost pointless, since nearly every song on this album is a killer.
Ranging anywhere from Dokken-esque riffs to the very glam influenced cover of CCR's classic "Bad Moon Rising", there's a lot to love here.
We find an excellent keyboard line into in "Princess Of Love", and a terrific meaty ballad in "Share a Dream". "The Calling" was the single released to promote the record and it's one of the highlights driven by huge riff swirling solos and a massive shout along chorus.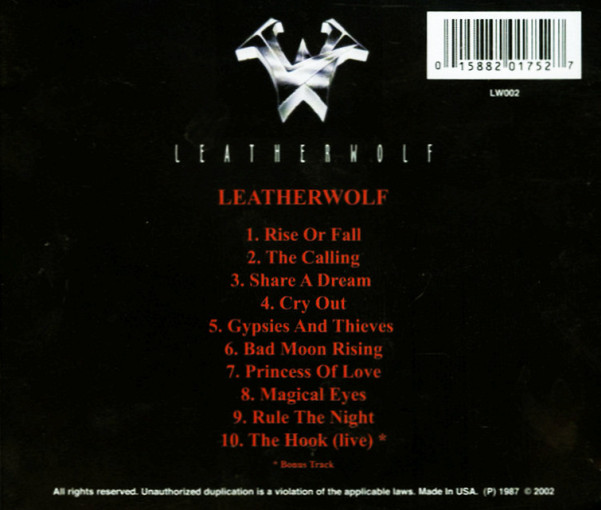 Like Fifth Angel and Crimson Glory, Leatherwolf remains as one of the '80s US metal scene best kept secrets.
There are a ton of acts from the era that were mostly forgotten for decades.
With a distinct blend of traditional metal, glammy hard rock and a unique three guitar attack Leatherwolf were unique.
This remastered reissue, released by the band themselves, is an out of print collectors item including 1 bonus track not present on the original release.
Highly Recommended
0dayrox exclusive (thanks to Larking)
01 – Rise Or Fall
02 – The Calling
03 – Share A Dream
04 – Cry Out
05 – Gypsies And Thieves
06 – Bad Moon Rising (CCR cover)
07 – Princess Of Love
08 – Magical Eyes
09 – Rule The Night
BONUS TRACK:
10 – The Hook (Live)
Michael Olivieri: vocals, guitar
Paul Carmen: bass
Carey Howe: guitar
Geoffrey Gayer: guitar
Dean Roberts: drums
Out Of Print 
.