PRESTO BALLET – The Days Between (2018)
Honestly I don't dig Kurdt Vanderhoof's veteran thrashy metal band Metal Church, but his side project PRESTO BALLET is truly enjoyable for sure. They just released their sixth studio album "The Days Between", as always, combines the melodic and harmonic old school aspects of progressive rock with AOR / Classic Rock touches.
Much more than on their already very good albums, "The Days Between" is more focused on melody, hooks and song format.
It's definitely more on the melodic rock side and it has all the elements of the things that we love most about Rock music.
"The Days Between" once again sees the band doing a fantastic job harnessing the sounds of the some of the great melodic prog bands in history, including Kansas, Styx, Yes, Rush, and even a bit of Journey, but thanks to Vanderhoof's love for classic metal there are also some Deep Purple and Uriah Heep elements here as well.
Except drummer Crowe, the rest of the members have been together in Presto Ballet, so they work like an oiled engine and they know the sound they want.
There's not a bad tune here, and really the CD contains something for everyone. The joyful opener "Out Of Mind (It's Outta Sight)" put things clear; a pompous progressive tune with Styx feeling circa 1981 all over it.
'Earthbound' is a super-charged number that starts off like a smokin' Deep Purple cut, with raging Hammond organ and beefed up guitar riffs, before the gorgeous Mellotron kicks in along with some wild synth passages.
'Tip Of The Hat' is quite melodic rock with a little of early REO Speedwagon, until Vanderhoof's appear to provice more muscle and there's a great interplay with Kerry Shacklett's analog synths. Add a little of early Journey to the chorus as well.
The breezy 'I Just Drive' is almost FM ready if we were in 1980, very melodious, slow and sweet.
'Hard Times For Dreamers' is one of my favorites. A great mix of Yes-like rhythm section, Rush-like verses, and the soaring vocals of Chuck Campbell. Vanderhoof adds in some tasty distorted guitar leads, which play well off the scorching Hammond and synth runs.
This is a great example of hard rock mixed with intricate prog rock and catchy pop / melodic rock, something that very few bands were ever able to do well, one of them being Aviary back in the late '70s.
Closer "I Am Wire" is the only lengthy piece, yet very accessible with acoustic / electric guitars, Mellotron, Moog, electric piano, and emotional & alluring vocals. You'll be hard pressed not to keep hitting the replay button on this great tune.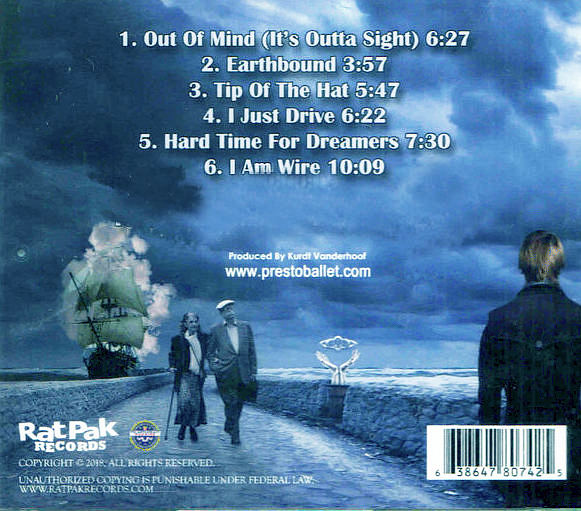 The musical quality of Presto Ballet is not a surprise anymore, but with "The Days Between" they managed to make this progressive stuff very accessible.
Kurdt Vanderhoof has stated on many occasions that he would like to do more with Presto Ballet, and judging by the popular feedback this band has gotten from the prog-rock faithful over the years there seems to be a good many people who would love to see it. In fact, all kind of listeners will enjoy "The Days Between".
Metal Church might well be his bread and butter so to speak, but with six high quality releases under their belt, this band needs to take that next step into the spotlight and get the full exposure they so deserve.
Highly Recommended
01 – Out Of Mind (It's Outta Sight)
02 – Earthbound
03 – Tip Of The Hat
04 – I Just Drive
05 – Hard Times For Dreamers
06 – I Am Wire
Kurdt Vanderhoof – Guitars
Chuck Campbell – Vocals
Kerry Shacklett – Keyboards
Bobby Ferkovich – Bass
Charlie Lorme – Drums
BUY IT !
ratpakrecordsamerica.com/product/281962
.