QUEENSRYCHE – Greatest Hits [Japanese SHM-CD remastered] Limited Edition / Out Of Print
This is the only press on high quality SHM-CD of QUEENSRYCHE "Greatest Hits" with all tracks 24-Bit Digitally Remastered, a Limited Edition that went out of print in a couple of months.
Why this 'GH compilation' needed a SHM-CD, high quality press release? Because few "Greatest Hits" represents so exactly a band's career like this one.
And why is Queensryche so great? This album explains it all just as easily as an open book.
Including material from all Queensryche studio releases up to 1997 (1999's Q2K is excluded), as well as the astonishingly beautiful 1997 B-side "Chasing Blue Sky" and an alternate, wonderful extended version of "Someone Else?" featuring the full band, "Greatest Hits" delivers one great song after another.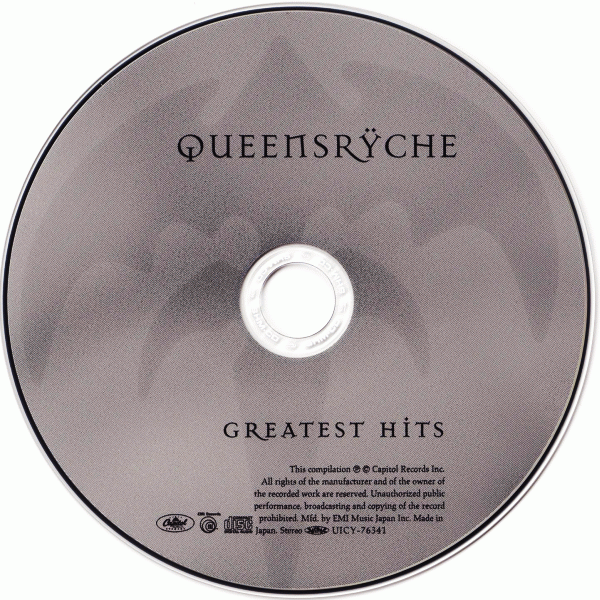 Opener "Queen of the Reich" is the quintessence of the perfect '80s metal song. A dark, fast, intense, and melodic metal beefy with epic dueling guitars fight their way into your head, leaving an inerasable mark.
"The Warning", "Walk In The Shadows", the superb "I Dream In Infrared", "Jet City Woman" or the hit "Silent Lucidity"… you can't go wrong with these classics.
All the songs off of this album have a similar effect on the listener, and that is addiction.
"Greatest Hits" is the perfect Queensryche album? I think so.
Of course you must have in you collection Operation:Mindcrime, Rage For Order and Empire, but this "Greatest Hits" sums up greatly 1 hour and 17 minutes of Queensryche's finest.
A Must Have
Universal Music Japan ~ UICY-76341 【LTD SHM-CD】
01. Queen Of The Reich
02. The Lady Wore Black
03. Warning
04. Take Hold Of The Flame
05. Walk In The Shadows
06. I Dream In Infrared
07. I Don't Believe In Love
08. Eyes Of A Stranger
09. Jet City Woman
10. Empire
11. Silent Lucidity
12. I Am I
13. Bridge
14. Sign Of The Times
15. Chasing Blue Sky *
16. Someone Else? [with Full Band – Extended] *
* Japanese bonus tracks
Geoff Tate – vocals, keyboards
Chris DeGarmo – guitars
Michael Wilton – guitars
Eddie Jackson – bass
Scott Rockenfield – drums, percussion, keyboards
Try Here:
www.cdjapan.co.jp/product/UICY-76341
.