LE MANS – Le Mans [YesterRock digitally remastered]
LE MANS self-titled album (their 2nd and final) it's a baby that needs a place in your AOR & Melodic Rock collection. Digitally Remastered by YesterRock for the first time, this rocker sounds fabulous.
Le Mans was very much an active part of the hard rock scene in and around San Francisco during the '80s. An ad in Guitar Player Magazine led to the formation of the band, featuring guitar hero Derek Frigo (who unfortunately died from a drug overdose in 2004).
No wonder their first album emerged on Shrapnel Records, known for its many guitar-orientated releases, being a record pretty hevay metal oriented.
Then major label Columbia Records signed the band but wanted a more commercial sound for the next album.
Gone were the metallic overtones, to be replaced by a Melodic Rock, edgy AOR sound we all love. To be honest, there isn't a weak song in sight in "Le Mans", a record that shoulda be more known by fans of the genre.
All are killers, like the bright 'Chain Around Your Heart', the kickin' 'Life Of Rock 'N' Roll', the melodic bliss of 'Love Is a Waste of Time', the exquisite mid-tempo 'Never Wanna See You Cry' or the power ballad 'Never Wanna See You Cry'.
But pay attention to the fan-damn-tastic opener 'Love Lies', one of my favorite tracks from the '80s. This cut is all what AOR / Melodic Rock is all about!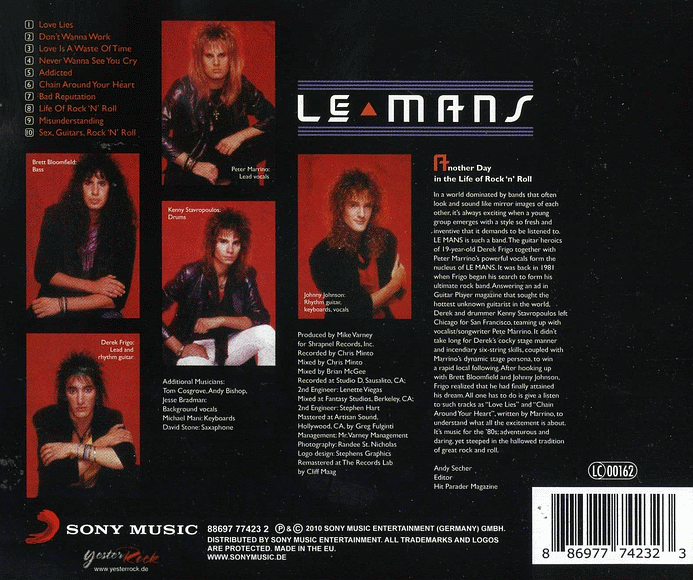 "Le Mans" is a terrific record full of great songs, superb instrumentation and a huge production.
If you never heard about this little gem and enjoy the feeling of bands like Dokken, Icon, Heavens Edge, Keel, Bronz, and why not, some Scandinavian groups of the era (mid-Eighties), you NEED this right now.
One of the best releases / remasters by specialists YesterRock.
A Must Have
01 – Love Lies
02 – Don't Wanna Work
03 – Love Is A Waste Of Time
04 – Never Wanna See You Cry
05 – Addicted
06 – Chain Around Your Heart
07 – Bad Reputation
08 – Life Of Rock 'N' Roll
09 – Misunderstanding
10 – Sex, Guitars, Rock 'N' Roll
Peter Marrino – lead vocals
Derek Frigo – lead and rhythm guitar
Johnny Johnson – rhythm guitar, keyboards, vocals
Brett Bloomfield – bass
Kenny Stavropoulos – drums
BUY IT !
www.plastichead.com/item.asp?ex=fitem&target=88697774232
.