PINK FLOYD – The Division Bell [20th Anniversary Double Vinyl Edition Remastered]
Celebrating its 20th Anniversary this year, PINK FLOYD is re-releasing "The Division Bell" in a remastered form on two vinyl LPs; this is the first time that the full album is presented on vinyl, the original LP pressing was a single disc with edited songs.
"The Division Bell" is one of Pink Floyd's most popular albums with estimated worldwide sales of 17 million, and given the past few years upsurge in vinyl LP interest and sales, Gilmour and Co. decided that the album deserved to be available in its full on a quality 180g double vinyl.
Great analog recordings and their subsequent vinyl pressings are coveted by music fans for their many positive characteristics. The warmth and soul of a great record is absolutely timeless.
Records today remain as vital today as ever, with no regard to decades of technological change. As vinyl junkies dig for the old wax, younger fans send sales of new LPs skyward. In their purest form, vinyl records are actual physical containers of recorded sound; real musical waveforms are pressed into its vinyl grooves. They simply sound better.
As any serious music lover will tell you, vinyl LPs scream to be taken off the shelf and played!
Many see the vinyl LP as collectable, some as a time capsule, while many consider the venerable format as the best example of art in Western Civilization. While not every album cover qualifies as art, "The Division Bell" has aged very well over the last 20 years.
The iconic 'twin heads' sculpture is just as striking now as its first appearance back in 1994. It was not really a surprise the album cover was chosen as one of the iconic British LPs represented by a series of commemorative British stamps.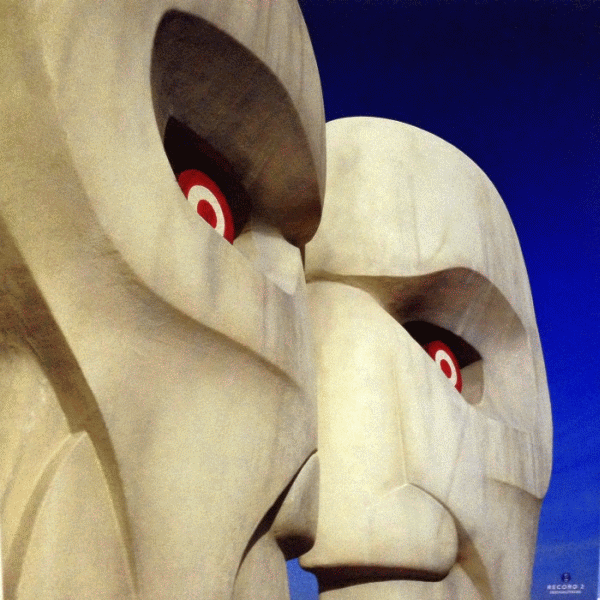 The Division Bell's graphics were one of Storm Thorgerson's crowning achievements. I wish he could have been here to see his 'twin heads' concept revitalized for the new editions. The 'twin heads' are everywhere; four panels from both sides of the gatefold cover, plus two from the inner sleeves. Both the steel and stone heads are represented.
There are no words anywhere inside "The Division Bell" LP's; no musician, production or engineering credits. Not even lyrics are provided.
Anything else would have been superfluous. Nothing that is except 'Record 1' and 'Record 2′ below the miniature "PF' script icon on each inner sleeve are provided. A closer look at the spine reveals 'Pink Floyd – The Division Bell' printed twice in opposite directions, separated by two small bullseyes… Why? So you can turn the cover upside down to use the 'stone heads' image on the back cover as an alternate front cover.
The 2014 2-LP edition also passes the album cover construction grade with a thick gatefold cover stock and a high quality glossy finish.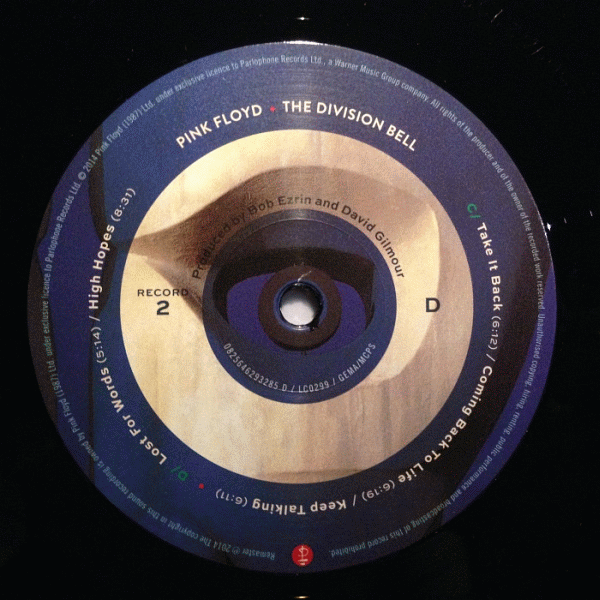 I have always thought The Division Bell's sound quality was simply too warm and organic to be contained on a standard compact disc. It was too cold and couldn't breathe.
Hearing it newly remastered for vinyl has confirmed this. Thankfully the recording engineers back then had the conviction and foresight to record The Division Bell properly on analog tape.
Now two decades later, the 20th Anniversary edition of "The Division Bell" LP's has been remastered from the original analog tapes by engineers James Guthrie and Joel Plante. Mastering and lacquer cutting were done at The Mastering Lab in California by Doug Sax. Quality Record Pressings in Kansas handled the pressings.
The playback backgrounds are black (near dead silent) with no issues to murk up the signal-to-noise ratio. Ideally, today's thicker and heavier 180 gram records tend to vibrate less by dropping the noise floor lower resulting in a cleaner sound.
We know the music here is good, but how does it really sound?
Well, the sonic results are everything you would want and more – the presentation of voices and acoustic instruments like piano, percussion and acoustic guitars are viscerally stunning in their clarity. Specifically, "Wearing The Inside Out" and "High Hopes" really take on a new dimension, while other songs with a more dynamic production; "Coming Back To Life' and "What Do You Want From Me" benefit most from the remastering by delivering deeper bass, a more textured midrange and a wider sonic wallop.
In my experience, listening to "The Division Bell 20th Anniversary 2-LP" remaster was like hearing it again for the first time.
A1 Cluster One
A2 What Do You Want From Me
A3 Poles Apart
B1 Marooned
B2 A Great Day For Freedom
B3 Wearing The Inside Out
C1 Take It Back
C2 Coming Back To Life
C3 Keep Talking
D1 Lost For Words
D2 High Hopes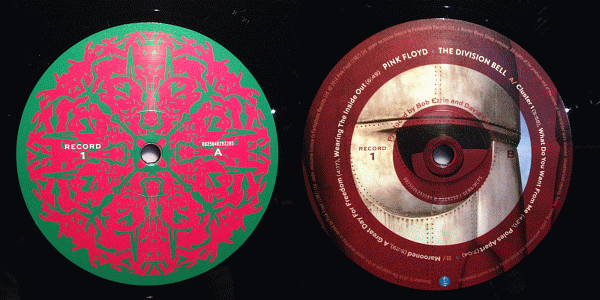 BUY IT !
www.amazon.co.uk/dp/B00LED19NY
.