VOODOO X – Vol.1 The Awakening [AOR Heaven Classix remaster +4] Out Of Print
With the recent post of Jean Beauvoir's 'Rock Masterpieces Vol.2' it was requested as well his late '80s band VOODOO X, and their only album 'Vol.1 The Awakening'. Fortunately this pretty killer melodic hard rock album was reissued / remastered by AOR Heaven Records for their Classix series, with 4 extra tracks.
The bad news are that this "Vol.1 The Awakening [AOR Heaven Classix remaster +4]" went out of print now, with used copies being sold for over $100.
After a successful solo career through the mid-80s, multi instrumentalist, songwriter and ex Plasmatics member Jean Beauvoir is energized once again by the prospect of a band environment. The year is 1989. The band, Voodoo X. Accompanied by a larger than life image and an even larger, huge sound, Voodoo X released their debut album that would present them as a musical powerhouse.
Featuring long time friend and collaborator Tommy Lafferty on lead guitar, Uwe Fahrenkrog-Petersen on Keys, Ivan Wong on Bass, and Luecke Lake on Drums, the album titled "The Awakening Vol 1" is coming of age.
An album that bridges the gap between darkness and light, and leaves no stone unturned when it comes to infectious melodies and an attitude to burn.
From the opening riff of "I'm on Fire" to the acoustics of "Air That I Breathe", the album leaves the listener in a complete Melodic (Hard) Rock trance. Co-produced by Jean and the legendary Max Norman (Ozzy Osbourne), the result is a record that is complete from start to finish, showcasing a mouthful of melodic bliss, and an all-round LP that has gone on to be a cult classic in the eyes of the melodic / hard rock community.
"Voodoo Queen" opens with a ceremonial intro, and a keyboard backing that gives you the feeling that there's something uninhabited about this song. What is probably one of Beauvoir's finest accomplishments in songwriting, in "Voodoo Queen" the chorus is God like, delivered from heaven in a wall of angelic vocals, enchanting keyboards, and a blend of harmony rarely heard.
"A Lover like You" is a midtempo track co-written by KISS' Paul Stanley, sculptured with a guitar that's subtle in its tone, and a vocal that's both sincere, yet agonizing at the same time. The chorus is layered beautifully, in both music and lyrical content.
"Don't Bother Me" unleashes some lead guitar theatrics before generating into a monstrous guitar riff that both absorbs and devours everything in its wake. Once the thundering bass line comes in, we are met with a heavier side to the band, devoid of any keyboard.
"Into The Night" is almost AOR, starting with a really cool keyboard intro; Jean's clean vocals begin to tell the story of someone laying in his bed tonight. "What Can I Do" is a heartfelt ballad that's drenched in true emotion, while "The Awakening" is pure Beauvoir: the intro is a haunting masterpiece that ever so softly strips back the soul bared by the acoustics and the haunting caress of Beauvoir's vocals, but then, the heavy guitar riff heightens the senses in a supernatural form, and before you know it, the band is kicking into high gear once again. "The Awakening" has it all within its 6 minutes of melodic brilliance.
"One Riff " kicks off with a soulful acoustic guitar that gives you a sense that a feel good rocker is upon us. It's infectious, contagious, and will be sure to keep you humming that chorus right to the finish line.
"Have You Had Enough" is an open wound in desperate need of healing. Beauvoir is at his best here, draining the emotion this song richly deserves. The music is never hollow in its beauty, exhaling a formula where all instrumentation gives its own values to the song. Containing well structured lead guitar breaks, "Have You Had Enough" is a showstopper in every way.
"Like a Knife" is pure Tommy Lafferty. This is HIS song, shining throughout the track with some killer guitar work that brings the heavens to its knees. It's a head banging, fist pumping adrenaline junkie.
"Happy Birthday" is an acoustic ballad with a beautiful tone and sentiment. There are just enough keyboards to give it depth, so not taking anything away from the brilliant guitar work. There is loneliness in Jean's lyrics, and his vocal represents this beautifully, making this song a nice conclusion to the regular album release.
The bonus tracks are great too. "Voodoo Queen" (the Ritual mix), is much the same as the regular version, but has an extended guitar part mid song. As it is such a fantastic track, this is certainly a worthy addition to the regular album.
"Air That I Breathe" is slow melodic rock, with a different stylistic approach. Jean puts in a fine vocal performance once again, with huge kudos to some great falsetto work towards the end of the song.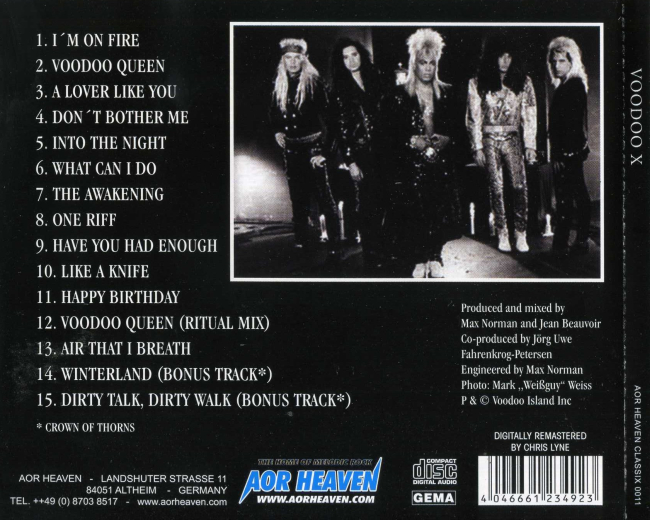 It's not often a band comes along and their debut album makes you sit up and take notice. For Voodoo X, this is the case. "The Awakening Vol. 1" is a melodic journey, powered by some blistering guitar work, stellar vocals, and elaborated songwriting. The album showers the listener in a downpour of melodies, and an attitude to die for.
Every song has its rightful place on this CD, and it should be in the collection of every melodic hard rock fan.
Excellent remastered reissue by AOR Heaven Classix.
HIGHLY Recommended
01 – I'm On Fire
02 – Voodoo Queen
03 – A Lover Like You
04 – Don't Bother Me
05 – Into The Night
06 – What Can I Do
07 – The Awakening
08 – One Riff
09 – Have You Had Enough
10 – Like A Knife
11 – Happy Birthday
BONUS TRACKS:
12 – Voodoo Queen (Ritual Mix) (bonus track)
13 – Air That I Breathe (bonus track)
14 – Winterland (bonus track)
15 – Dirty Talk, Dirty Walk (bonus track)
Jean Beauvoir – lead vocals, rhythm and lead guitars
Tommy Lafferty – lead and rhythm guitars
Ivan Wong – bass, vocals
Luecke Lake – drums, vocals
Jorn-Uwe Petersen – keyboards, vocals
BUY IT ! (used copy)
www.amazon.co.uk/Vol-1-Awakening-Voodoo-X/dp/B005F2K4X6
.