WARRANT – Dirty Rotten Filthy Stinking Rich [Rock Candy remastered]
Today, January 31, 2019, is the 30th Year Anniversary of the release of WARRANT's debut album "Dirty Rotten Filthy Stinking Rich" and here at 0dayrox we make a special celebration for this classic album.
Rock Candy specialists have given their Remastered & Reloaded treatment to the most beloved WARRANT albums, their first & second, both among the best US Melodic Hard Rock / hair metal records ever. Warrant's debut "Dirty Rotten Filthy Stinking Rich" started all, their rollicking career to stardom.
As one of the main movers and shakers of the Los Angeles Sunset Strip rock scene during the late '80s, Warrant made a huge impact at every level helping to define not only a musical movement but also establishing a commercial breakthrough that astounded the naysayers.
It was a golden time for not only the music of the era but also Warrant directly, whose presence on MTV was virtually permanent.
Like most bands, the formation of Warrant mutated through a number of line-ups, but it eventually settled to feature vocalist Jani Lane, an appointment that ignited the band's creativity and placed them on the path to gold and glory.
But it wasn't an easy ride, with a number of setbacks frustrating progress, including a brief encounter with the Prince's Paisley Park organisation which bankrolled a demo that then received a number of rejections from most record labels.
Eventually however, with the help of major management, the band signed to Columbia records and commenced their rise to stardom.
Originally issued in January 1989, "Dirty Rotten Filthy Stinking Rich" was produced by Beau Hill (Ratt, KIX, Winger) and set in motion a rapid rise to fame, which came as little surprise to those who had been following the band from the sidelines.
The compelling production, trademark riffs and Lane's unique vocals elevated the songs to another level.
'Down Boys', the first track to radio, was a hit, and the ballad 'Heaven' made it to #2 on the US singles chart, giving Warrant accelerated sales upwards of double platinum.
The glossy production sound of "Dirty Rotten Filthy Stinking Rich" makes it emblematic of its time. It's sleek and clean, built on processed guitars and cavernous drums, never taking more time than it needs, pushing the hooks front and center, along with a mile-wide sentimental streak best heard on the power ballads 'Sometimes She Cries' and 'Heaven'.
But don't be mistaken – those are two slow moments on an album that's a party, hard rockin' record, like the tremendous 'Down Boys' and its indelible chorus, '32 Pennies' with loads of hooks and that glam rock riff that Motley Crue mastered a few years prior, or the kicking 'Big Talk'.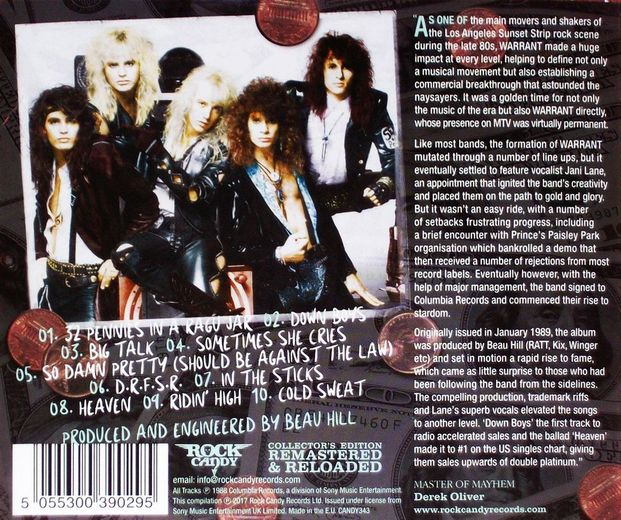 To my ears, both first Warrant albums sound fantastic in its original release. Is this Rock Candy remaster worth of it? I guess the answer is yes.
There's more bass presence, a punchier output and an overall feel of pristine-ness.
Anyway, any version of Warrant's "Dirty Rotten Filthy Stinking Rich" is an essential addition to your melodic hard rock collection, and if you need to choose one, get this Rock Candy remaster.
A MUST HAVE
0dayrox exclusive
01 – 32 Pennies
02 – Down Boys
03 – Big Talk
04 – Sometimes She Cries
05 – So Damn Pretty (Should Be Against The Law)
06 – D.R.F.S.R.
07 – In The Sticks
08 – Heaven
09 – Ridin' High
10 – Cold Sweat
Jani Lane – vocals, acoustic guitar
Erik Turner – guitar, backing vocals
Joey Allen – guitar, backing vocals
Jerry Dixon – bass, backing vocals
Steven Sweet – drums, backing vocals
additional musicians:
Beau Hill – keyboards, background vocals, production
Bekka Bramlett – background vocals
Mike Slamer – guitar
BUY IT !
www.amazon.co.uk/Dirty-Rotten-Filthy-Stinking-Rich/dp/B06X96RH6Q
.