The Lost UK Jewels Vol.7 ; ZERO ZERO – Heroes Live Forever – Out Of Print
There was a time – specifically in the mid-Eighties – when British AOR & Melodic Rock was a much revered genre loved by many and played by skilled musicians across the country. Some bands got to live the dream, getting their fifteen minutes of fame, whilst others never had the chance to let the world listen to their – often spectacular – sound.
This is the mission of "Lost UK Jewels" Collector's Series; endeavour to bring you these 'hidden treasures' via Limited Edition (500 copies pressed of each CD) Collector's Volumes under the supervision of Classic Rock AOR / Powerplay / AOR Underground journalist Rob Evans.
The material from awesome bands like Peroux, Graffiti, Geneva, Torino, Voyager UK or Tokyo were already released (as the excellent Strutz already presented on this blog), now it's time for ZERO ZERO, with "Heroes Live Forever".
Originally formed in the mid '80s, the true shape of Zero Zero took form when a young Steve Doherty left an early version of Strangeways to hook up with fellow band mates John MacMillan, Joseph James and Andy McCafferty.
The slew of demos that followed proved that they were probably one of the finest UK AOR bands to have never been signed. They did come close, with offers from both Atlantic and Carrere Records but due to management mishaps, it all fell through.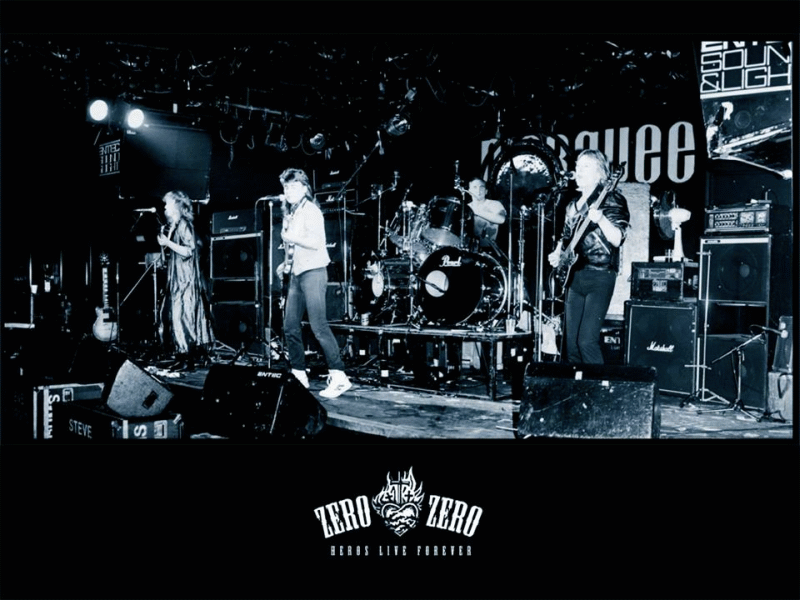 Been described as 'UK AOR's great white hope', Zero Zero was a band that had melody in abundance and ability in spades to craft top Melodic Rock / AOR.
Standout anthems like "Rock Me (Rock All Night)", "Heroes Live Forever" or "Warning Light" never were released… Until now.
Frontman Steve Doherty has finally pulled together a fitting record of a truly remarkable band.
The first 4 killer tracks on the CD were recorded in 1986 to be presented to record companies. Then we have 5 tracks taped in 1993, and 2 fresh songs recorded few months ago in 2014 by the band, reunited for the occasion of this release.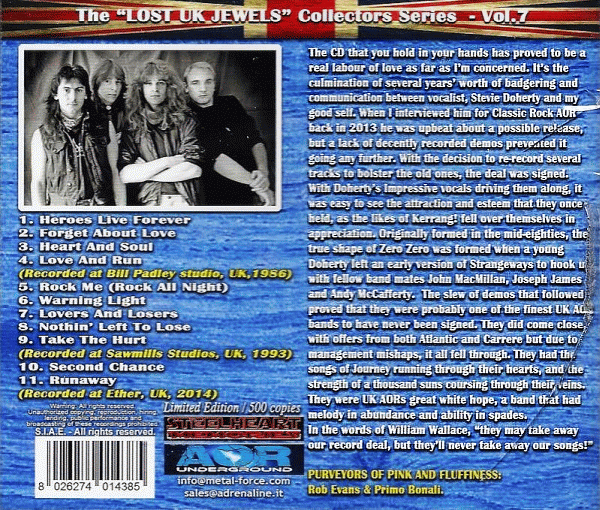 "Heroes Live Forever" is a glorious example from the fruitful, seminal '80s British AOR scene. There was so many great bands that not all found room (or good luck) to make it big.
Two decades after Zero Zero called it a day, it still rankles that these melodic Scots missed out on a major label payday.
Zero Zero's material fully deserved this "Lost UK Jewels" revamp. The tracks in this "Heroes Live Forever" sound million bucks and believe me, these songs will put a big smile on your face and a broken heartbeat in your passionate classic Melodic Rock / AOR spirit.
Zero Zero? More like 10 out of 10.
HIGHLY Recommended
01 – Heroes Live Forever *
02 – Forget About Love *
03 – Heart And Soul *
04 – Love And Run *
05 – Rock Me (Rock All Night) +
06 – Warning Light +
07 – Lovers And Losers +
08 – Nothin' Left To Lose +
09 – Take The Hurt +
10 – Second Chance "
11 – Runaway "
* Recorded at Bill Padley studio, UK – 1986
+ Recorded at Sawmills Studios, Cornwall, UK – 1993
" Recorded at Ether, UK – 2014
Steve Doherty (vocals, guitar)
John MacMillan (guitar, backing vocals)
Joe James (drums)
Andy McCafferty (bass, backing vocals)
Paul McManus (drums)
Out Of Print
www.aorheaven.com/pages/ooze/ooze_sounds.php?3174&Zero+Zero&Heroes+Live+Forever+(digitally+remastered)
.