ALAN PARSONS – The Secret (2019)
Revered producer-artist ALAN PARSONS will release the new album "The Secret", his first in his own name for 15 years, on 26 April via Frontiers Music. It features guest appearances by such notables as Steve Hackett (Genesis), Lou Gramm (Foreigner), Jason Mraz and drummer Vinnie Colaiuta, and more.
On his first solo studio album since 2004, Parsons — without longtime collaborator Eric Woolfson (who died in 2009) — is back with a familiar approach: a handful of lead vocalists, crystal, smooth sounds and rock&pop songs with classical and light progressive rock elements.
Magic is one of the themes of "The Secret", and it is best represented by the instrumental opening tune, "The Sorcerer's Apprentice." Its many moods over nearly six minutes are like an orchestrated soundtrack to a magician's stage act, with Steve Hackett, Nathan East and Vinnie Colaiuta helping to embellish Parsons' passion for instrumentals, his trademark.
Parsons recently turned 70 and won his first Grammy this year after over a dozen nominations, picking up best immersive audio album for "Eye In the Sky — 35th Anniversary Edition."
His first nomination was at the 1974 Grammys for his work as an engineer on Pink Floyd's "The Dark Side of the Moon," so it's no surprise then that many songs on "The Secret" have autumnal lyrics dealing with the passing of time.
Parsons himself sings "As Lights Fall," which has myriad echoes of "Eye In the Sky," and it sounds autobiographical: "My sword was cast in songs of light / In sparks and waves, enchanted nights."
Former Foreigner singer Lou Gramm takes lead on "Sometimes," a string-drenched highlight that sticks to the seasoned topics — "The older grow wiser / And fall in love sometimes". It's easily one of my favorites, and great to hear Lou again.
Jason Mraz sings "Miracle," another song with precedents in the Alan Parsons Projec classic '80s discography, then "The Limelight Fades Away" bring to mind his early era, with a strong Eric Woolfson feel into the songwriting / arrangements.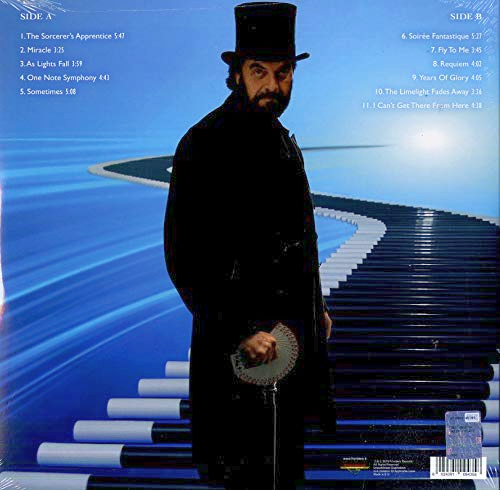 "The Secret" is not only a comeback from a legend, this is a comeback for an entire genre, a time and age when recorded music was crafted with attention to minimum detail.
This album feels big and grande but at the same time incredibly instant and direct. This is the kind of music that works just as good on a radio as in a concert hall.
This is just great music from a great musician.
Thank you, Alan, and welcome back.
01. The Sorcerer's Apprentice (feat Steve Hackett)
02. Miracle (lead vocal: Jason Mraz)
03. As Lights Fall (lead vocal: Alan Parsons)
04. One Note Symphony (lead vocal: Todd Cooper)
05. Sometimes (lead vocal: Lou Gramm)
06. Soire Fantastique (lead vocal: Todd Cooper, Alan Parsons)
07. Fly To Me (lead vocal: Mark Mikel)
08. Requiem (lead vocal: Todd Cooper)
09. Years Of Glory (lead vocal: PJ Olsson)
10. The Limelight Fades Away (lead vocal: Jordan Huffman)
11. I Can't Get There From Here (lead vocal: Jared Mahone)
Lead Vocals: Jason Mraz , Lou Gramm, Alan Parsons, Todd Cooper, P. J. Olsson, Jordan Huffman, Jared Mahone, Mark Mikel
Additional Vocals: Alan Parsons, Todd Cooper, Dan Tracey, Jordan Huffman, P. J. Olsson, Carl–Magnus "C-M" Carlsson, Andy Ellis
Narration: Alan Parsons
Guitars: Steve Hackett, Jeff Kollman, Dan Tracey, Tony Rosacci, Ian Bairnson, Alan Parsons
Synth, Keyboards: Andy Ellis, Tom Brooks, Dan Tracey, Alan Parsons
Piano: Pat Caddick, Angelo Pizzaro, Tom Brooks
Bass: Nathan East, Guy Erez, Jeff Peterson
Drums: Vinnie Colaiuta, Danny Thompson, Carl Sorensen
Saxophone: Todd Cooper
Orchestra: The CMG Music Recording Orchestra of Hollywood
Orchestral Arrangements: Tom Brooks, Dan Tracey, Milton Olsson
Orchestra Conducted by: Tom Brooks, Alan Parsons
Cello: Michael Fitzpatrick
Percussion: Alan Parsons, Todd Cooper
Ukulele: Jake Shimabukuro
Trombones: Oscar Utterstrom
Trumpets: Vinnie Ciesielski
PRE ORDER:
www.amazon.co.uk/Secret-Alan-Parsons/dp/B07MWZXLTZ
.