PANTHER (Jeff Scott Soto first band) – Panther [Digitally Remastered +4] (2018) *EXCLUSIVE*
Before becoming world-wide famous, mighty vocalist Jeff Scott Soto fronted the short-lived band PANTHER, which self titled mini-LP "Panther +4" has been reissued / remastered for the first time including 4 bonus tracks.
Indeed, Jeff Scott Soto enjoyed global recognition as part of Yngwie J. Malmsteen Rising Force and over the years has become one of the greatest Rock frontmen in the world. But as happened with all rock stars, Soto paved its way to stardom performing at sweaty clubs and small venues.
Inspired by bands like Scorpions, Iron Maiden and Judas Priest, Panther was formed in Los Angeles in 1984 and started with live shows at the legendary Troubadour, where bands like Van Halen and Guns N' Roses got their start.
A young, big haired Jeff Scott Soto impressed the audiences with his incredible set of vocal pipes, and Panther rapidly became one of the hottest new names in the LA circuit.
It was necessary to put Panther songs on tape, and the band recorded a set of songs to be released as mini-LP, a format widely popular in the '80s for novel unsigned bands.
But just after the recordings of "Panther", Jeff Scott Soto left band when Yngwie Malmsteen's manager made a phone call, and the rest is history.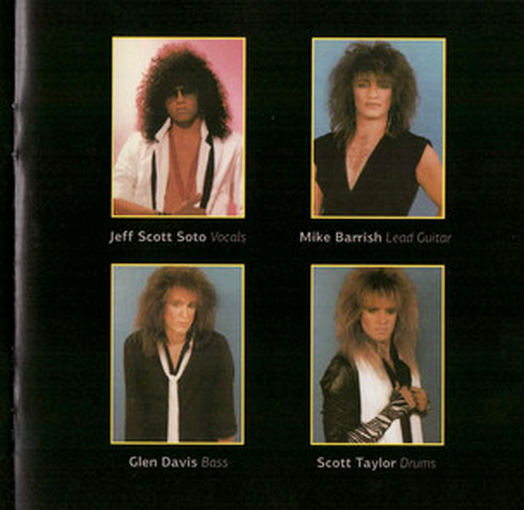 "Panther" was finally released in 1986 and became an underground sensation, and a much sought after collectible.
The 6 songs are firmly focused in traditional hard rock / classic metal, driven by sharp guitars and of course, Soto's powerful vocals. All are very good, strong compositions and really well recorded / produced.
This No Remorse Records remastered reissue includes as bonus track a song only appeared in the original cassette version of "Panther". As extra, there's 3 more songs recorded later with new vocalist TJ Mach, which, let me tell you, is very good at the mic as well.
"Panther" not only serves as Jeff Scott Soto's early work historical document or rarity / collectible, it's a very strong album in its own right. It's a very solid piece of first half of the '80s American hard rock / metal, strong and rocking. They don't make albums like this anymore….
Jeff Scott Soto always sung awesomely, even in his pre-pro younger years, and you can appreciate that all over this disc.
HIGHLY Recommended
You've seen it first here, at 0dayrox
Panther EP Remastered:
01 – First There Was Rock
02 – Desire
03 – Danger
04 – Deliver the Axe
05 – Warchild
06 – Panther
BONUS TRACKS:
07 – Set Me Free (original cassette extra track)
08 – Sheer Heart Attack (Demo)
09 – Take It to the Limit (Demo)
10 – When You're in Love (Demo)
Jeff Scott Soto – Lead Vocals
Mike Barrish – Guitar
Glen Davis – Bass
Scott Taylor – Drums
TJ Mach – Lead Vocals
BUY IT !
musicbuymail.com/de/shop/cd/panther-panther-cd
.