WHITESNAKE – Saints & Sinners +3 [Japan SHM-CD remastered MiniLP] Out Of Print
As requested, here's the only version on SHM-CD / cardboard sleeve of WHITESNAKE's "Saints & Sinners", unfortunately now out of print.
"Saints & Sinners" was the first Whitesnake album to shoot the band outside UK and woke up the Rock world and take notice.
For many, "Saints & Sinners" is Whitesnake's finest moment. It is for sure among my 3 favorites from Coverdale & co. Perhaps it was the arrival of future Phenomena mastermind, new guitarist Mel Galley (replacing founding member Bernie Marsden) that re-energized the band.
In this record, Whitesnake turned '80s hard rock, still retaining their classic blueprint.
We have rowdy bursts of bluesy aggression like "Rough an' Ready" (very Purple-like, Ian Paice and Jon Lord add essential ingredients of the Purple sound with their respective keyboards and drums), "Bloody Luxury," and the downright nasty opener "Young Blood."
David Coverdale also reached new heights with the astounding heavy blues of "Crying In The Rain", and the timeless power ballad "Here I Go Again", here in its original version, more subdued and bare-boned than the juiced up later version. It also has a slightly slower tempo and the lyric goes "like a hobo I was born to walk alone" instead of "like a drifter I was born to walk alone". Great, great classic song.
"Victim of Love" rocks with Coverdale's vocals dominating the track, but there's a strong guitar solo, and I always loved "Love An' Affection" melody.
We hear delicious clavinet keyboards from Jon Lord in "Dancing Girls" (another quite Deep Purple like song) while title-track "Saints and Sinners" is driven by atop funky riff and Coverdale delivers a very gritty and ballsy vocal work. Biting track with swirling solos.
This remastered reissue comes with the bonus "Young Blood" and "Saints & Sinners" in its monitor mix / early vocal versions (previously unreleased), plus the unfinished, unreleased song "Soul Survivor".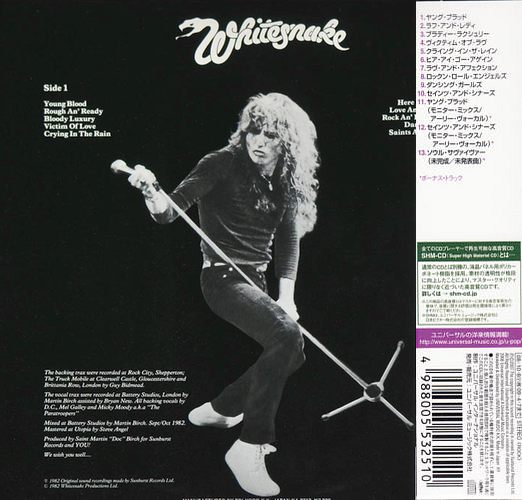 This Japanese remastered cardboard sleeve MiniLP replica of "Saints & Sinners" release sounds great, warm but punchy with an excellent dynamic range.
These SHM-CD are among the most precious treasures in my collection.
HIGHLY RECOMMENDED
Universal Japan ~ UICY-20238 【LTD SHM-CD】
W H I T E S N A K E 『 CARDBOARD SLEEVE 』
01 – Young Blood
02 – Rough An' Ready
03 – Bloody Luxury
04 – Victim Of Love
05 – Crying In The Rain
06 – Here I Go Again
07 – Love An' Affection
08 – Rock An' Roll Angels
09 – Dancing Girls
10 – Saints An' Sinners
BONUS TRACKS:
11 – Young Blood (Monitor Mix/Early Vocal)
12 – Saints An' Sinners (Monitor Mix/Early Vocal)
13 – Soul Survivor (Unreleased Song)
David Coverdale – Lead Vocals
Mel Galley – Guitars
Micky Moody – Guitars, Vocals
Neil Murray – Bass, Vocals
Ian Paice – Drums
Jon Lord – Keyboards
Out Of Print
www.cdjapan.co.jp/product/UICY-20238
.