RUSS BALLARD – Book Of Love (the comeback album)
More RUSS BALLARD material as requested, here with "Book Of Love", his 'comeback album' after many years not releasing a full length record.
These songs were recorded during the past decade, all having the hallmarks that made Ballard's tunes so unique, yet of course, updated in terms of production and adding some modernity to the sonic shape.
The euphoria surrounding Russ' return with "Book Of Love" was some kind of rekindling of the old flame. Indeed, that flame 'still burns', with the artist making a sort of catharsis here.
Lyrically, "Book Of Love" is an artistic image of his failed love, where he opens up emotionally with his own personal story in the form of his separation / divorce of his wife.
Musically, many of the songs in "Book Of Love" brings to my mind Survivor's Jim Peterik 'Above The Storm' era / album; melodic rock with a classic rock feel.
Curiously, there's 2 tracks here with titles similar to Bon Jovi songs – 'It's My Life (Stand In My Shoes)' and 'This Is Not A Love Song' – and in sound & style are not far from the New Jersey band during the '90s.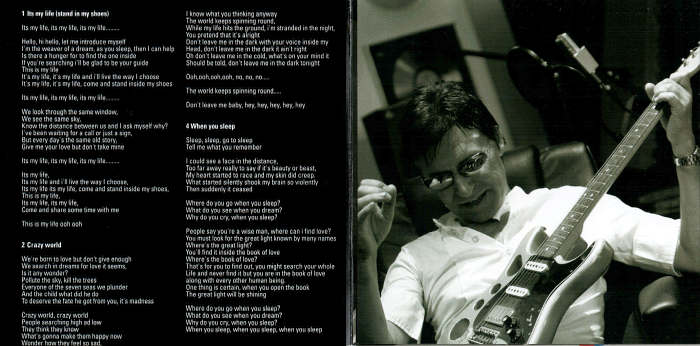 Then you have songs like 'Crazy World' where the mid-80s Ballard style appears, however the arrangements and production are typically 2000's melodic rock.
'Is There Anybody Out There' is one of the highlights for me, classic Russ' plenty of emotion. Just check that keyboard punctuated pre-chorus / chorus. I found some Benny Mardones passion-like on this stupendous song as well.
'In To The Light' is more Ballard circa 1985 brought to the new millennium production-wise: initial verses growing on intensity, all released in the melodic chorus. This track also reminds you that Russ is a very good guitarist; the solo kills.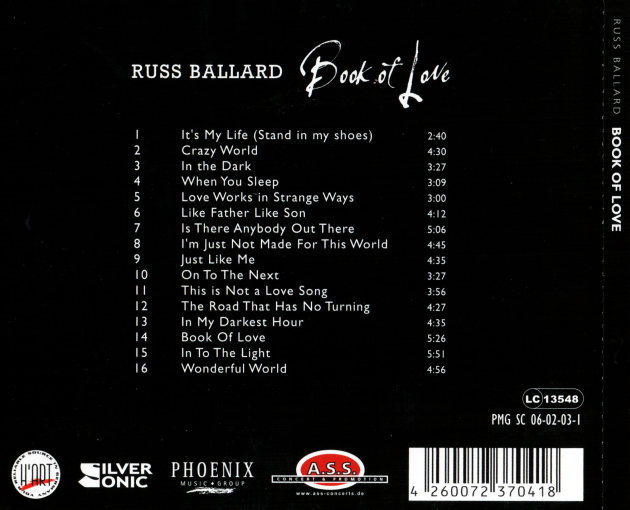 While slightly different – and diverse – in terms of sound compared with his '80s LP's, "Book Of Love" has Russ Ballard's trademark printed all over it.
It's a very long CD – 16 tracks – the double of his classic albums, and perhaps it turns 'too much' for a single listen. In my case, I never get enough Ballard, and really enjoyed every track here.
Highly Recommended
01 – It's My Life (Stand In My Shoes)
02 – Crazy World
03 – In The Dark
04 – When You Sleep
05 – Love Works In Strange Ways
06 – Like Father Like Son
07 – Is There Anybody Out There
08 – I'm Just Not Made For This World
09 – Just Like Me
10 – On To The Next
11 – This Is Not A Love Song
12 – The Road That Has No Turning
13 – In My Darkest Hour
14 – Book Of Love
15 – In To The Light
16 – Wonderful World
Russ Ballard – Vocals, Guitar, Keyboards
Chris Charles – Bass
Harry James – Drums
Paul Beavis – Drums
BUY IT !
www.amazon.com/Book-Love-Russ-Ballard/dp/B000JK9Y76
.