THIERRY CONDOR – So Close (CD version)
Here's a request, the CD version of exquisite vocalist THIERRY CONDOR's "So Close". We already praised the vocalist previous effort featuring true stars from the LA Session scene but also from the European, something that is augmented on "So Close", delicious all the way.
Again with top class composer, arranger and vocalist Urs Wiesendanger producing the 12 tracks on "So Close", Condor has created here what should be considered one of the best 'classic Westcoast AOR sounding' albums from the last thirty years.
Yes, we have the awesome Work Of Art, State Cows and even masters Toto still releasing superb albums in this genre, but they are more expansive visiting other musical territories.
Not Thierry Condor: this is pure 1980-83 Wescoast AOR in the best Californian tradition, from start to finish.
And we need to give a special credit to Condor / Wiesendanger in "So Close", the fact they have been able to capture perhaps the most essential aspect in this kind of music: the characteristic Wescoast AOR production sound.
Truly, the sound in "So Close" is incredibly pristine and smooth like in the golden years of the genre.
We have here solid musicians from the European scene including Urs Wiesendanger himself, Bruno Amatruda, Claudia Cervino, Daniel Küffer, Dominik Rüegg and more.
Further well-known Californian studio professionals have also participated. For example, top saxophonist Tom Scott, legendary LA Session drummer John 'JR' Robinson, celebrated keyboardist Jeff Lorber, etc.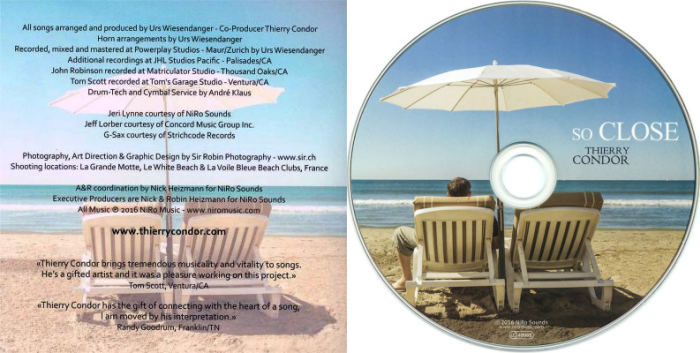 And the songs… all are true Westcoast AOR breezy tunes.
"Now" is penned by AOR masters Jay Graydon and Randy Goodrum. As you may guess, this is puere elegance.
There's the excellent "Hard To Say Goodbye", a song until now unpublished written by Grammy-nominated American songwriter Jeri Lynne. Thierry Condor and Jeri met each other in Switzerland in 2013 and spontaneously decided to record this song together in a great duet.
"Love Will Rise and Fall" is inspired by the Chicago album '17', and intended as a homage to its signature musical style. Urs Wiesendanger composed this song at the age of 17. It is being released for the first time here.
Thierry Condor always wanted to record (this is his 4th solo album) the lovely mid-tempo number "Heart to Heart" from Kenny Loggins, David Foster and Michael McDonald. The song is a classic and brings together top session musicians such as John JR Robinson, Daniel Küffer and Bernhard Schoch.
Another Westcoast giant, Tom Snow, wrote "Deeper Than The Night" in the '80s with John Vastano for Olivia Newton-John. The saxophonist Tom Scott, who accompanied the singer on her 1982 'Physical' tour, can be heard in the recording as a special guest.
And if that isn't enough, you find here a version of 'Now', co-penned by master Jay Graydon.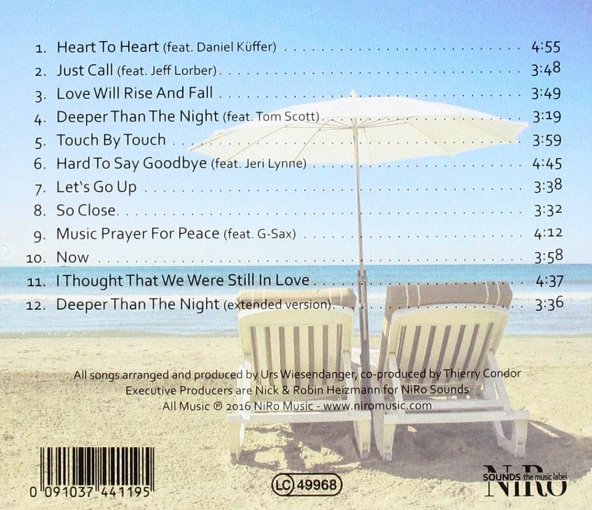 "So Close" is a Westcoast AOR fans wet dream. To have in 2016 an album like this is some kind of miracle, capturing the magic of the genre in its glory days.
Thierry Condor and Urs Wiesendanger have created a superb album plenty of wonderful melodies and smooth atmospheres. If you avoid this kind of music because it's too soft for your ears, you better give it a listen. Yes, there's suave ballads, but also dynamic, uptempo moving songs on offer here that are a pure delight.
Excellent
01 – Heart To Heart (feat. Daniel Küffer)
02 – Just Call (feat. Jeff Lorber)
03 – Love Will Rise And Fall
04 – Deeper Than The Night (feat. Tom Scott)
05 – Touch By Touch
06 – Hard To Say Goodbye (feat. Jeri Lynne)
07 – Let's Go Up
08 – So Close
09 – Music Prayer For Peace (feat. G-Sax)
10 – Now
11 – I Thought That We Were Still In Love
12 – Deeper Than The Night (extended version)
Thierry Condor – vocals
John 'JR' Robinson – drums
Jeff Lorber – keyboards
Urs Wiesendanger – bass, backing vocals, production
Bruno Amatruda – guitars
Claudia Cervino – guitars
Dominik Rüegg – guitars
Jeri Lynne – vocals
Tom Scott, G-Sax, Daniel Küffer – sax
Bernhard Schoch – horns
Sabina Stokes – backing vocals
BUY IT !
www.cede.de/de/music/?view=detail&branch_sub=0&id=1312453
.