JUNKYARD – Sixes, Sevens & Nines [Bad Reputation remaster +8] *EXCLUSIVE*
Requested long time ago, finally we get hold a copy on the excellent Bad Reputation Records remastered CD reissue of JUNKYARD's "Sixes, Sevens & Nines" including 8 exclusive bonus tracks, some of them previously unreleased.
This Junkyard's 1991 sophomore release is head and shoulders above the band's self-titled debut, benefited from a punchy Ed Stasium production & mix that captures the band in all its ragged glory.
Few weeks ago – last May – it was the 28th anniversary of the original "Sixes, Sevens & Nines" release, and still sounds fresh and relevant today.
Junkyard never repeated themselves, and whereas their self-titled debut was a high-energy US sleazy fest, this sophomore effort is far more laid-back and melodic in its approach.
While the group found some success on their debut with the nasty singles "Hollywood" and "Blooze", they followed those up with "All The Time In The World" — a great guitar-oriented number, but one that had little in common with those earlier sleazy anthems.
The song itself is great, and conjures up images of the band members relaxing on the couch with a beer in hand and just enjoying life. Used as lead single, made it to #24 on the Billboard US Main Rock charts and was on heavy rotation at MTV.
Despite the slightly shift in the musical direction, I remember how much enjoyed this album when I heard it for the first time mainly because it displayed a sense of rhythm and swagger that wasn't as evident on the debut.
Instead of being full-throttle and cranky, Junkyard sounded like they were having fun this time around. Singer David Roach was still belting it out with his signature sneer, but this time around the guitar duo of Chris Gates and Brian Baker were determined to steal the show — and they did a hell of a job.
Along with "All The Time In The World", "Give The Devil His Due" and "Misery Loves Company" (complete with some piano work) showcased a more mature band with an exceptional sense of rhythm and blues. "Killing Time" and "Clean The Dirt" were allowing the guys to break free from the typical '80s sleazy / hair metal sounds.
Meanwhile it was "Back On The Streets", "Nowhere To Go But Down", "Throw It All Away" and the perfect album closer "Lost In The City" that followed the rocking formula Junkyard had become noted for when they first burst upon the scene.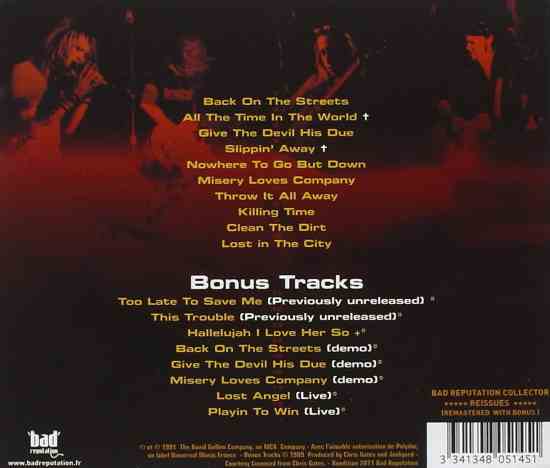 As for this Bad Reputation 'Collectors Reissue', it comes complete with eight bonus tracks, including the previously unreleased "Too Late To Save Me" and "This Trouble" — both of which are excellent additions to the Junkyard catalog.
It's a shame this record was overlooked when it first arrived because it is a great effort. Maybe it was too 'nice n' melodic' for some fans who were awaiting a "Blooze" rehash, but it's a much more complete and varied piece of work — and still is 28 years later!
This is the definitive, collectors 'expanded version' of "Sixes, Sevens & Nines", presented in exclusive at 0dayrox.
Highly Recommended
Only at 0dayrox
01 – Back On The Streets
02 – All The Time In The World
03 – Give The Devil His Due
04 – Slippin' Away
05 – Nowhere To Go But Down
06 – Misery Loves Company
07 – Throw It All Away
08 – Killing Time
09 – Clean The Dirt
10 – Lost In The City
BONUS TRACKS:
11 – Too Late To Save Me (Previously Unreleased)
12 – This Trouble (Previously Unreleased)
13 – Hallalujah I Love Her So (B-side and bonus for Japanese ST CD)
14 – Back On The Streets – Early Demo
15 – Give The Devil His Due – demo
16 – Misery Loves Company – Demo
17 – Lost Angel (Live)
18 – Playin' To Win (Live)
David Roach – vocals
Chris Gates – guitar
Brian Baker – guitar
Clay Anthony – bass
Patrick Michael Muzingo – drums
Additional Musicians:
Steve Earle – co-writer, backing vocals on 4
Kevin Savigar – piano and Hammond organ
Pinky Greenstamps – background vocals
Suber Superius – background vocals
BUY IT:
badreputation.fr/JUNKYARD-SIXES-SEVENS-NINES/en