BLACK 'N BLUE – Hell Yeah! [Japan Edition +1]
After about 25 years not visiting the recording studio, "Hell Yeah!" marked the 'comeback' of US hard rockers BLACK 'N BLUE, wiping away a couple decades and it's eerily like they never missed a step. This is EXACTLY the kind of album you expect from Black 'N Blue, and it's the exact album they needed to make for their comeback. This Japanese edition include the worthy raw rocker 'I Smell A Rat'.
Absence may make the heart grow fonder, but when it comes to music, is everything worth the wait? Black 'N Blue's last studio effort was in 1987, with the underrated 'In Heat' … and we've been waiting ever since. It's not like the band turned into a bunch of shut-ins, of course.
Founding guitarist Tommy Thayer went on to join the always-retired yet always touring and recording legend KISS, and lead singer Jaime St. James released albums from Freight Train Jane, St. James, and then went on to front Warrant and release one studio effort with them.
In fact, one of the reasons (among others) that 'Hell Yeah!' took so long to come out is that when St. James joined Warrant, he didn't have time for Black 'N Blue. There's also a studio incident where member and guitarist Jeff "Woop" Warner lost all of the new recordings and they had to start over.
From the opening riffs of "Monkey" you know it's Black 'N Blue. The energy, the sexual and raw power … it all screams B 'N B.
But "Target" is the first song where you really smile, and remember that Black 'N Blue is one of the funniest bands around; you just have to pay attention to get it. "My snake tongue, I think it needs a feeding, as I look into your deep brown eye," sings St. James, followed by a huge backing choir of "deep brown eye!" Yes, kids, it's not "eyes." The entire track flows in that same vein, a huge Arena Rock anthem with pounding drums, quirky goofball lyrics and massive melodies that have you singing along by the second chorus.
Back in the day, Black 'N Blue had some MTV hits with songs like 'Miss Mystery' and 'I'll Be There for You'. When you get to the track "Fools Bleed", you'll see that while they held on to their humor, the band can still compose a haunting hit when it suits them. Just the tugging chorus of "Fools bleed, love harms. And nobody knows it, 'cuz here in my arms, fools bleed … and nobody knows it except for this fool". Even lyrics like, "Got faith, but got no belief," shows a maturity beyond what we've heard before from Black 'N Blue. Of course, a lot happens in 24 years …
But this is Black 'N Blue, and they get right back into the bombastics with songs like "Angry Drunk Son of a Bitch", in which St. James opens with "I got a bomb in my ass and I'm ready to go!" That line probably hasn't ever been sung before in the history of this genre.
This will take you back to their heavier yet catchy rockers like "12 O'Clock High" or "Get Wise to the Rise". Their penchant for writing addictive choruses hasn't left band either. Although simple, it's one of the most memorable on Hell Yeah!
The track "So Long" sounds like it could have come right off the St. James album 'American Man'. This has a more Classic Rock feel to it, a little less 'party' and just straightforward rock. It's just another facet that makes the album so listenable throughout; no, the songs don't sound all the same. They just all sound great.
One of the most radio-friendly tracks is "Falling Down". This is a bit like So Long but it's more atmospheric, the song is wide open and really breathes. Black 'N Blue always offered some of the best backing vocals, and they surely shine here. In fact, bassist Patrick Young has never sounded more accomplished than he does on this track as well.
The rest of the album never lets up. "Candy" is another pumping anthem, all sex and stomp, and the title track "Hell Yeah!" sounds like the bastard brother of 'Nasty Nasty', at least with the chord progressions. There's truly not a bad song on the album.
The japanese bonus "I Smell A Rat" is another tongue-in-cheek catchy, funny song, with a let loose guitar riff.
As a final joke, there's a hidden track, "A Tribute To Hawking". When recording the 3rd track "Hail Hail", St. James heard one of the band members saying he sounded a little 'robotic'. St. James proved to them what 'robotic' sounds like, wrote some quick lyrics about pushing scientific Stephen Hawking off a sea cliff (but unplugging the extension cord on his wheelchair first) and then he said, "There, now THAT's robotic!" The rest of the band loved it so much, they put it on the album.
Again, if you are not paying attention, this is truly one of the funniest bands out there.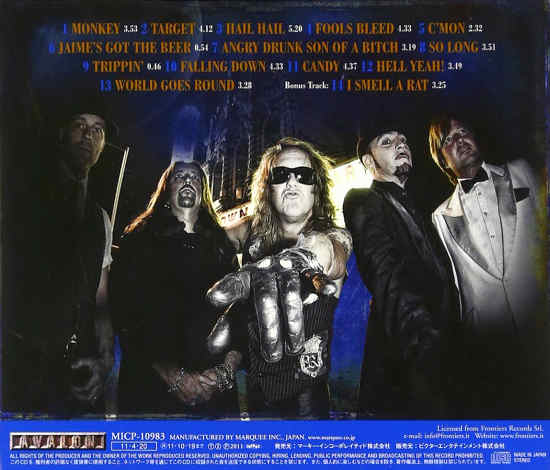 So, the verdict asks if this was worth the wait. That's a two-part answer:
This is one if the best classy 80s Hard Rock albums released decade. The laws of physics won't allow it. But if we have to wait another quarter of a century to hear the next Black 'N Blue, then we'd all be better off not knowing what could have been.
So buy this album, blackmail your friends into buying it, get at least 30 mistresses and/or lovers and tell them all to buy it if you want to keep the 'relationship' moving forward … do whatever you have to do to make this album a massive success.
When you hear something this good, you don't want to have to wonder about 'what could have been' ever again.
HIGHLY Recommended
01 – Monkey
02 – Target
03 – Hail Hail
04 – Fools Bleed
05 – C'mon
06 – Jaime's Got The Beer
07 – Angry Drunk Son Of A Bitch
08 – So Long
09 – Trippin'
10 – Falling Down
11 – Candy
12 – Hell Yeah!
13 – World Goes Round
14 – I Smell A Rat (Japan bonus track)
15 – A Tribute To Hawking
Jaime St. James – Lead Vocals
Shawn Sonnenschein – Guitars, Backing Vocals
Jeff Warner – Guitars, Backing Vocals
Patrick Young – Bass, Backing Vocals
Pete Holmes – Drums
BUY IT !
www.cdjapan.co.jp/product/MICP-10983