RADIOACTIVE – Legacy [3-CD Remixed & Remastered + New Songs] Out Of Print
RADIOACTIVE is the project of multi-talented Swedish musician Tommy Denander. Long out of print and very sought after, the first 3 Radioactive albums were housed into a box-set entitled "Legacy". The 3 albums,
"Ceremony Of Innocence", "Yeah" & "Taken" have been re-mixed, re-mastered at 24 bits and includes new artwork plus 6 bonus tracks: the three original Japanese only bonus tracks and three previously unreleased songs.
With more than 30 years as a pro guitarist, songwriter and producer Tommy Denander is ranked as one of the finest guitar players in the world.
He has worked on more than 2300 albums including several US #1 singles, more than 50 Gold and Platinum movie soundtracks.
In 1991 he started his own project RADIOACTIVE, featuring multi-star collaborations.
Just take a look at gigantic list of big names who have graced these recordings; Jeff Porcaro, Mike Porcaro, Steve Porcaro, David Paich, David Foster, Bobby Kimball, Fergie Frederiksen, Joseph Williams, David Hungate, Yngwie Malmsteen, Neal Schon, Fee Waybill, Michael Thompson, Jason Scheff, Vince Dicola, Marcel Jacob, Tony Franklin, Vinnie Colaiuta, Michael Landau, Kelly Keagy, Alex Ligertwood, Abe Laboriel, Greg Phillinganes, Neil Stubenhaus, Randy Goodrum, Bruce Gaitsch, Jim Jidhed, Gary Barden, Robin Beck, James Christian, Andreas Carlsson, Phillip Bardowell, Bruce Kulick, and many, many more.
The debut album 'Ceremony Of Innocence' is the most star-studded one with Toto fans sure to love 'Crimes Of Passion' which sees two of the band's vocalists Bobby Kimball and Joseph Williams in action, along with the rest of Toto bar Steve Lukather.
'LA Movies' is another Toto-esque tune helped by having Joseph Williams singing on it. Fergie Frederiksen keeps the Toto flag flying on the excellent title track, lots of lovely keys and guitar playing on this one. You even get a little funk added to the proceedings on the instrumental 'Liquid', with Greg Phillinganes stealing the limelight with his keyboard playing.
This album is very Toto sounding although the subsequent albums followed a more melodic rock direction as Tommy Denander spread his musical wings so to speak.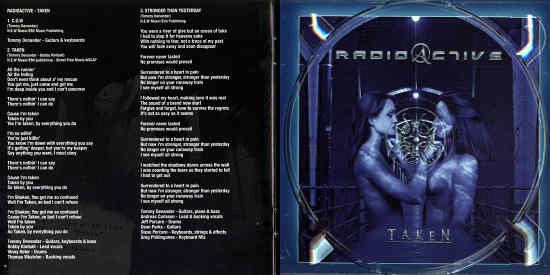 By the second album 'Yeah', drummer Pat Thearn appears on most of the songs with Tommy handling a lot of the other instruments. There are still a few top draw guest bass players though including Tony Franklin and the late Marcel Jacob of Talisman fame.
Steve Overland gives a polished performance as you'd expect on 'Lies Feed On Lies', which sounds like a latter day FM tune.
On third album 'Taken' Denander continue with a melodic rock feeling, at places edgy.
There's some sterling performances from Gary Barden on the hook filled 'Hit Her Where It Hurts', and Last Autumn Dream's Mikael Erlandsson  gives a heartfelt vocal performance on the ballad 'This I Promise You'.
The two bonus songs 'The Darkness Inside' and 'Fell My Heart Again' are a treat for Jeff Paris fans as he sings on both.
Just read the complete booklet to see who sing / play on each track…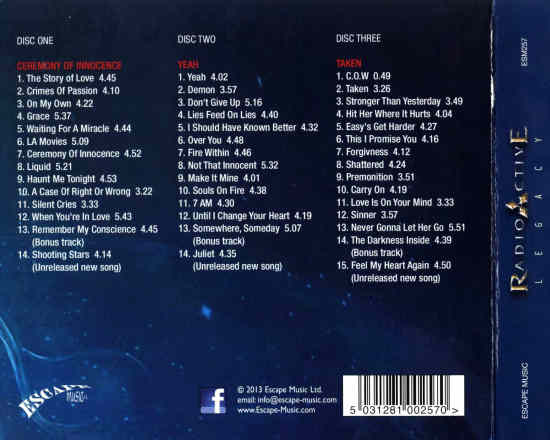 Virtually out of print, the remaining copies are pretty expensive (over 100 Euros), however "Legacy" is a no-brainer purchase for any Melodic Rock & AOR fan.
The remixes / remaster on the 3 album into this box-set is excellent, and the music… top class.
CD1: Ceremony Of Innocence (remixed & remastered)
01 – The Story Of Love
02 – Crimes Of Passion
03 – On My Own
04 – Grace
05 – Waiting For A Miracle
06 – LA Movies
07 – Ceremony Of Innocence
08 – Liquid
09 – Haunt Me Tonight
10 – A Case Of Right Or Wrong
11 – Silent Cries
12 – When You're In Love
13 – Remember My Conscience (Bonus Track)
14 – Shooting Stars (Unreleased New Song)
CD2: Yeah (remixed & remastered)
01 – Yeah
02 – Demon
03 – Don't Give Up
04 – Lies Feed On Lies
05 – I Should Have Known Better
06 – Over You
07 – Fire Within
08 – Not That Innocent
09 – Make It Mine
10 – Souls On Fire
11 – 7 Am
12 – Until I Change Your Heart
13 – Somewhere Someday (Bonus Track)
14 – Juliet (Unreleased New Song)
CD3: Taken (remixed & remastered)
01 – C.O.W.
02 – Taken
03 – Stronger Than Yesterday
04 – Hit Her Where It Hurts
05 – Easy's Gettin' Harder
06 – This I Promise You
07 – Forgivness
08 – Shattered
09 – Premonition
10 – Carry On
11 – Love Is On Your Mind
12 – Sinner
13 – Never Gonna Let Her Go
14 – The Darkness Inside (Bonus Track)
15 – Fell My Heart Again (Unreleased New Song)
Tommy Denander guitars, keyboards
Bobby Kimball vocals
Fergie Frederiksen vocals
Jason Scheff vocals, bass
Joseph Williams vocals
Jim Jidhed vocals
Mikael Erlandsson vocals
Steve Overland vocals
Matti Alfonzetti vocals
Gary Barden vocals
James Christian vocals
Robin Beck vocals
Fee Waybill vocals
Jeff Porcaro drums, percussion
Mike Porcaro bass
David Paich keyboards, Hammond
David Foster keyboards
Marcel Jacob bass
Tony Franklin bass
Yngwie Malmsteen guitar
Bruce Kulick guitar
Michael Landau guitar
Steve Lukather guitar
Michael Thompson rhythm guitars, lead guitars
Peter Friestedt guitar
Neal Schon talk box guitar
and many more…
TRY Here:
www.amazon.de/Legacy-by-RADIOACTIVE-2013-10-15/dp/B01GUH1LUO