VANDENBERG – Alibi [Rock Candy remastered] full scans
Here's the Rock Candy Records remastered version from one of the strongest (and underrated) Melodic Hard Rock albums from the mid-Eighties; "Alibi", the last '80s recording of VANDENBERG.
Adrian Van den Berg (who uses an Anglicized version of his Dutch name: Adrian Vandenberg) has been, quite rightly, hailed as one of the world's best rock guitar players, carving out a first class reputation for himself since the early '70s.
Adrian's own band Vandenberg formed in Holland in 1981 became one of the surprise attractions during the early Eighties, doing it very well at the US album charts and stylistically rivaling the cream of hard rock contenders such as Ratt, Dokken and Def Leppard.
After two very good records with an edgy Hard Rock style, the more commercial "Alibi" was their third and final album, recorded back in Holland but mastered in the USA by the skilled Bob Ludwig.
Issued in 1985, the record showcased all that was good about the band, with its powerful riffs, hooks galore and well-crafted arrangements, and a much more Melodic approach than before, even with some AOR moments.
Once again, it was talented Adrian who stole the show, writing all the songs, providing a remarkable selection of guitar solos, playing the keyboards, producing and designing the artwork (his own paint), contributions that would not go unnoticed among his contemporaries.
Indeed, once Adrian had disbanded Vandenberg, David Coverdale approached him to join Whitesnake for their hugely successful '1987' album.
"Alibi" is a perfect example of mid-Eighties Melodic Hard Rock polished sound. It straddled the line between hard-hitting Hard Rock and radio-friendly Melodic Rock perfectly, delivering equal amounts of gloss and punch.
Rockers like "All The Way" (those massive backing vocals during the chorus are to die for), the killer "Voodoo", or the hard rock perfection of "Fighting Against the World" a real pearls.
Title track is a superb Melodic Hard tune, while the AOR "Once In A Lifetime" is one of the best mid-tempo power ballads produced at the time.
Another great AOR cut can be found on the velvety "How Long", driven by a deep bass line with a slow, clean guitar playing all over it and adorned with elegant keyboards. Singer Bert Heerink shines on both songs.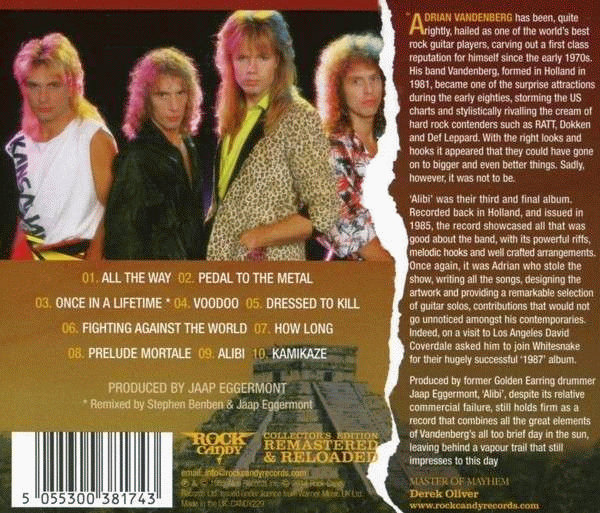 Just when you thought that Vandenberg could not top their debut, they come back with "Alibi", their best album, or if you prefer, the most complete from their career. There's moments of true Melodic Hard Rock perfection on this, sadly, underrated and underappreciated album.
The Rock Candy remaster is excellent, bright, rich in harmonics and with a punchy yet controlled dynamic output.
Melodic Hard Rockers; this is a must in your Eighties collection.
01 – All The Way
02 – Pedal To The Metal
03 – Once In A Lifetime
04 – Voodoo
05 – Dressed To Kill
06 – Fighting Against The World
07 – How Long
08 – Prelude Mortale
09 – Alibi
10 – Kamikaze
Bert Heerink – lead vocals, harmony vocals
Dick Kemper – bass, bass pedal, harmony vocals
Jos Zoomer – drums, harmony vocals
Adrian Vandenberg – guitars, keyboards, harmony vocals, cover design, production
BUY IT
www.amazon.co.uk/Alibi-Vandenberg/dp/B00JV214EE