LOU GRAMM – Ready Or Not [Wounded Bird Records reissue] *EXCLUSIVE*
As requested, here we have former Foreigner vocalist LOU GRAMM's 1987 solo album "Ready Or Not", in its Wounded Bird Records CD reissue which sounds much better in dynamics.
The greatness of "Ready Or Not" should be credited as well to talented Bruce Turgon, who co-wrote most the songs with his exquisite tastes and also play various instruments, even dropped a guitar solo.
Gramm started o work on "Ready Or Not" when Foreigner entered into some kind of a hiatus after the success of 'Agent Provocateur'. Lou got offer of a solo album, and the result is "Ready Or Not", a melodic collection of songs with all that '80s magic.
The production by Gramm and Pat Moran (Rush, Robert Plant) definitely has that bright 1980s style. "Ready Or Not" is a strong, rocking lead-off track and it was a minor hit single. The melodic, lyrical, and vocal hooks on "Heartache" are massive and Lofgren's guitar solo adds an edgy bite.
The Top Five hit "Midnight Blue" is a terrific rock&pop radio song and despite its hit status, it's one of the decade's truly underappreciated singles. Lofgren's rolling, effective guitar riffing and a captivating chorus make "Time" one of the best cuts.
Foreigner helped create and master the power ballad, and Gramm utilizes that gift on the dark, ethereal "If I Don't Have You." "Arrow Thru Your Heart" and "Until I Make You Mine" are also melodic, sing along tunes, all with stupendous musicianship.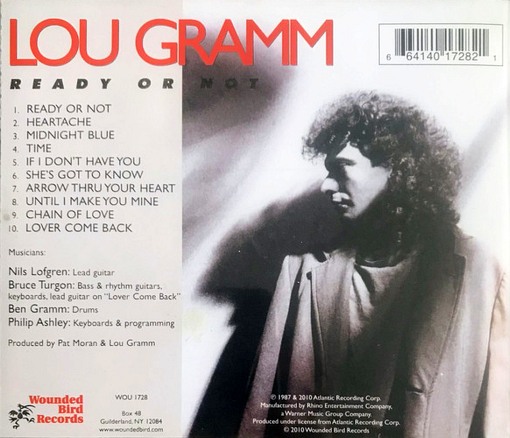 The commercial and artistic success of "Ready Or Not" was a turning point for Gramm. Foreigner issued 'Inside Information' late in 1987, and Gramm followed that troubled project with his very good second solo album, 'Long Hard Look' in 1989, and then left the band for a few years before returning.
Highly Recommended
01 – Ready Or Not
02 – Heartache
03 – Midnight Blue
04 – Time
05 – If I Don't Have You
06 – She's Go To Know
07 – Arrow Thru Your Heart
08 – Until I Make You Mine
09 – Chain Of Love
10 – Lover Come Back
Lou Gramm – vocals
Bruce Turgon – bass, guitar, keyboards
Nils Lofgren – lead guitar
Philip Ashley – keyboards, programming
Ben Gramm – drums
BUY IT
www.amazon.com/Ready-Not-Lou-Gramm/dp/B0037FFANW