LIFE BY NIGHT – ST [Remastered reissue +2 previously unreleased] (2021) HQ *0dayrox Exclusive*
Now 0dayrox is featuring in exclusive the fully remastered, on CD for the very first time (a limited numbered CD release of 1000 only) of one of the long lost records of the '80s: L.A. based LIFE BY NIGHT's self-titled debut album. This long lost much sought after LP is finally getting some way overdue recognition.
Formed by lead vocalist and bassist Tom Croucier (brother of Ratt bassist Juan Croucier) Life By Night had the songs and the look, but sadly not the traction, thanks to the usual story of music business politics to take things any further than they did.
In the mid-Eighties Life By Night recorded their debut album with Richie Zito (Heart, Bad English, Tyketto) behind the production desk. The songs were melodic AOR with poppy overtones and it was all set to be released when the label at the time just dropped them.
It happened so quickly, and as a result this fine album from 1985 never saw the light of day. Until now…
Having played in a variety of different groups through years, Tom has been a part of Roger Romeo's group "Romeo" as well as A&M record's Bobby Dazzler and Santana. In 1981 Tom Played on the excellent "Down to the Bone" album in 1981 by Vic Vergat. The band played all over Europe before they went to the States to open for Nazareth.
Tom also played bass on the Scorpion's "Blackout" album.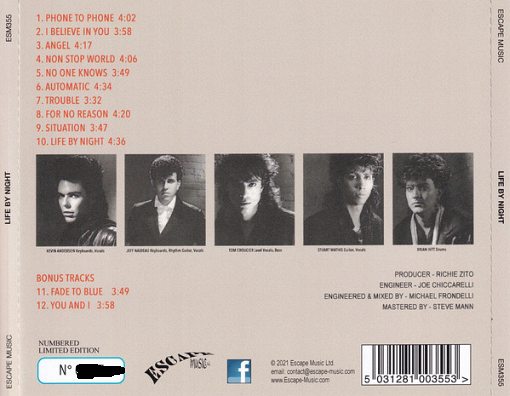 After returning to the States following the break-up of the Vic Vergat Group, Tom began writing songs and would eventually put together a new band project with drummer Bryan Hitt (REO Speedwagon), and it was then that a band called "Life By Night" was formed.
"I was blown away when I heard it," says Tom. "I love the way it sounds. I'm really happy with it. The way 'Angel' sounds especially is just great. I always felt that should've been the first single when it was originally released back in 1985. It just had so much potential."
Really good mid-Eighties AOR stuff for all fans and collectors out there…
You've seen it first at 0dayrox
01 – Phone to Phone
02 – I Believe in You
03 – Angel
04 – Non Stop World
05 – No One Knows
06 – Automatic
07 – Trouble
08 – For No Reason
09 – Situation
10 – Life By Night
BONUS TRACKS:
11 – Fade to Blue [Previously Unreleased]
12 – You and I [Previously Unreleased]
Tom Croucier – Lead Vocals & Bass (Scorpions, Dokken, Vic Vergat Group)
Stuart Mathis – Guitars & Vocals
Bryan Hitt (REO Speedwagon) – Drums
Jeff Naideau – Keyboards & Guitar
Kevin Anderson – Keyboards / Vocals
Produced By Richie Zito (Heart, Bad English, Tyketto, Mr Big)
Mastered by Steve Mann (Lioneheart, MSG, Liar)
BUY
www.amazon.de/dp/B094L52R9H