TOMMY SHAW – Ambition [Rock Candy remastered & reloaded] HQ full *only at 0dayrox*
If one album which really represents the true Melodic Rock / AOR sound of the '80s deserved to be reissued that is "Ambition", TOMMY SHAW's third album from 1987, and Rock Candy specialists have done a terrific job with it, perhaps the best remastering job ever from this excellent British reissue label.
The name Tommy Shaw will always be synonymous with Styx, the hugely successful American pomp rock masters that notched up a series of multi-platinum albums during the seventies and early Eighties. After leaving Styx in 1983, Shaw went on to carve out a solo career resulting in a trio of well received albums before forming super-group Damn Yankees alongside Ted Nugent and former Night Ranger songwriter Jack Blades.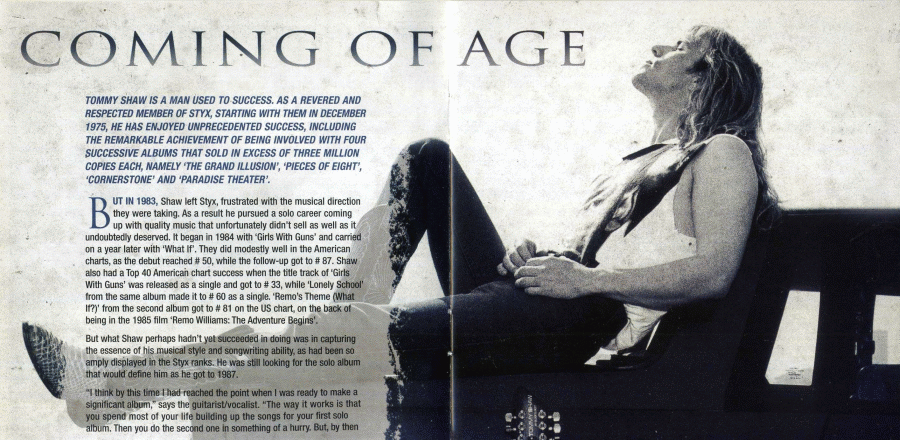 "Ambition" was Tommy's third solo album and not only is regarded as his best, but also one of the best AOR-Rock records in history. Teaming up with British producer Terry Thomas – former leader and creative heart of cult AOR band Charlie – the disc was recorded in London with the musical assistance by a number of top notch session players.
Featuring some incredible vocal performances, recorded with pinpoint accuracy and loaded with ten truly great tracks (mostly co-written with Thomas), "Ambition" is a startling example of pumping Melodic Rock with lashings of power & passion, and delicate, super-polished AOR waves.
All songs are gems, such as "Dangerous Game" or "Somewhere In The Night", but also the title track with its catchy melody and bombastic chorus.
Lead off track, "No Such Thing" is one of the greatest, yet largely underexposed, tracks ever recorded by Tommy, while "Are You Ready For Me" and "The Outsider" say so much more about Shaw than we ever learnt when he was a member of Styx.
Look out too for a stunning version of "Ever Since The World Began" – penned by Survivor's Frankie Sullivan / Jim Peterik and also recorded by Jimi Jamison on the Lock Up soundtrack – another feather in his cap.
This Rock Candy remaster of Tommy Shaw's "Ambition" is awesome, full of rich enhanced frequencies and balanced output. If you own the original edition, forget it, this one blows the previous out of the water.
A Classic Melodic Rock / AOR album now sounding better than ever.
A MUST HAVE
You've seen it first at 0dayrox
01 – No Such Thing
02 – Dangerous Game
03 – The Weight Of The World
04 – Ambition
05 – Ever Since The World Began
06 – Are You Ready For Me
07 – Somewhere In The Night
08 – Love You Too Much
09 – The Outsider
10 – Lay Them Down
Tommy Shaw: Guitars, Lead & Background Vocals
Terry Thomas: Guitar, Keyboards, Programming, Background Vocals
Tony Beard: Drums
Felix Krish: Bass, Fretless Bass, Bass Synth
Wix: Keyboards
Peter-John Vettese: Keyboards on 5
Steve Alexander: Percussion, Drum overdubs
Christopher O'Shaughnessy: Lead Guitar on 4, 6
Lee Hart: Background Vocals
Dee & Shirley Lewis: Background Vocals
Helena Springs: Background Vocals
James "JY" Young: Background Vocals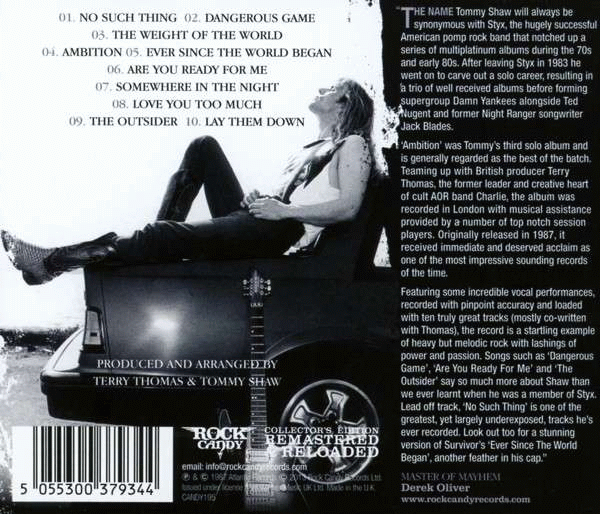 BUY
www.oldies.com/product-view/60216O.html