PRAYING MANTIS – Gravity [Japanese Edition +1] (2018)
British rockers PRAYING MANTIS will release their 11th studio album, "Gravity", on May 11 via Frontiers Music, and tomorrow in Japan.
After the positive response given to the band's last studio release, the new record sees Praying Mantis return with another even more inspired, take-no-prisoners set.
Opener 'Keep It Alive' shows that the band certainly do with this riff heavy tune. Lead vocalist John Cuijpers delivers his full range all over, backed up by the band's trademark elaborated powerful backing vocals.
Another highlight arrives with the aptly titled 'Mantis Anthem', the first of a bunch of intense midtempo tunes. Uplifting verses, a fist clenching chorus and a lengthy melodic guitar solo keeps the bar raised high.
'Time Can Heal' is AOR at its finest containing a lead vocal that could charm the birds from the trees. Although centring around a huge AOR chorus replete with a world of vocals, the musical arrangement on the title cut manages to be almost as bombastic.
'Ghosts Of The Past' has everything a classic hard rock song should contain. A keys and string intro prepare you for a showstopping vocal that fades out to a whisper making you wish the song would never end.
'Destiny In Motion' is a drum heavy rocker with yet another killer chorus.
'The Last Summer' is pure British melodic rock bliss, while 'Foreign Affair' has touches of '80s Mantis in the intro as it eases into poignant balladry. Mainly acoustic but for a piercing lead guitar break midway.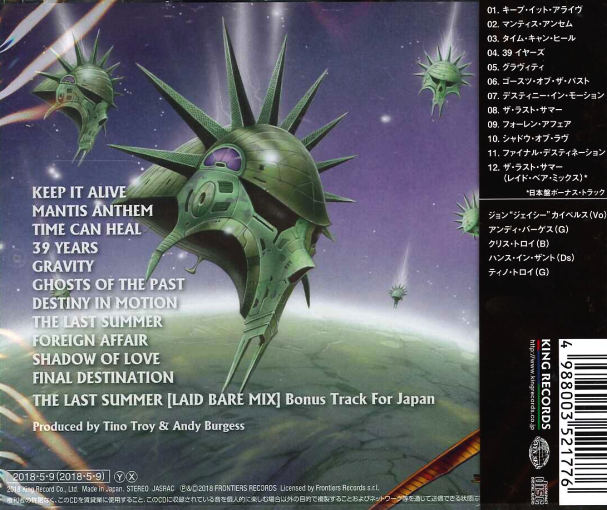 The mood stays long enough for 'Shadow Of Love' to soothe the soul with spine tingling melodies offset by some big riffing and the album closes as it started with 'Final Destination', rocking hard as its slow pounding first part speeds up a full on drum dominated finish.
This Japanese Edition includes as bonus track a more slow, indeed a 'The Last Summer (Laid Bare Mix)' version of the song. Great one.
Praying Mantis keeps in top form in this "Gravity", another HIGHLY Recommended release this week.
01. Keep It Alive
02. Mantis Anthem
03. Time Can Heal
04. 39 Years
05. Gravity
06. Ghosts of the Past
07. Destiny In Motion
08. The Last Summer
09. Foreign Affair
10. Shadow of Love
11. Final Destination
12. The Last Summer (Laid Bare Mix) (Japan Bonus Track)
John Cuijpers – Lead Vocals
Tino Troy – Guitars & Vocals
Chris Troy – Bass & Vocals
Andy Burgess – Guitars & Vocals
Hans in 't Zandt – Drums
Pre Order:
www.cdjapan.co.jp/product/KICP-1902
.