THREE LANE ROAD – Three Lane Road (2016)
Based in Dallas, Texas, and started as a studio project by vocalist / guitarist Wayne Brito, THREE LANE ROAD has evolved into a full band doing live shows in the area currently promoting their self-titled debut, already having shared stages with the likes of Joe Lynn Turner and Junkyard to name some.
Three Lane Road plays classic melodic hard rock, influenced by the middle / late '80s scene. Looking at the band press photo, this may not come as a surprise. These guys aren't some twenty-something hipsters.
Also main songwriter, Brito probably has all the original records from the bands that influences the Three Lane Road sound, like Bon Jovi, Dokken or Journey, to name a few.
More specifically to the Three Lane Road style, being composed by a guitarist, the songs are very guitar-forward. Riffs rule the roost, and you can count on a flurry soaring guitar solos throughout.
Also, with the vocals, the twin guitar parts form the essential harmony in every song. Brito is a fine vocalist, singing clean and melodic with some '80s passion.
All these things are wrapped up in the proper amount of hard rock groove and melody, plus nice hooks in both lyrics and arrangement. The result is a fine package of songs.
There's Dokken-esque riffs on 'I Want', some Bon Jovi in 'I'll Fly With You' and 'Dreams', more groove in 'Strange Way', then a very mid-Eighties feel with 'Times of Our Lives' (perhaps a bit Journey influence).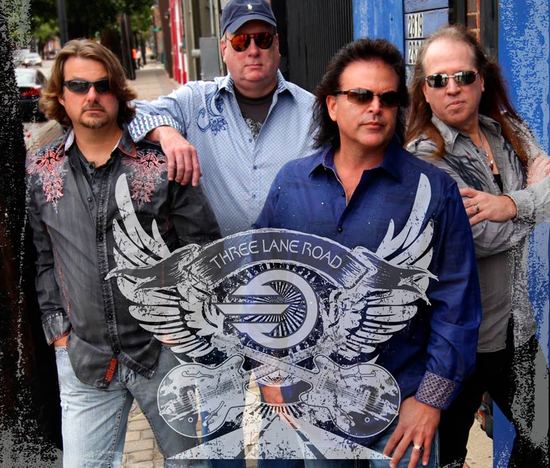 Three Lane Road is a time capsule to the Eighties through some really cool songs and melodies. As said, there's lots of riffs and a good rhythm section, and Brito's voice is fine despite some production flaws.
But the 'indie' status of the record, with its imperfections, is part of the charm here, as 'Three Lane Road' feels like a lost '80s private release.
Fun stuff!
01 – I Want
02 – I'll Fly with You
03 – Strange Way
04 – Times of Our Lives
05 – Dreams
06 – Lift Me Up
07 – Everything
08 – Now
09 – Say to Me
Wayne Brito – Vocals, Guitars
Alan Davis – Guitars, Backing Vocals
Steve Musket – Bass
Chuck Geisel – Drums
BUY IT !
www.cdbaby.com/Artist/ThreeLaneRoad
.